15 minutes
Published June 2022
By Greg Elwell | 15 min read
With summer coming and sunshine on the menu, we tracked down eleven of the state's most enticing restaurant patios. Whether you're brunching, happy houring, or just ready for fresh air and great food, these dining spots are exactly what you need.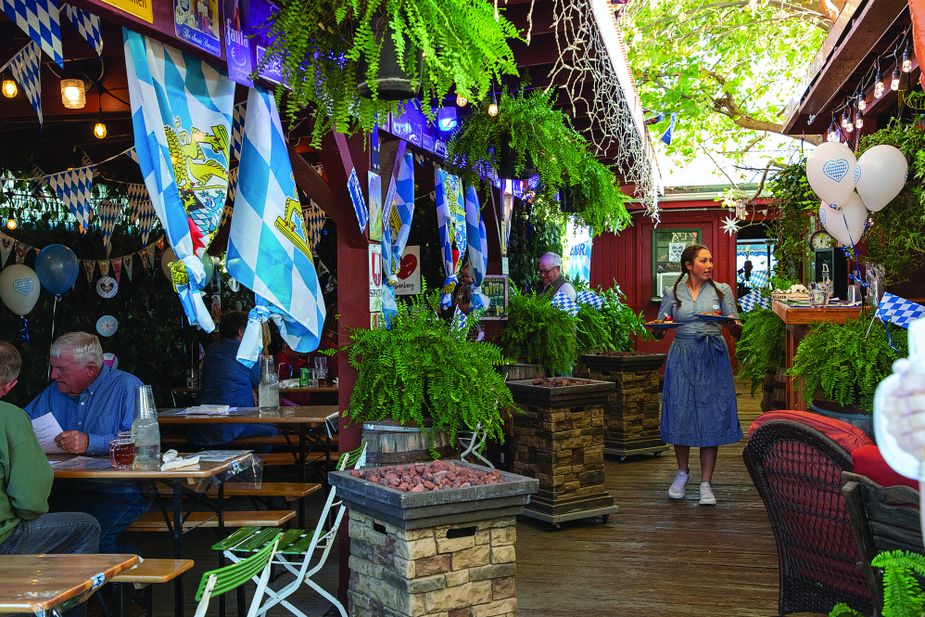 Cafe Bahnhof in Waynoka. Photo by Lori Duckworth
The Study Abroad
A German patio often is called a biergarten, and if you're in Waynoka, one of the best in the state is right around the corner. Cafe Bahnhof is like a big stein of Bavaria in northwest Oklahoma. The menu is full of tasty, filling entrees like enormous schnitzels—basically a chicken-fried pork loin steak—and grilled lamb chops that will have taste buds ready to polka the night away. The number of German beers available varies by what can be imported, but guests can expect about twenty ranging from light to dark and everywhere in between as well as a full bar to choose from. Reservations are a must, however, and those without them might end up on the less-tasty side of the door.
"We're a destination restaurant, so it's important for guests to make reservations, because if you drive an hour or two and you can't be seated, you'll be angry," says owner Dieter Dorner, a native of Bavaria.
Get There
Cafe Bahnhof, 1725 E Cecil St Waynoka, OK 73860 or
TravelOK.com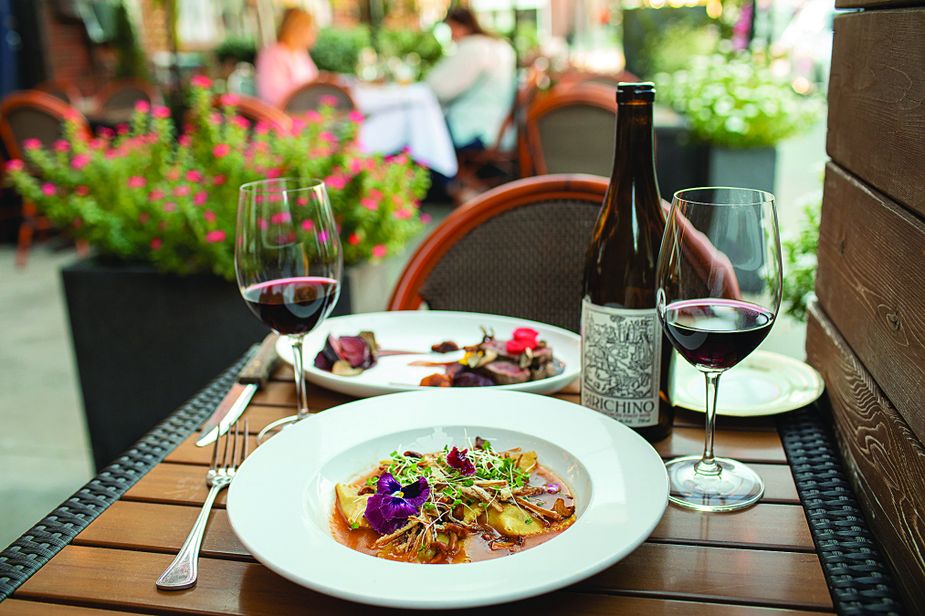 Amelia's Wood Fired Cuisine in Tulsa. Photo by Valerie Wei Haas
The Urbanite
The struggle is real for diners at Amelia's in Tulsa. On the one hand is the incredible cuisine, cooked over a live fire in the wide-open kitchen, and on the other hand is the restaurant's beloved patio, home to some of the finest people-watching in the state. The problem then: How does one spend time watching the crowds bustling down Boston Avenue on their way to ahha Tulsa after cutting a rug at Club Majestic while also staring at plates of grilled Manila clams and wood-fired Spanish octopus? Moderation is the key. A bite of coffee-spiced duck breast with foraged mushrooms, a sip of wine chosen by sommelier Ashley Donovan, and then a good gawk at the music lovers on their way to see a band at The Vanguard. Sure, the meal might take a little longer, but when the food is this good and the views are so much fun, why go anywhere else?
Get There
Amelia's Wood Fired Cuisine, 122 N Boston Ave Tulsa, OK 74103 or
TravelOK.com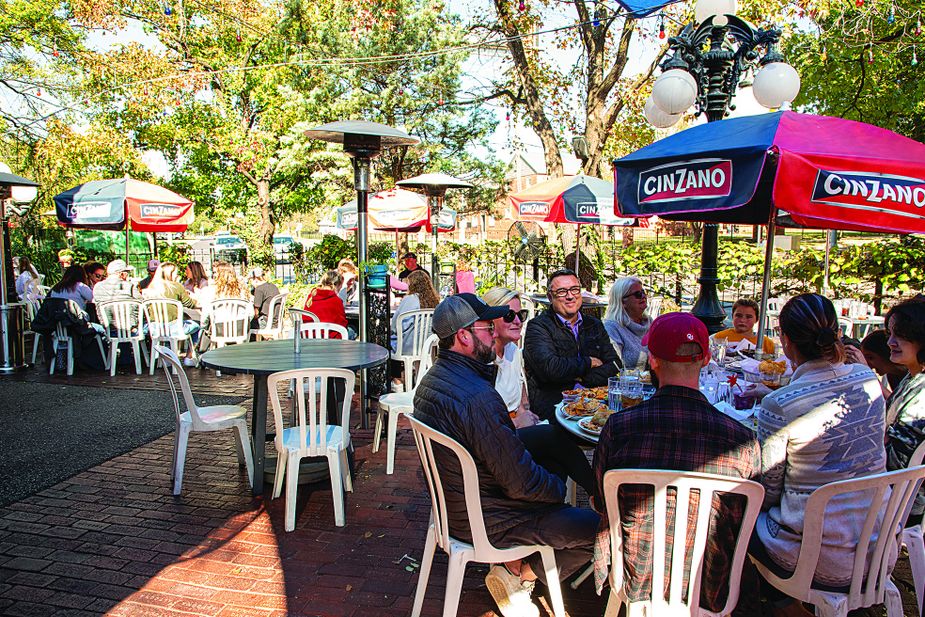 The Mont in Norman. Photo by Lori Duckworth
The O.G.
Since 1976, The Mont has become one of Norman's favorite haunts for University of Oklahoma students and alumni seeking sustenance and social interaction. Shielded from the sun and passing traffic is the patio, which is important enough to the concept that it has its own tab on The Mont's website. It only takes one visit to find out why. While giant platters of chicken nachos and loaded cheese fries are satisfying, The Mont's real draw is the people. It is, in many ways, Norman's original social network. For some, the only places to be on game days are in the seats of the Gaylord Family Oklahoma Memorial Stadium or parked on the patio at The Mont with a frozen swirl in one hand and The Mont Burger in the other.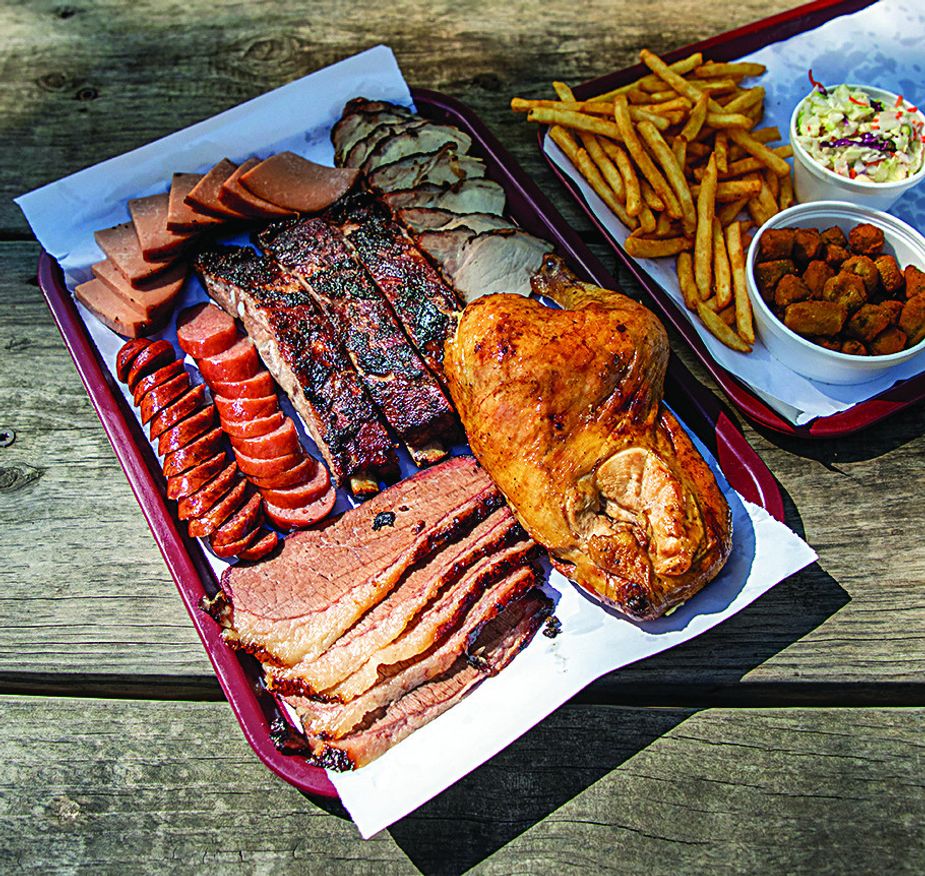 Smokin Joes Rib Ranch in Davis. Photo by Lori Duckworth
The Smoke Show
There are plenty of signs urging drivers to pull off of Interstate 35, but savvy travelers will follow the line of vehicles off Exit 51 for Smokin' Joe's Rib Ranch in Davis. Those folks know that some of the best barbecue in the state is waiting inside this rustic culinary outpost. When the parking lot is full, so is the dining room, which makes the luxurious patio area a big draw. Ribs didn't make it into Smokin' Joe's name by accident. These ultra-tender hickory-smoked pork ribs are a must, but there's plenty to love for those who prefer a different protein. Chicken comes on and off the bone—including in the form of tasty hot wings—and fans of casing-stuffed meats can choose from Polish sausage, hot links, and barbecued bologna. Time the visit for Friday or Saturday to get a taste of Joe's famous smoked beef rib eye dinner that puts a few steak houses to shame.
Get There
Smokin' Joe's Rib Ranch, 3165 Jolleyville Rd Davis, OK 73030 or
TravelOK.com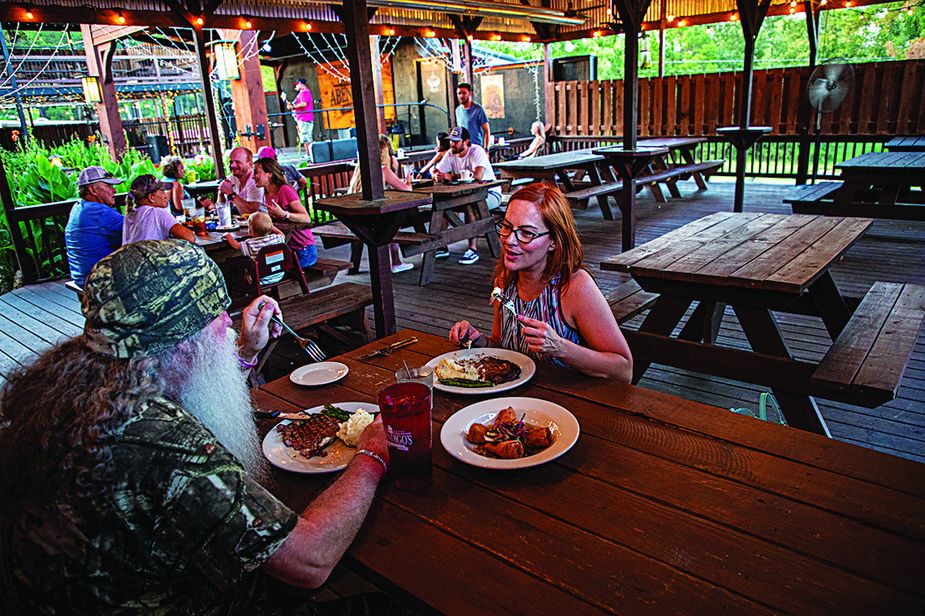 Abendigo's Grill & Patio in Hochatown. Photo by Lori Duckworth
The Take-On-All-Comers
Despite the gourmet kitchens in Hochatown's many cabins, visitors to this resort town have no shortage of places to dine out. At Abendigo's, smoked ribs, steaks, and burgers share menu space with bone-in chicken Madeira, shrimp and grits, and truffle Gouda macaroni and cheese. Music lovers will likely want to sit outside when Abendigo's has a band onstage—a staple of the spring and summer months—to enjoy a cool breeze, a locally brewed beer, and a bevy of talented up-and-coming musicians.
Get There
Abendigo's Grill & Patio, 10050 N US Hwy 259 Broken Bow, OK 74728 or
TravelOK.com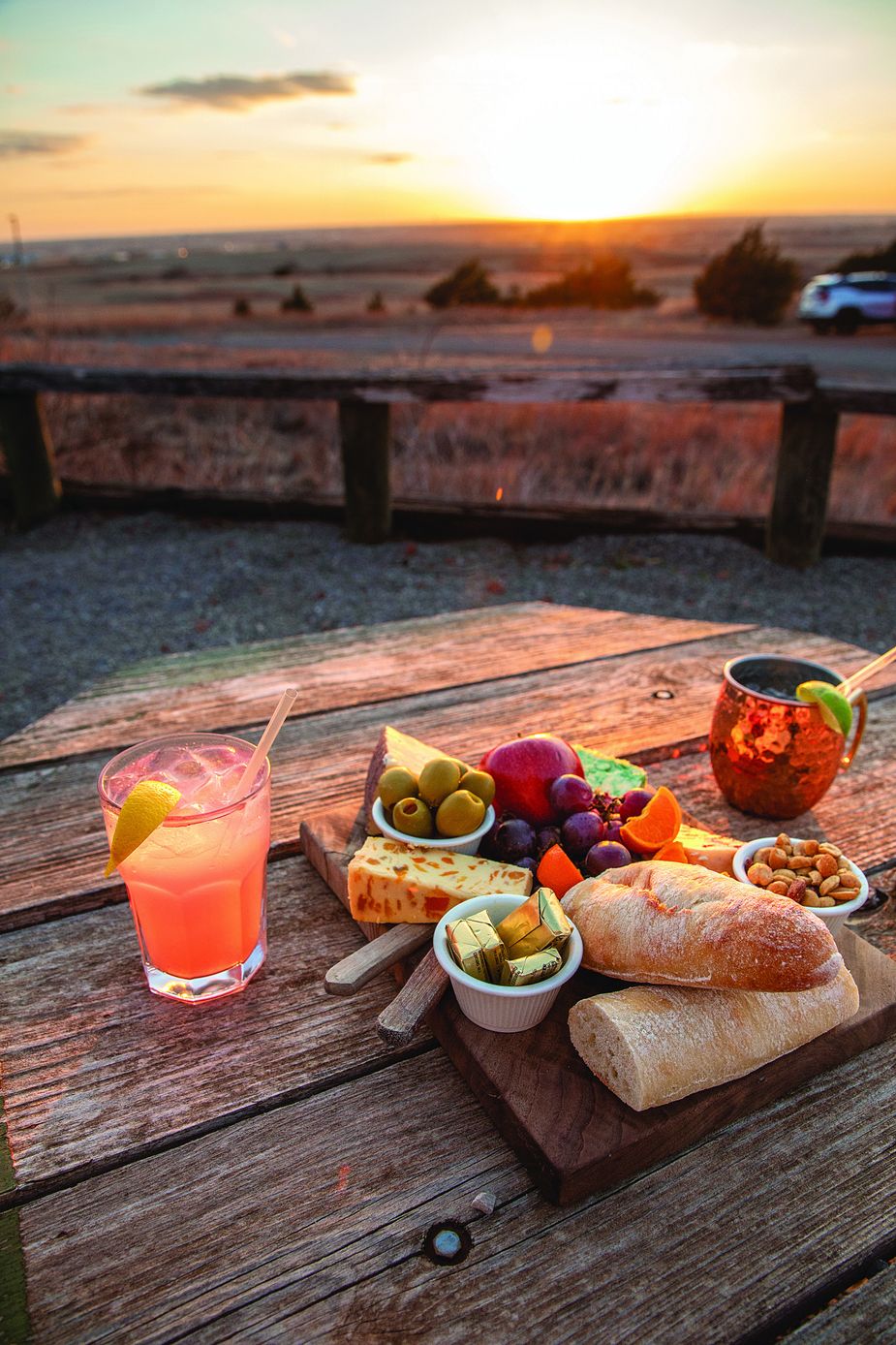 White Dog Hill in Clinton. Photo by Lori Duckworth
The Sunset Sampler
Originally constructed as the clubhouse at the Clinton Country Club & Golf Course in 1925, White Dog Hill is one of western Oklahoma's culinary gems and a gathering place for celebrations big and small. While the golf course is no more, the vast area to the west of the hilltop restaurant stretches to the horizon. Views of the sunset are so popular the restaurant has set up several chairs on the hill to let diners enjoy a glass of wine and a nibble from a cheese board as the sky is painted in layers of orange, pink, and crimson.
Inside, the full menu is just as spectacular as the view with a selection of steaks, pork chops, and fish that do to guests' mouths what the sunset does for their eyes. First-time visitors to White Dog Hill are advised to save room for dessert, which is harder than it sounds. Following up a bacon-wrapped filet with a warm apple butterscotch crisp or one of the other weekly special sweets is a fine way to cap off a meal worth howling about.
Get There
White Dog Hill, 22901 N Route 66 Clinton, OK 73601 or
TravelOK.com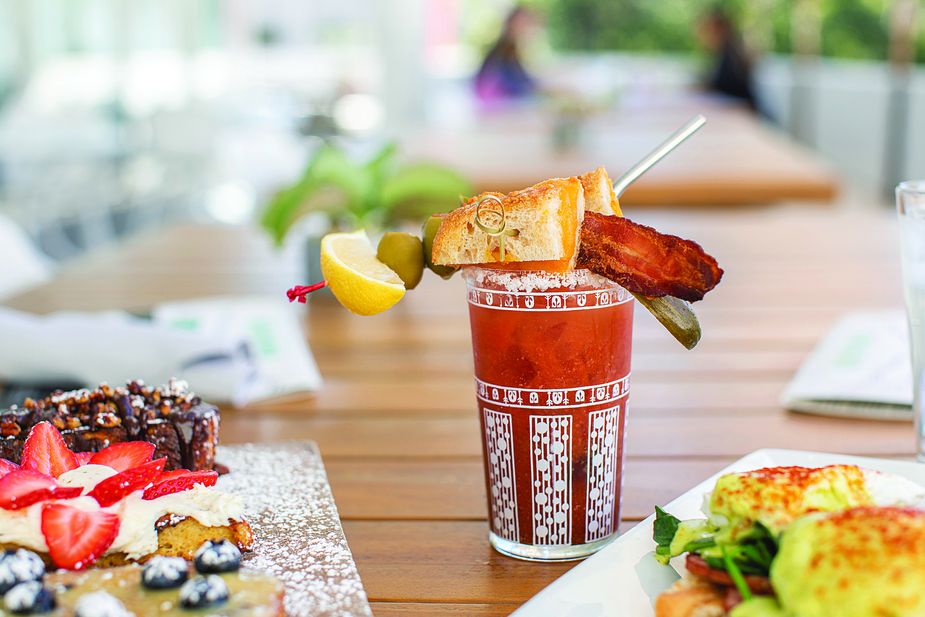 The Vault in Tulsa. Photo by Valerie Wei Haas
The Revivalist
Diners banking on a great outdoor meal should deposit themselves on the patio at The Vault. This New American eatery in the heart of Tulsa is in what used to be the First National Auto Bank, and its midcentury modern design is almost as stunning as the menu. While the architecture thrills from the inside, the views of downtown from the patio are just as captivating. The Vault serves brunch, lunch, and dinner to guests whose palates range from strictly vegan to omnivorous. The dinner menu boasts a dozen dishes that can be made vegan, including the sweet and spicy Korean barbecue tofu sandwich and a pineapple upside-down cake, while also serving meaty fare like a beef filet with herb butter and whipped garlic potatoes or the porcine delights of the Cuban sandwich. It's one of the few banks where the last thing customers want to do is withdraw.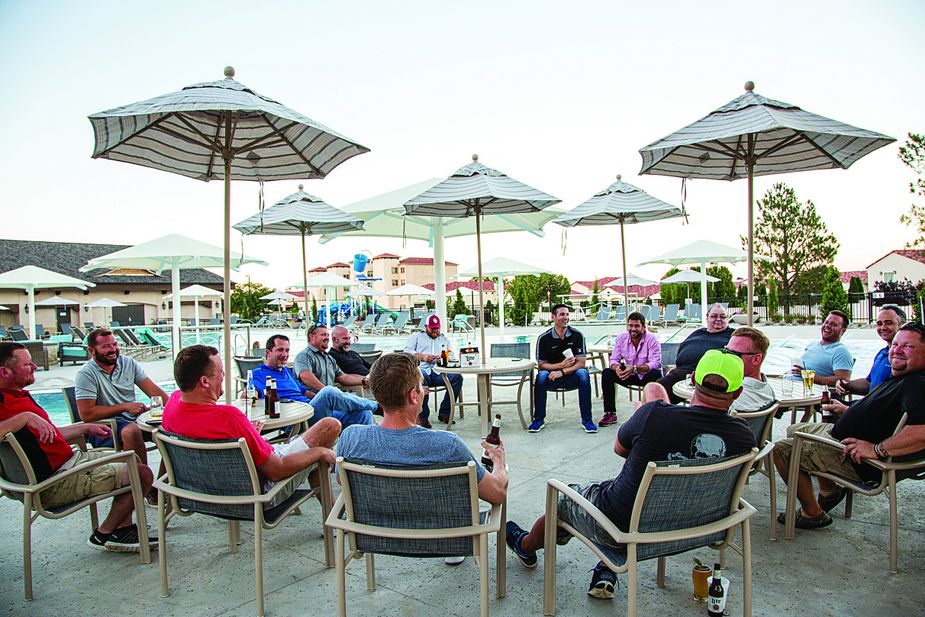 Doc's Bar and Grill at Shangri-La Resort. Photo by Lori Duckworth
The Grand Poobah
Shangri-La Resort is a world-class destination inside and out, and while it's oh-so-tempting to spend days here lazing in the plush rooms, playing games in The Anchor, and getting pampered in the spa, the outdoor facilities simply cannot be missed, which is one great reason to visit Doc's Bar and Grill. Whether guests are tucking into a Memphis-style pulled pork sandwich piled high with coleslaw, indulging in a plate of rotisserie chicken with sweet potato praline mash, or slicing a perfectly cooked rib eye steak served with a glass from Doc's Whiskey Bar, you can find many of them parked on the massive patio overlooking the waters of the Neosho River. Make sure to come by Thursday evenings for the restaurant's prime rib special and patio karaoke.
Get There
Shangri-La Golf Club, Resort & Marina, 31000 S Hwy 125 Monkey Island, OK 74331 or
TravelOK.com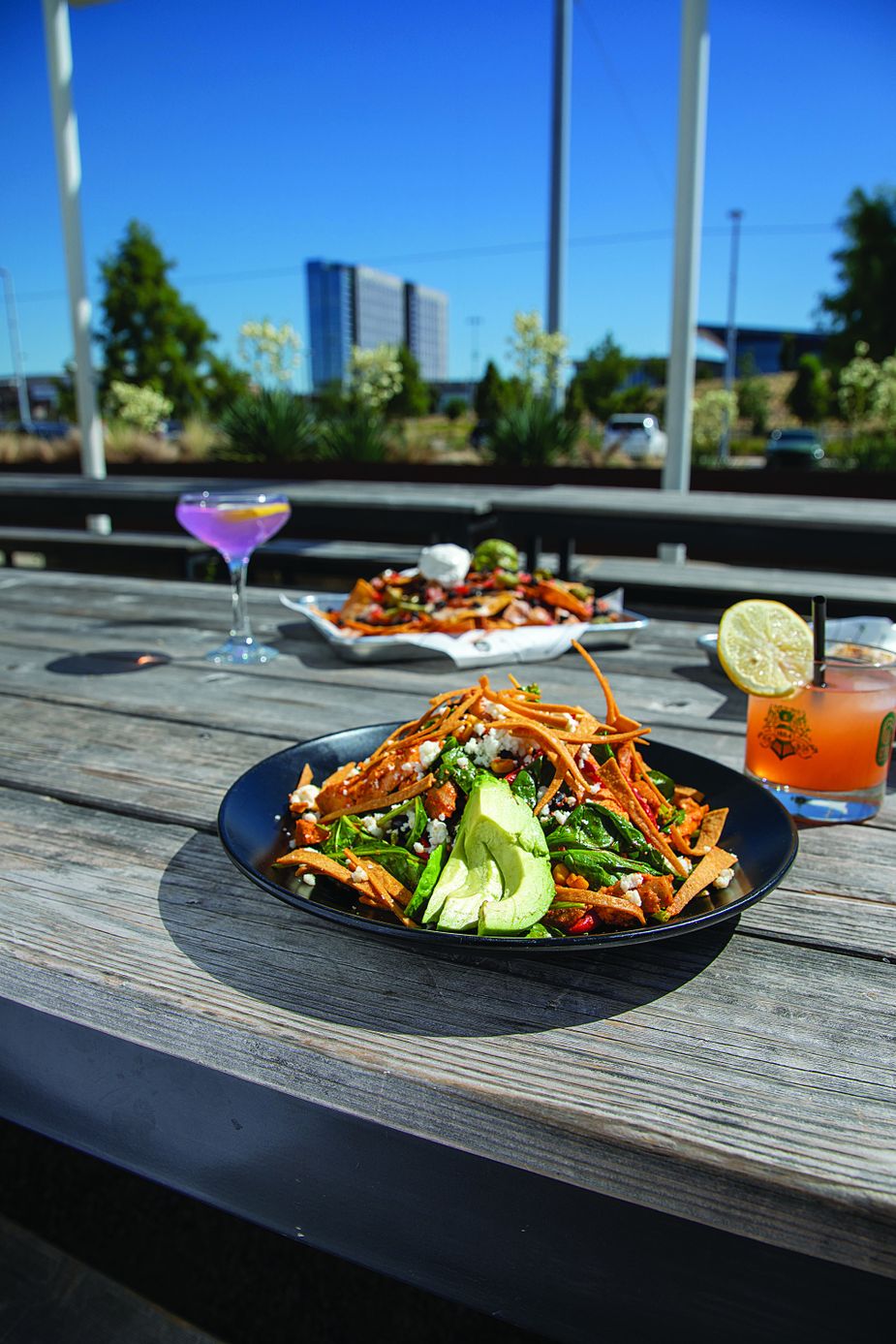 Social Capital in Oklahoma City. Photo by Lori Duckworth
The Cool New Kid
Overlooking downtown Oklahoma City's Scissortail Park, Social Capital is an ideal place to drink in the lush scenery—and a few craft beers. With three patios and seating for hundreds, Social Capital's scope can be a bit overwhelming. The same can be said for the beer menu, which pulls from eighty-four taps full of craft brews from across the state and a handful of more far-flung breweries. The dining menu is more subdued with a selection of Southwestern dishes including double-caramelized carne asada tacos, Nashville-style hot fried cauliflower, and spinach and mushroom quesadillas. But come during happy hour—from three to six p.m. Tuesdays through Fridays—for a 25 percent discount on beer and access to tasty specials like the Capital Burger and spicy chorizo fries.
Get There
Social Capital, 517 S Hudson Ave Oklahoma City, OK 73109 or
TravelOK.com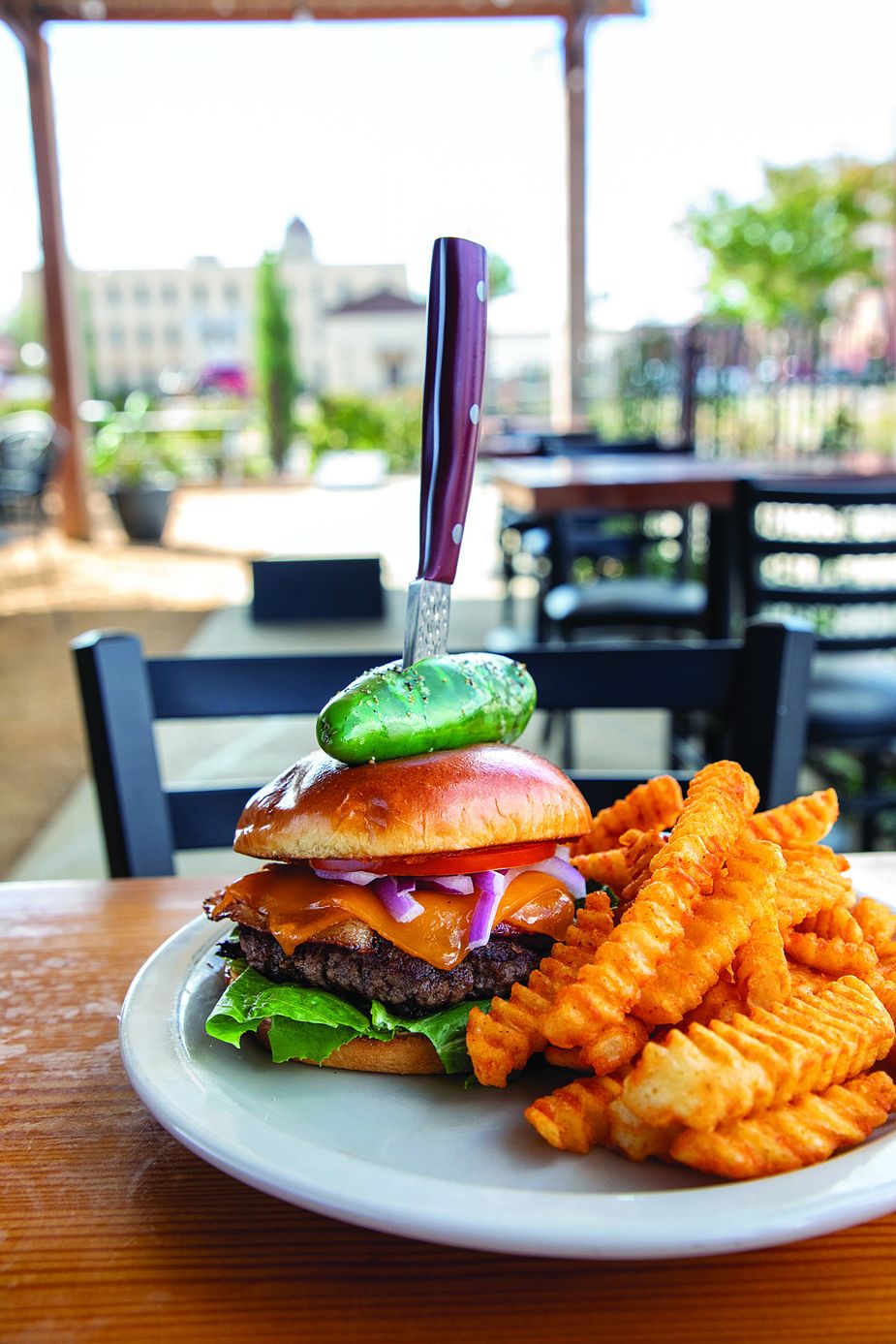 Mill Street Tavern in Ardmore. Photo by Lori Duckworth
The Public House
The best place to see and be seen in Ardmore is the covered patio of the Mill Street Tavern. Whether guests are catching a local band or gathering around the cornhole boards for some friendly competition, the patio is frequently packed with diners sharing a laugh while eagerly tipping back one of twenty-three beers on tap. Mill Street's resemblance to a bustling cafeteria is only enhanced by the near-ubiquitous presence of tater tots on the tables. The "cracked" tots, tossed in a blend of garlic powder and Parmesan cheese, are especially captivating with any of the four ranch dip options available. But veteran guests know not to fill up on potatoes lest they miss out on the restaurant's variety of hefty burgers, Tex-Mex favorites, and steak house fare.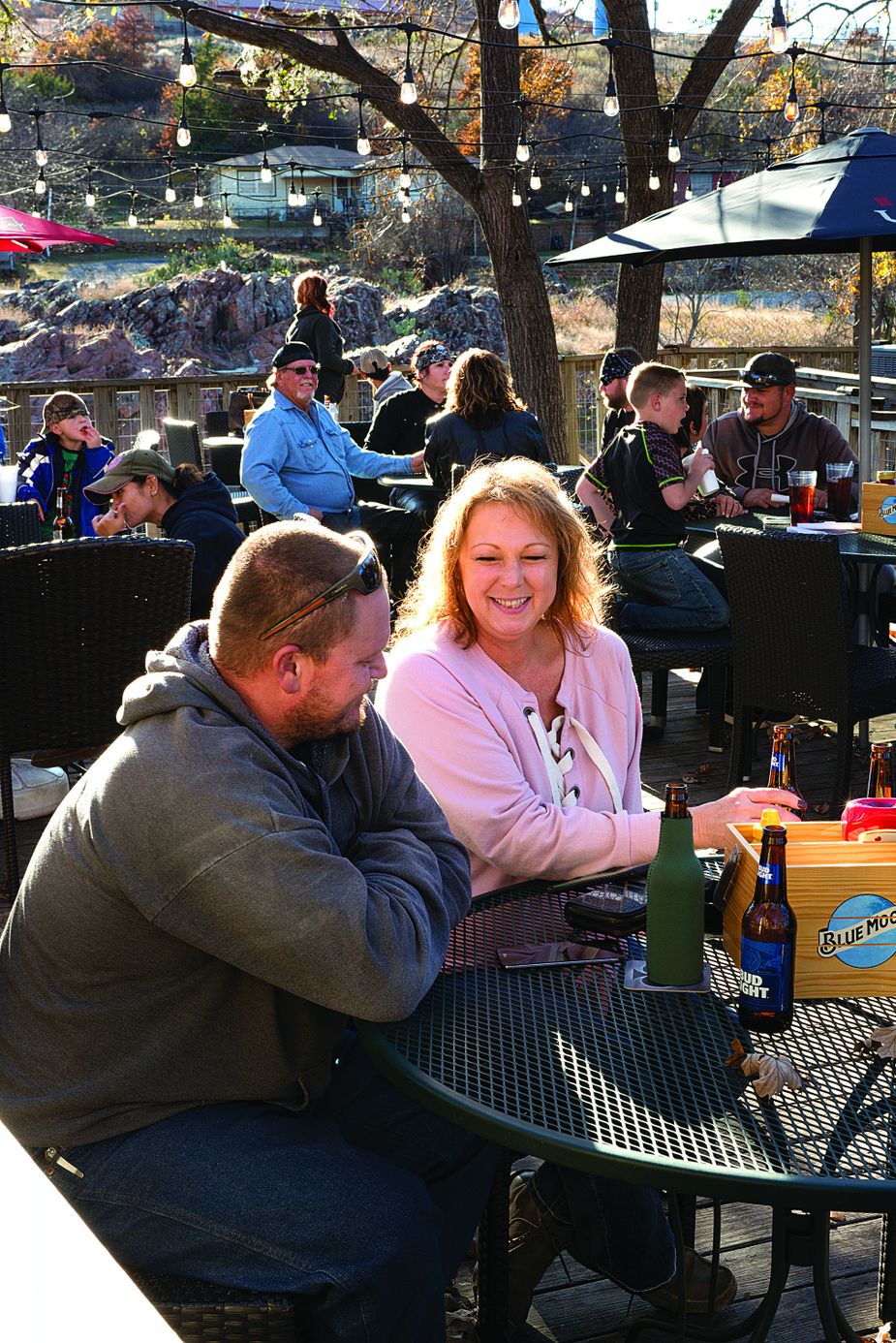 Riverside Cafe in Medicine Park. Photo by John Jernigan
The Mountain Home
As the name implies, Medicine Park's Riverside Cafe does indeed sit on the side of Medicine Creek with a patio overlooking the flowing water and bucolic natural sights of southwest Oklahoma. With so many visitors coming to town for hiking, swimming, and shopping, Riverside Cafe's filling comfort food menu is ideal for recharging batteries before heading out for another round. Or maybe the next round will be on the patio as well, since Riverside stocks more than twenty adult beverages including beer and hard sodas. It's especially hard to be motivated to leave the relaxing atmosphere, cold drinks, and scrumptious treats like crispy sweet cowboy corn nuggets or the cafe's famous fried catfish.
Get There
Riverside Cafe, 100 E Lake Dr Medicine Park, OK 73557 or
TravelOK.com