15 minutes
Published September 2022
By Megan Rossman | Photos by Lori Duckworth | 15 min read
Standing in the Great Banking Hall of the First National Center in downtown Oklahoma City, Gary Brooks surveys his ornate surroundings with an expression of pride—and perhaps a little fatigue. Either would be reasonable. For nearly a century, the skyscraper's turbulent history often has rivaled its singular art deco splendor.
First National's historic proprietors—who now include Brooks and co-owner Charlie Nicholas, founder and president of Texas-based NE Development—all have dealt with a constant stream of challenges from oil busts to maintenance issues. Presiding over a thirty-three-story, 1.1-million-square-foot commercial space has never been a smooth ride for anyone at the helm.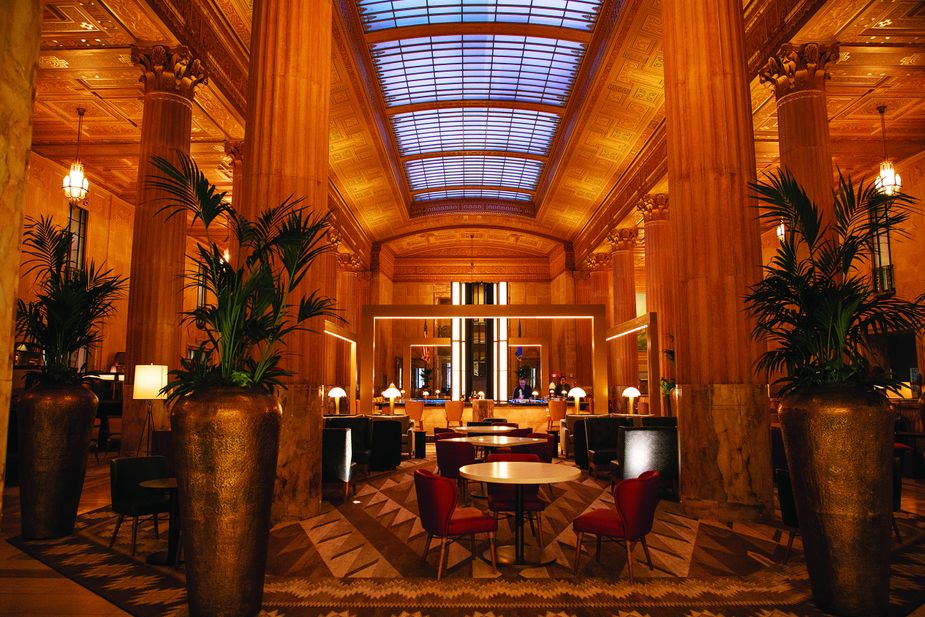 The recently made-over Great Banking Hall at First National Center in Oklahoma City now includes a swanky central bar and the Italian-inspired Tellers restaurant.
"I call it the Black Cloud of First National," says Brooks, who's worked in local real estate and development since 1987. "Everyone loves the building, but when you start peeling the layers back, it gets really dark and ugly and complicated and challenging."
The First National tower opened its doors in 1931—no small feat during the Great Depression. It was, by all standards, a marvel of architecture and the glowing pinnacle of the downtown skyline. But by 1940, tenants already were complaining about rogue elevators—a gripe that would continue well into the next century—in a Daily Oklahoman story that proclaimed the building was " . . . unmasked as decrepit, outmoded, obsolete, down-at-heel, worn-out, and a complete hag at the ripe old age of eight years."
But if romantic comedies have taught us anything, it is the power of makeovers. Eighty-two years and a few bankruptcies later, the edifice that's been headache and hallowed stomping ground for so many has been reimagined and painstakingly restored in a $287 million project financed by Tinker Federal Credit Union, individual investors, and historic tax credits. Former office space now houses The National—a Marriott property managed by Coury Hospitality—and 193 luxury apartments known as The First Residences. Restaurants, bars, and about seven retail and service shops will be spread among the first floor and basement.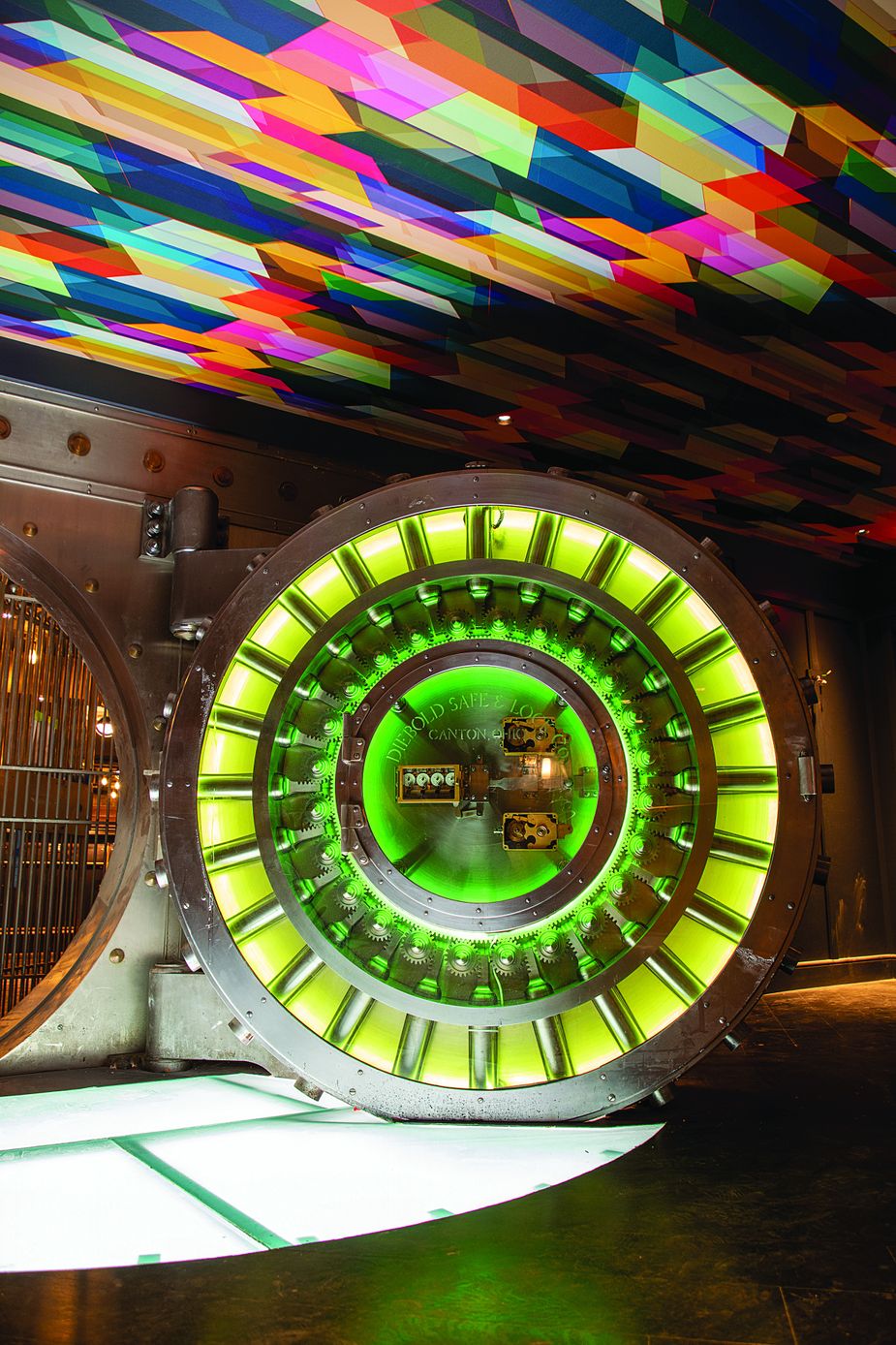 First National Center's former bank vault, located in the basement, now houses The Library of Distilled Spirits, which specializes in classic cocktails and fine liquors. Patrons enter through the vault doors.
It's a far cry from the building that had the distinction of being one of the country's largest asbestos removal projects when the partnership group purchased it in 2017. It took Brooks' teams a year to get First National Center—which originally was constructed in just eleven-and-a-half months and includes two additions to the tower built in 1956 and 1972—down to its steel and concrete shell, another two years to ready it for construction, and two more to finally rebuild. They removed tens of millions of pounds of debris and replaced every system: heating, mechanical, plumbing, wiring, elevators, and escalators.
"We didn't keep any of the old systems except for the historical fabric that you'll see," says Brooks. "Our theory was once you open, it's a hotel—it will never close. So, if you don't do it now, you'll never do it. You only get one chance with this building. We started out extremely excited. At about mile three, you're like, 'This is about to get crazy,' and it did."
At First National's main entrance, visitors are greeted by stairs ascending to the Great Banking Hall. As the name suggests, it originally was just that. Massive columns, long marble counters, and teller windows still frame opposite sides of this echoing, two-story former altar to American finance. The monumental task of restoring this neoclassical space and other historical features throughout was headed by EverGreene Architectural Arts, a firm headquartered in New York City, whose past projects include the U.S. Capitol Dome, the Empire State Building, the Jefferson Memorial, and numerous state capitol buildings—including Oklahoma's.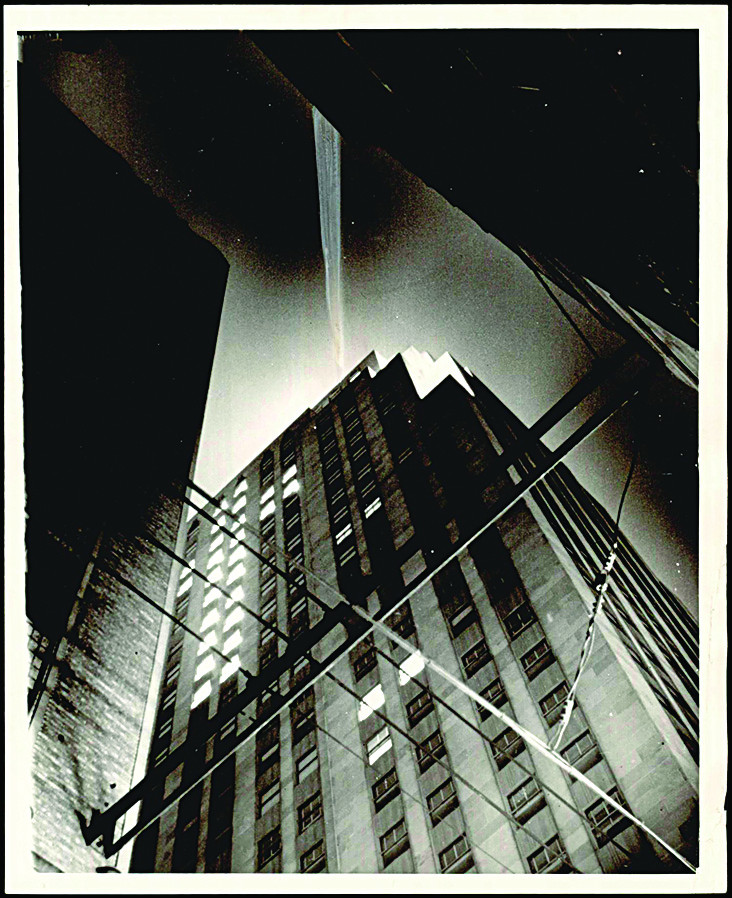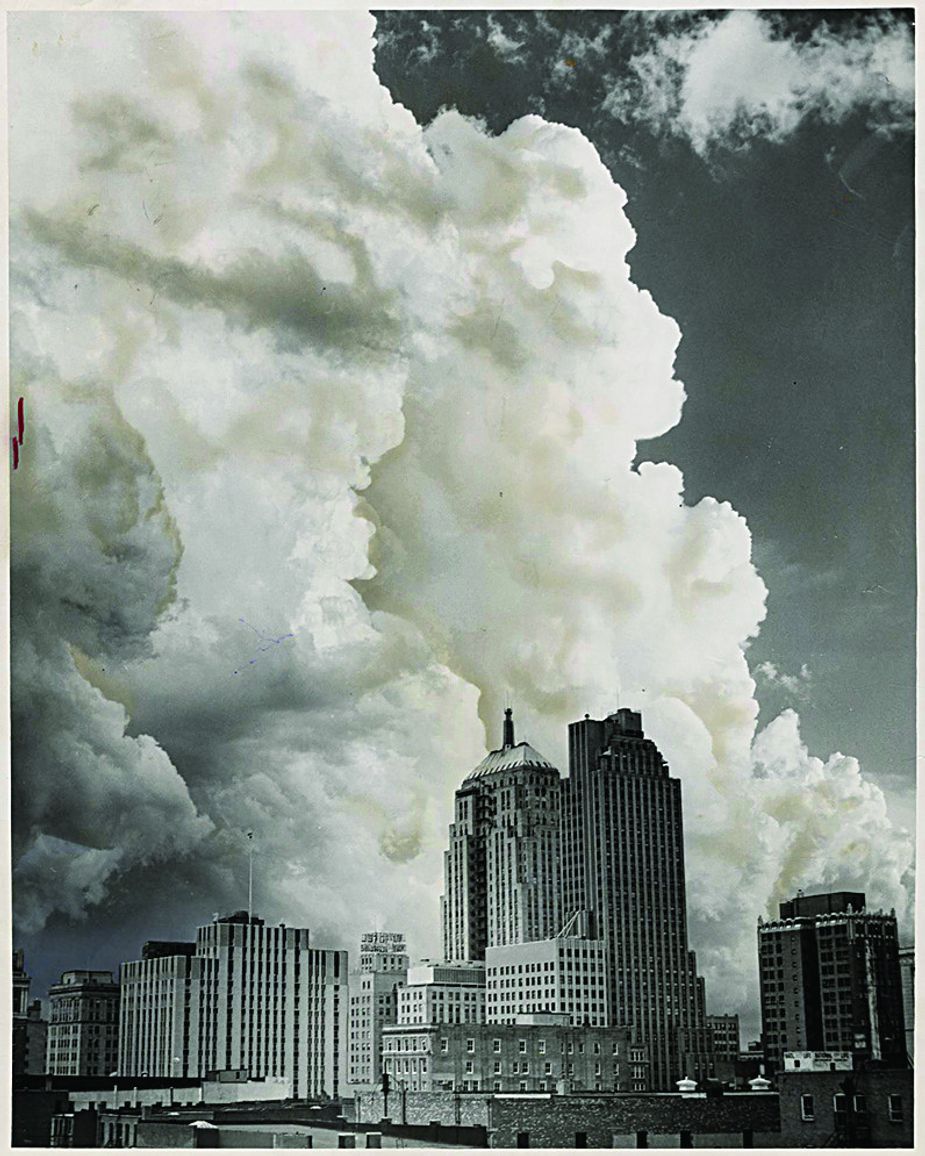 The Great Banking Hall now takes the form of a communal space modeled after the old-world salons of Europe. Four refurbished 1931 murals of pivotal Oklahoma events-—such as land runs and the Louisiana Purchase—by Edgar Spier Cameron pay homage to the state's history. Beyond the check-in counter, plush and leather chairs and sofas and gilded accents circle a central bar where servers in white jackets and ties sling coffee, cocktails, and confections. On the south end, Italian restaurant Tellers uses a wood oven and wood-fired grill to prepare steaks, seafood, house-made pastas, and pizza accompanied by an ample selection of Italian wines. On the opposite side, two large private rooms with terraces extending into the hall provide the perfect enclave for posh parties that share the energy of the surrounding space without having to share their own bars or bathrooms. A ballroom through an adjoining corridor to the east seats 350 for larger events.
"The private bars are very rare to find in a hotel," says The National's new event coordinator Amanda Clark, who oversaw the opening of Oklahoma City's largest hotel, the Omni, in January 2021. "Most just have event space. A private area with velvet couches and marble tables is really nice. The feedback we're getting is that it feels very Great Gatsby."
The glittering Jazz Age vibe continues below. The former bank vault area in the basement now houses the Library of Distilled Spirits, which showcases the original 26,000-pound vault doors within a moody subterranean bar. Along with serving a great drink, the library educates patrons about what's in their glass.
"We don't want it to be preachy, but we want people to be like, 'That's great, I learned a little more about this, and I appreciate the classic cocktail a lot more,'" says Tom Dillon, founder and CEO of Apicii, a hospitality management and concept development group based in New York City that's partnered with the hotel to create and manage its restaurants and bars. "You also can get a lot of things here you don't typically have the opportunity to try."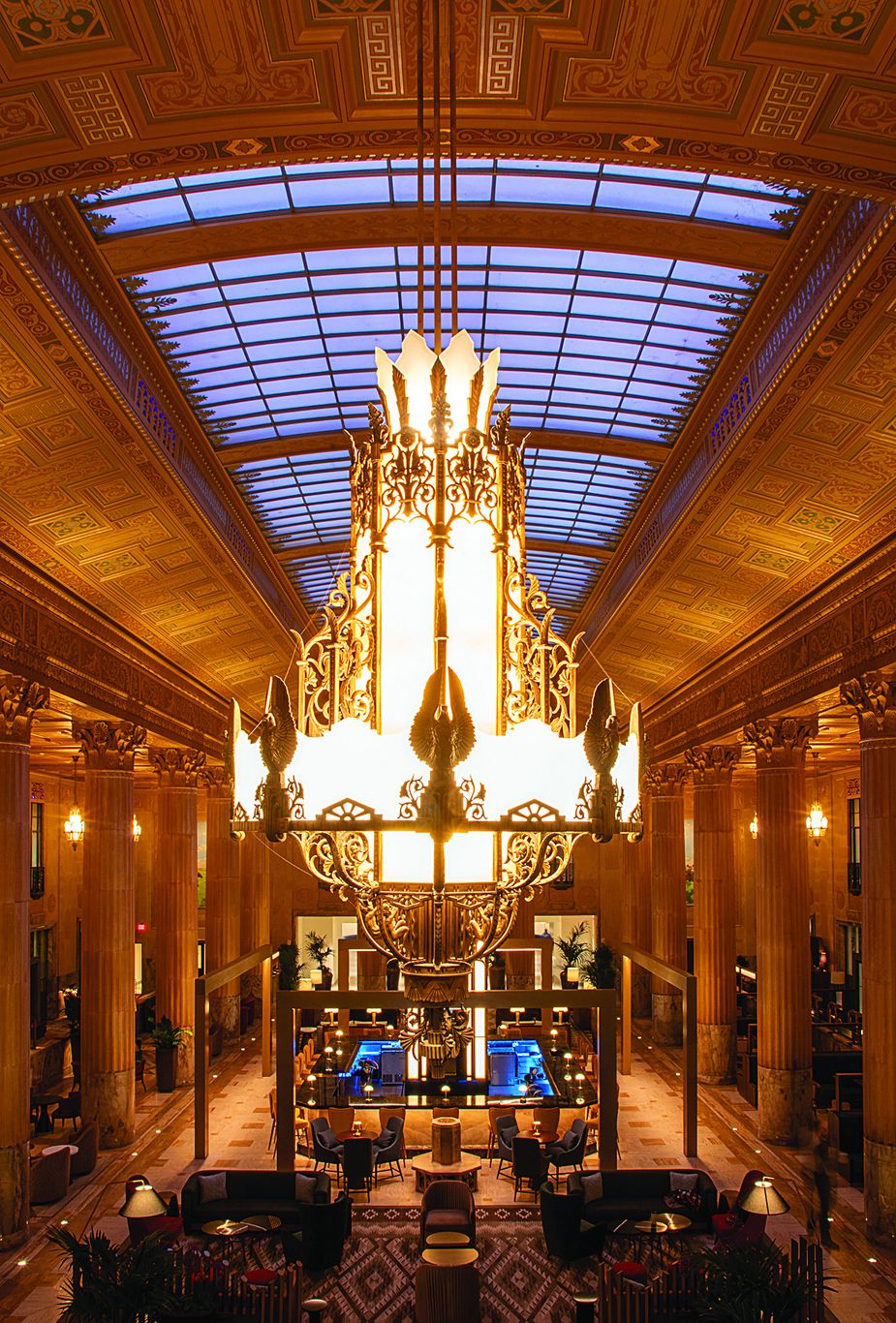 Floors 9 through 32 of the building have been converted into The First Residences at First National luxury apartments. A variety of floor plans range from 568 to more than 3,000 square feet and include studios to 3-bedroom units.
Want a 1954 Macallan single malt scotch or a menu of specialty gin and tonics? This is the place. Or drinkers can sample some of the bar's own creations, like the Pretty Boy Floyd, a martini made with honeydew-infused Hendrick's gin, Cocchi Americano and Fino sherry instead of dry vermouth, and a Kaffir lime leaf tincture.
Guests need not wander upstairs for a snack, as the bar offers food service as well. However, when visitors inevitably do resurface, they'll find a hall of retailers on the first floor, a gallery dedicated to the building's founders and history, a full-service barbershop, and Stock & Bond, an upscale steakhouse scheduled to open in July. It will serve a full menu of classic steak cuts and seafood, creative twists on sauces and sides, and more than 150 varieties of bourbon.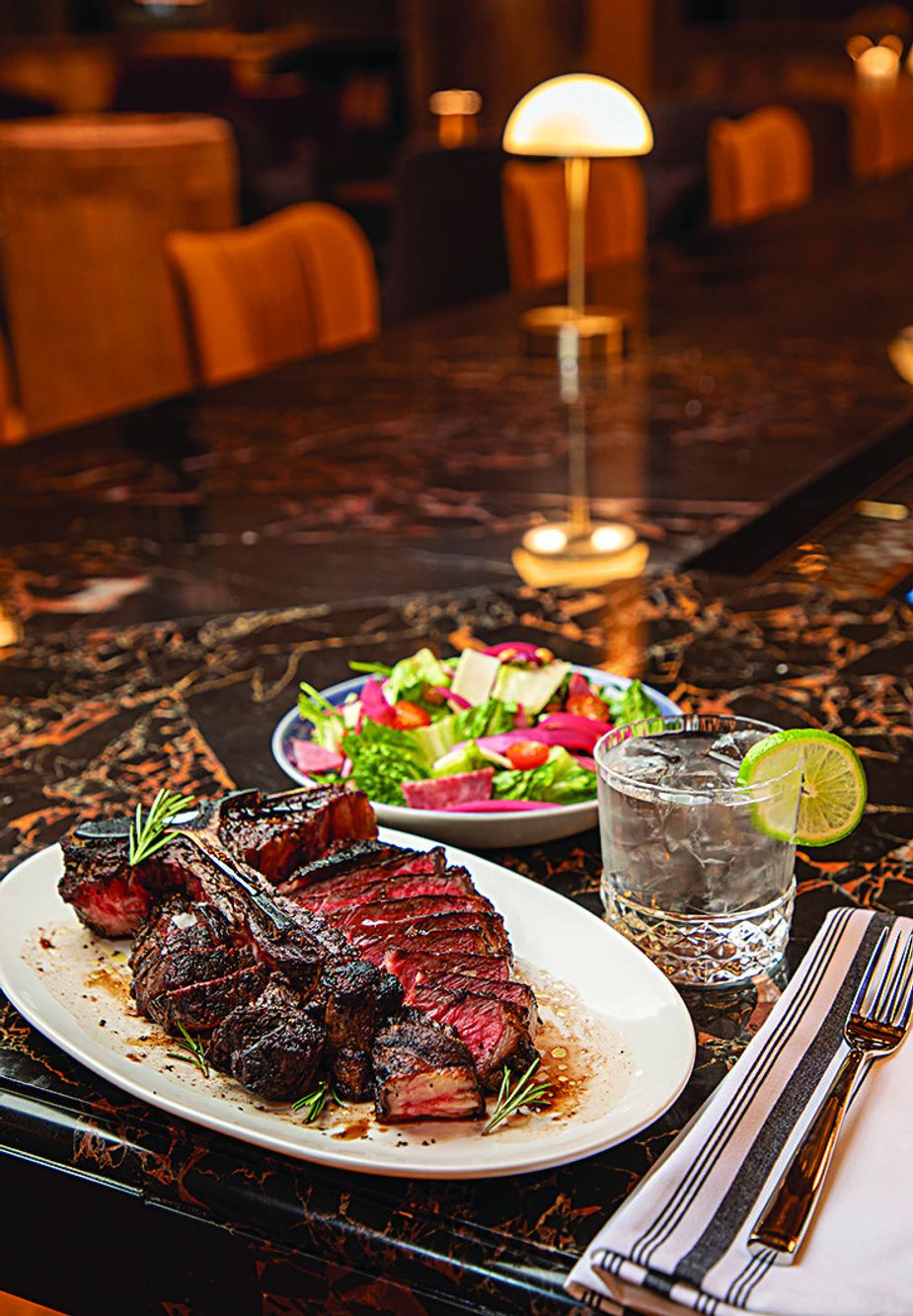 Tellers restaurant in the Great Banking Hall serves a variety of dishes from decadent avocado toast and steaks to light salads and Italian fare like pizza and pasta. Wine, beer, and cocktails are available at the restaurant and the central bar.
"You're going to get an amazing ribeye, and it's going to be beautifully cooked and beautifully sourced," says Dillon. "The restaurant will be highlighting the purveyors and the people who are behind all the foods we eat."
In addition to the Apicii-managed venues, The Gilded Acorn—a bistro and patisserie from James Beard Award-nominated local chef Andrew Black—also is set to open on the northwest corner of the building later this year. Along with desserts, light lunches, tea, and coffee drinks, diners can choose from a selection of champagnes to sip with macarons and other artful dishes.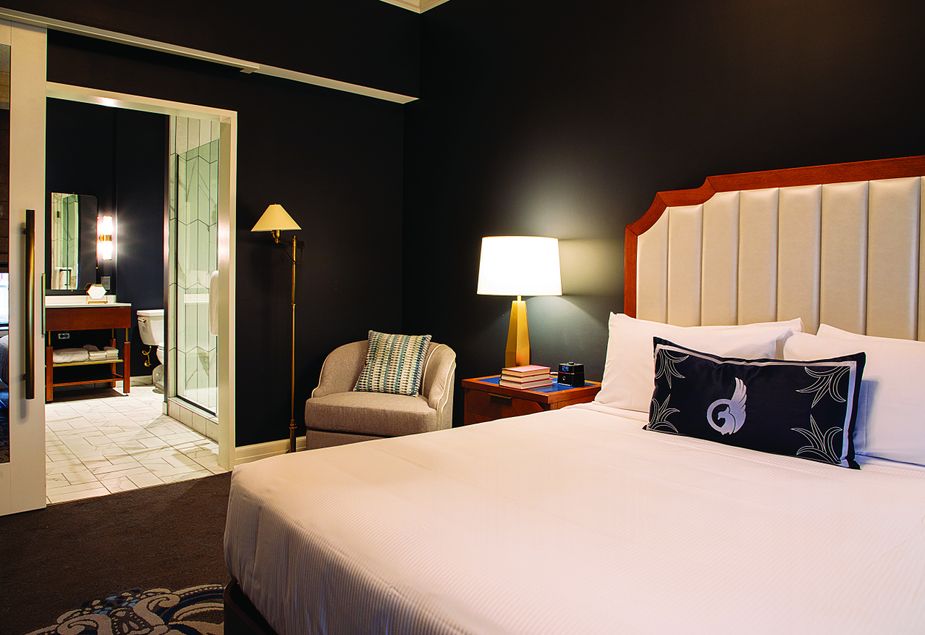 The National features a 900-square-foot Presidential Suite on the third floor.
While the restaurants and businesses are open to the public, hotel guests and residents enjoy their own perks.
The First Residences' 193 units occupy floors nine through thirty-two, with hotel rooms on floors two through eight. Forty-three apartment floor plans range from 568-square-foot studios to three bedrooms that encompass more than 3,000 square feet. The tower's famed former Beacon Club—a historic gathering place for the city's movers and shakers—now is a penthouse. Rental prices begin at around two thousand dollars a month and ascend from there. An abundance of windows emphasizes ample natural light and city views, and thoughtful interior designs maximize the welcoming flow of each space. High-end appliances come standard along with quartz and granite countertops in select units.
The rooftop infinity pool and three cabanas are some of the biggest bonuses. Paired with double-sided fireplaces, an outdoor kitchen, and multiple televisions, it's a coveted spot for an outdoor shindig. A dog park, divided for small and large dogs and outfitted with water fountains, gives canine tenants their own elevated oasis. Plus, there's a lounge with a pool and shuffleboard, a twenty-four-hour gym, and free valet and concierge services.
With all the entertainment options, it's understandable that many who enter the building will want to reside here permanently. Of course, most occupants are temporary, whether they're meeting for drinks and dinner or staying at The National. The hotel is part of Marriott's Autograph Collection, which contains more than 240 independently owned and operated properties around the world, each recognized for its unique character. Nearly 150 guest rooms include sixteen suites and a 900-square-foot Presidential Suite whose entrance is on a balcony overlooking the Great Banking Hall. Whether they're sleeping in a standard room or a suite, guests will find deco flourishes like starburst lighting fixtures, gold accents, dramatic color palettes, and jewel-toned plush furniture alongside modern amenities like black-out curtains, high thread-count sheets, and free Wi-Fi.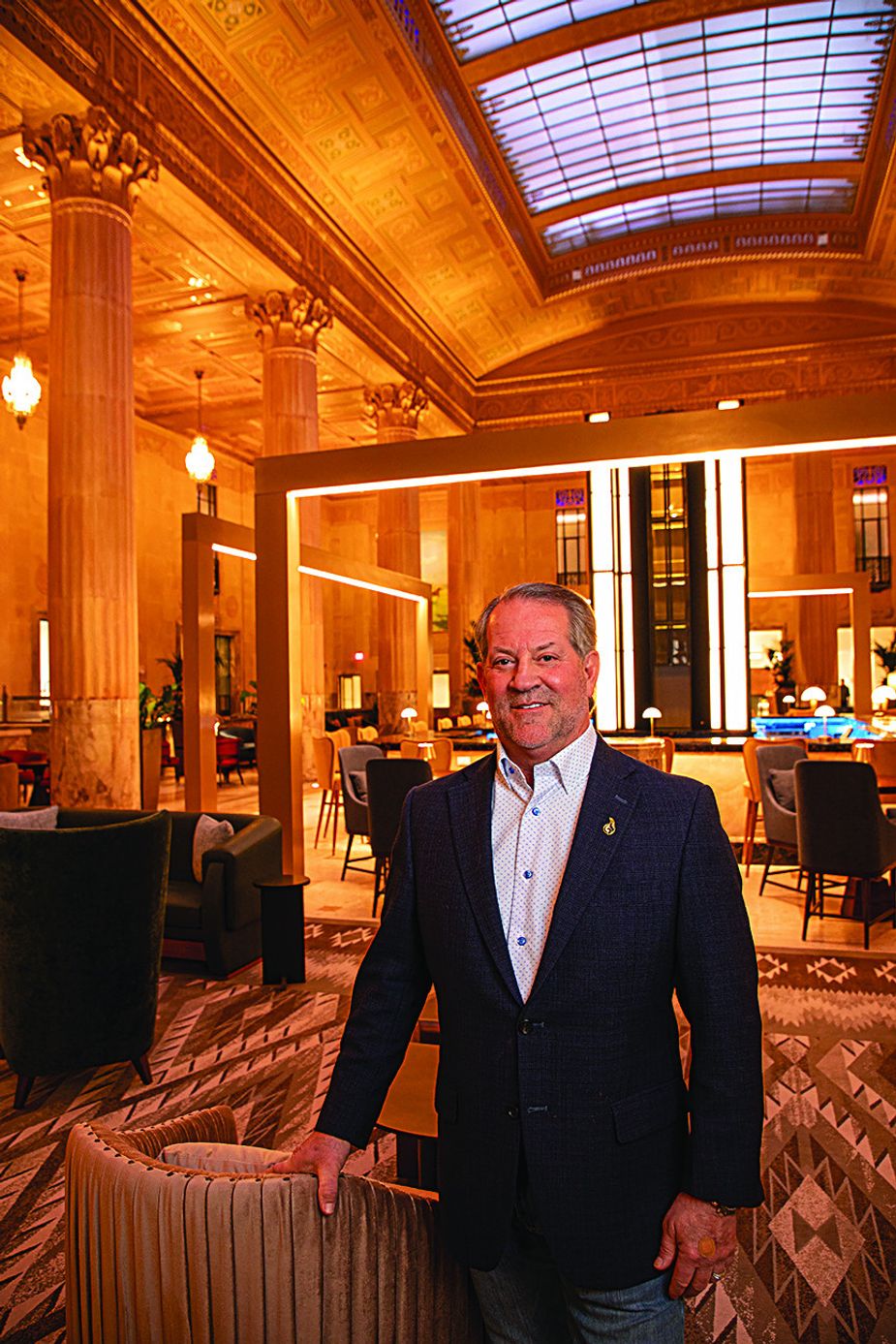 Building owner Gary Brooks
The metamorphosis truly is something to behold—a testament to the city's perennial grit, the willingness of its citizens to step up and step in to carry out a mission, no matter how daunting it may seem, and the visionaries and their teams who steer the ship. It does indeed take a village, as the adage goes, and in this case, it also takes ample financing and a legion of work crews. With six-and-a-half years of planning and grind almost behind him, Gary Brooks knows it well.
"Everybody wanted to save the building," he says. "There was no one in town who didn't want to help us."
After nearly a century, it feels as though the black cloud that's stifled First National for so long finally is clearing. And the view has never been better.
Get There
National Hotel, 120 N Robinson Ave Oklahoma City, OK 73102 or
TravelOK.com
Get There:
National Hotel 120 N Robinson Ave Oklahoma City, OK 73102 or
TravelOK.com