Five Dog Nights: Stray Awhile
3 minutes
Published October 2022
By Cooper Marshall | 3 min read
In the heart of downtown Clinton lies Strayhouse Kitchen + Coffee, a lumber factory turned coffee shop. Geoff Park and Taryn Trujillo started the business serving coffee out of a '72 Airstream camper; now, they offer freshly brewed cups with blends roasted in-house in a rustic-yet-modern dining space. For those whose journey to Clinton involves more than a caffeinated pick-me-up, Park and Trujillo have created The Inn at Strayhouse, an Airbnb that opened in December 2021. Luckily for visitors who love their animal friends as much as the owners love their own husky, Ziggy Stardog, both the coffee shop and Airbnb welcome travelers with any animal companion for a twenty-dollar fee.
"If your pet is friendly, Strayhouse is friendly," Park says. "Since day one when we opened up in 2016, we've been like, 'All the dogs can come in.'"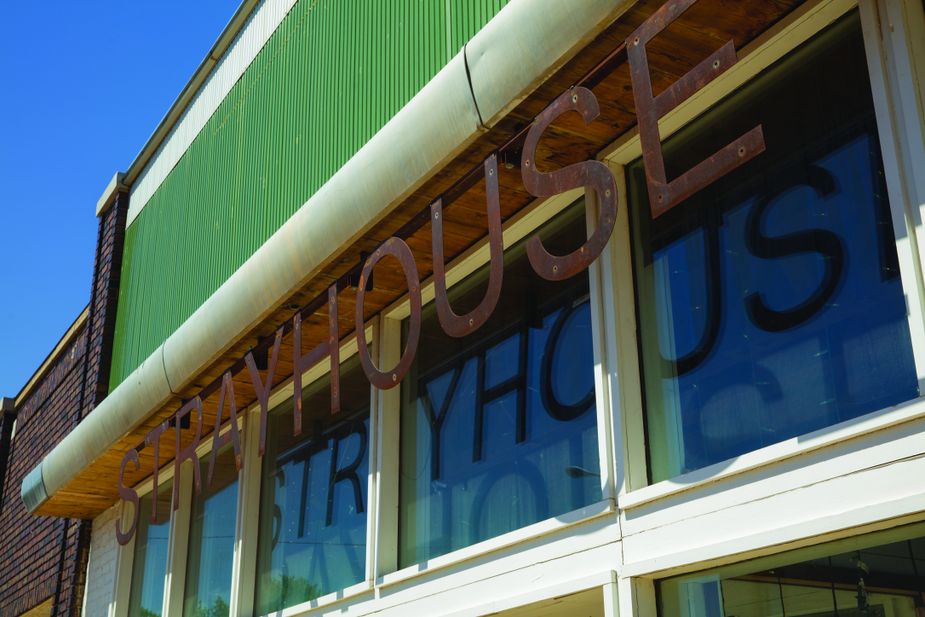 In addition to rooms, Strayhouse includes a coffee bar restaurant. Photo by Brent Fuchs
Trujillo worked at the Oklahoma Humane Society in Oklahoma City before moving to Clinton, and Park was in construction. That experience helped him build and renovate Strayhouse, which is just the right size for two people plus an animal friend. The front door leads to a living area complete with table and chairs, a kitchenette, and wood flooring. Around the corner is a walkway where visitors can see the locally famous "Happy Trails!" neon sign from the original Strayhouse coffee truck. Through the walkway is the bedroom, where the queen-size bed sits under a huge map of North America.
The best part of the house is the chalkboard in the front room, where past visitors leave messages and drawings of their pets. Sometimes, they will even leave mementos. One visitor left a Polaroid photo of their three adorable dogs and a note on a coffee filter detailing what a wonderful place Strayhouse was for them. (Double-check the coffee filters before you use them to make sure you don't accidentally ruin this adorable piece of art).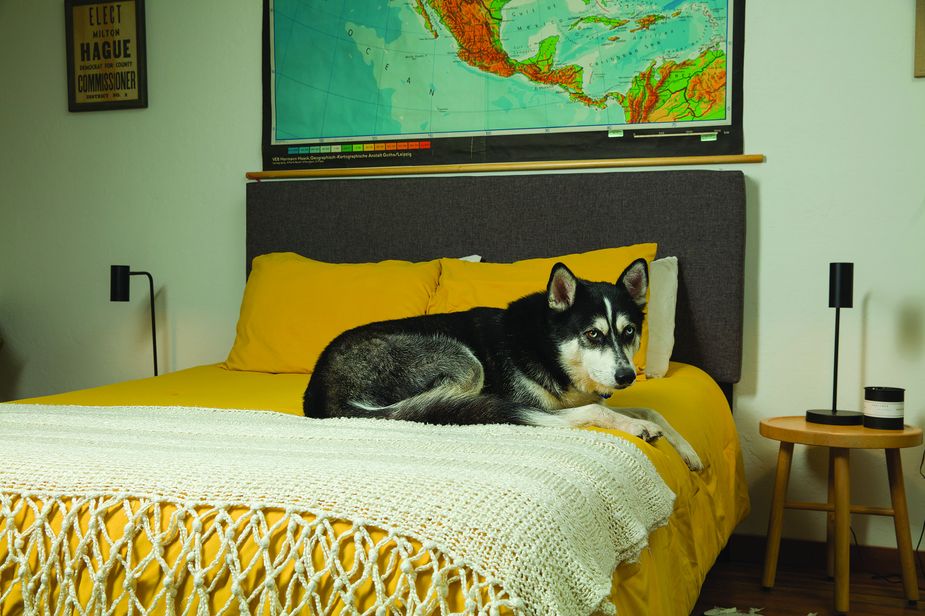 Ziggy Stardog models a bed at The Inn at Strayhouse. Photo by Brent Fuchs
Park and Trujillo say this is just the beginning for Strayhouse. Not only will there be two new Airbnbs and a dog park in the back, the coffee shop will be renovated and expanded, and this fall, their Long-Bell Brewing Company will open next door.
With a cozy place to stay and more on the way, Park and Trujillo have built something special in western Oklahoma for people and pets alike.
Get There
Strayhouse Kitchen + Coffee, 118 S 5th St Clinton, OK 73601 or
TravelOK.com
Get There:
Strayhouse Kitchen + Coffee 118 S 5th St Clinton, OK 73601 or
TravelOK.com