Arts and Crafts for Kids for Adults
11 minutes
Published February 2021
By Greg Elwell | 11 min read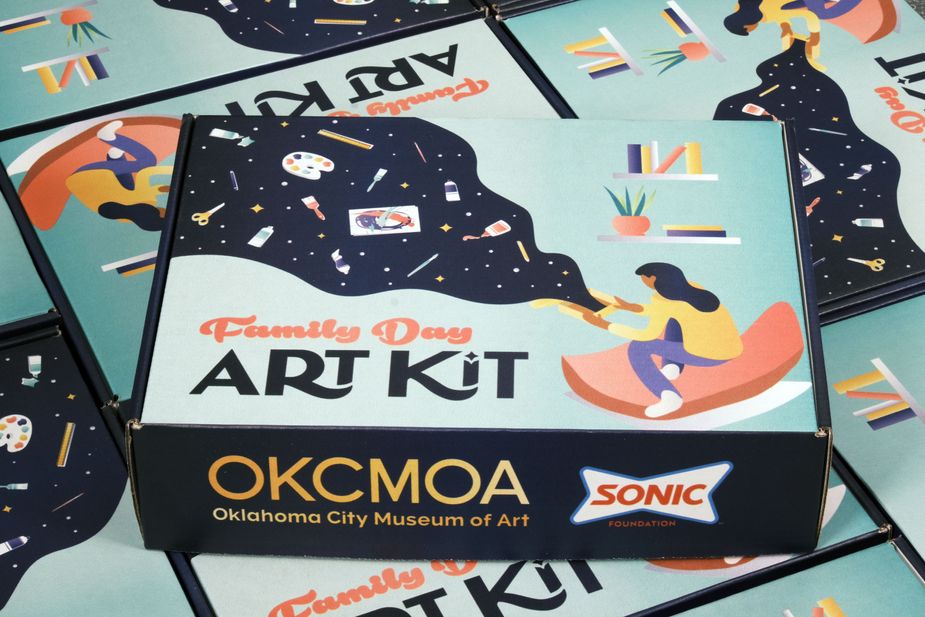 The Oklahoma City Museum of Art's Family Art Day Kit
Starting last year, my parents and I started buying activity boxes for my kids. My son is all about building things and tearing them down. My daughter loves crafting and doing what I call "freestyle origami," in which she takes expensive paper, folds it without any instructions, and then tries to sell it back to us.
In this time when trips to playgrounds and other shared-kid spaces is difficult, these boxes have been a blessing for busy little hands and tired adult brains. So you can imagine how happy I was to see the Oklahoma City Museum of Art getting in on the fun with the SONIC Foundation and their Family Day Art Kits—now available in the OKCMOA store for $25.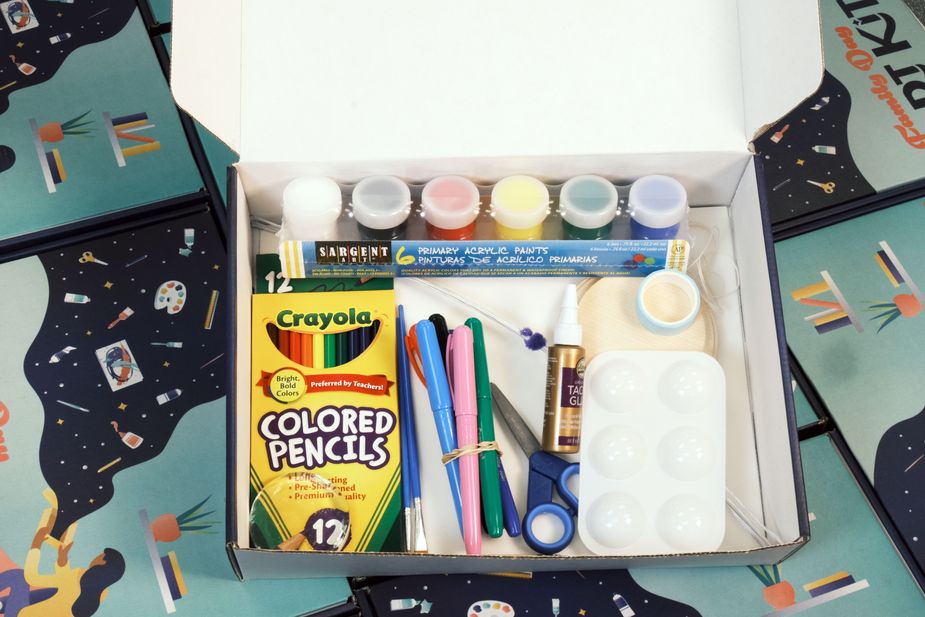 A peek inside the OKCMOA Family Art Day Kit
Inside each kit are three art projects and a pair of adult tickets to the museum. Why not tickets for the kids? Because kids always get in free at OKCMOA.
Sure, I could have asked my kids to do these art projects, but I thought it would be much more fun to make my adult co-workers, all with varying degrees of artistic talent, take a crack at it.
Please enjoy.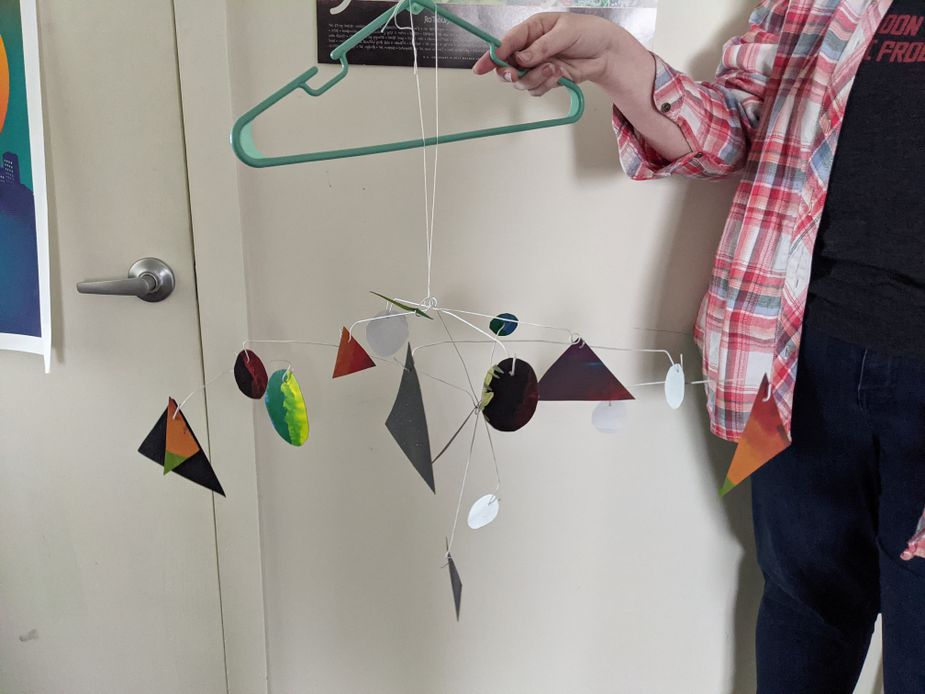 Mobile by Karlie Ybarra
Karlie Ybarra
Managing Editor
I do not like doing things I'm not instantly good at. In school, I could forgo studying for tests in most subjects and still sail through with an A. I chose to major in journalism in college, not necessarily because it's what I wanted to do, but because writing has always come naturally to me. The only skills I've developed over the years outside of work are cross-stitch—which involves following a pattern and being able to count—and makeup—though that was more for vanity than creativity's sake. So, needless to say, I was concerned when Web Editor Greg Elwell told us we'd be doing an art project.
My little craft involved creating a mobile inspired by famous artist Alexander Calder, whose work is featured in the museum's upcoming exhibit Moving Vision: Op and Kinetic Art from the Sixties and Seventies. I tried to go into the project with a positive attitude, but then I got to the part where I was supposed to draw things that I liked.
My dog looked like an infected rock.
The drag queen I attempted turned out more like a terrible alien from the original Star Trek.
And forget about capturing the handsome features of my husband, who does not look like a Shrek stunt-double, as my depiction suggests. So I disregarded the instructions, painted a rainbow on my chip board, sprayed some glitter on the back side, and cut out random circles and triangles. Once I bent my wires and assembled everything, I had something that looked like it could either lull a child to sleep or give them nightmares. Or both!
It sounds very much like I did not enjoy doing this project, but I actually had a lot of fun. I got to finger paint for the first time since I can remember. For days, I had paint on my cuticles, which made me feel like an artist. And even though my mobile looks absolutely nothing like anything Calder would have done, I made every bit of it myself. It's good to be reminded that sometimes you should do things you are bad at, even if you don't ever plan at getting better.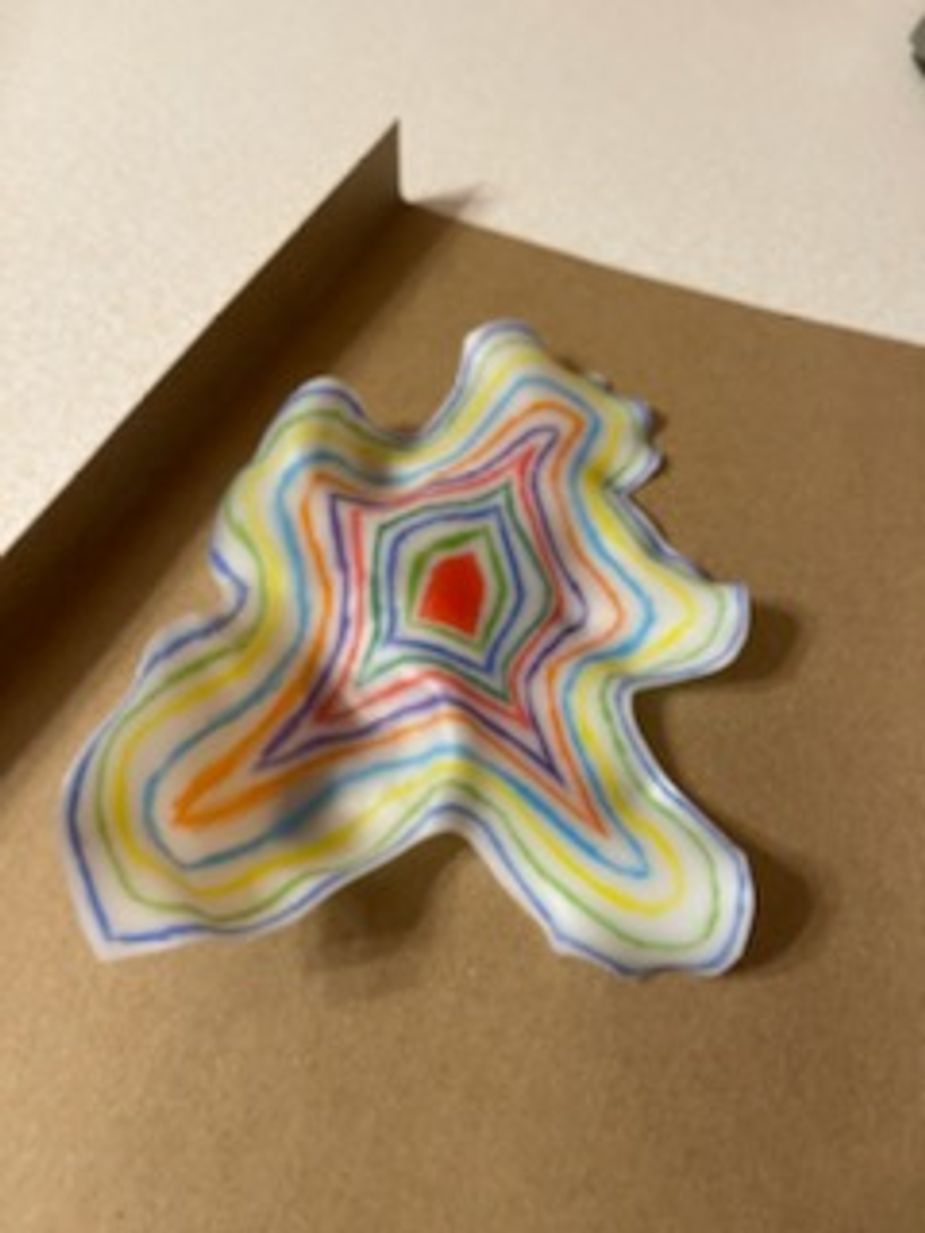 Object d'Arte by Nathan Gunter
Nathan Gunter
Editor in Chief
It's been so long since I've arted or crafted, I was worried I'd gone rusty. But never fear: The OKCMOA box came with everything I needed and then some, and the directions were nice and easy to follow.
I cannot overstress how important this was for me. I'm the type of person who answers every question with a question, for whom every known opens up infinite avenues of unknowns, and so I often find myself assembling IKEA furniture, putting together LEGO sets, or performing heart surgery and just interrogating the piece of paper in front of me:
HOW DOES THIS THING GO INTO THAT THING WHEN IT CLEARLY DOESN'T FIT? WHAT DOES BLUÜCHØR MEAN? THIS SAYS IT'S SUPPOSED TO HAVE TWO VENTRICLES, BUT I SEE NOTHING BUT AORTAS AND A MESS! Nathan Gunter
Using the colored pencils provided, I drew a nice, random little pattern on both sides of my shrink paper. I was hoping it would come out looking like Murano glass.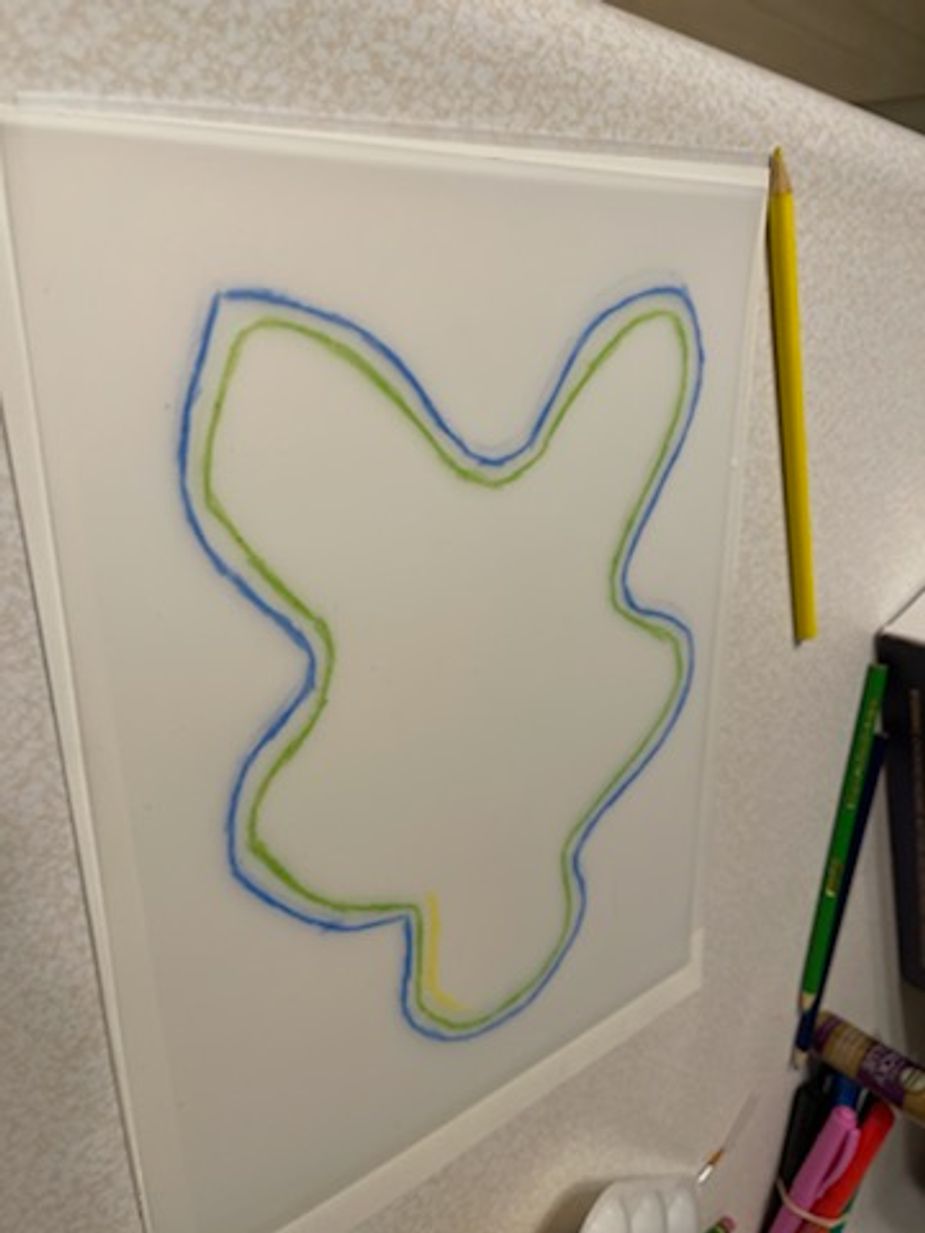 Nathan's pattern
Here's a tip, grown people: You're going to need a different pair of scissors than the ones that are provided. And for my fellow left-handers, I say: Have fun with that! We lefties know that scissors are just a whole thing. Anyway, my hand got stuck in the kid scissors that came in the box, and I thought I was going to have to have my husband come rescue me. But I managed to wriggle them off and cut out my pattern.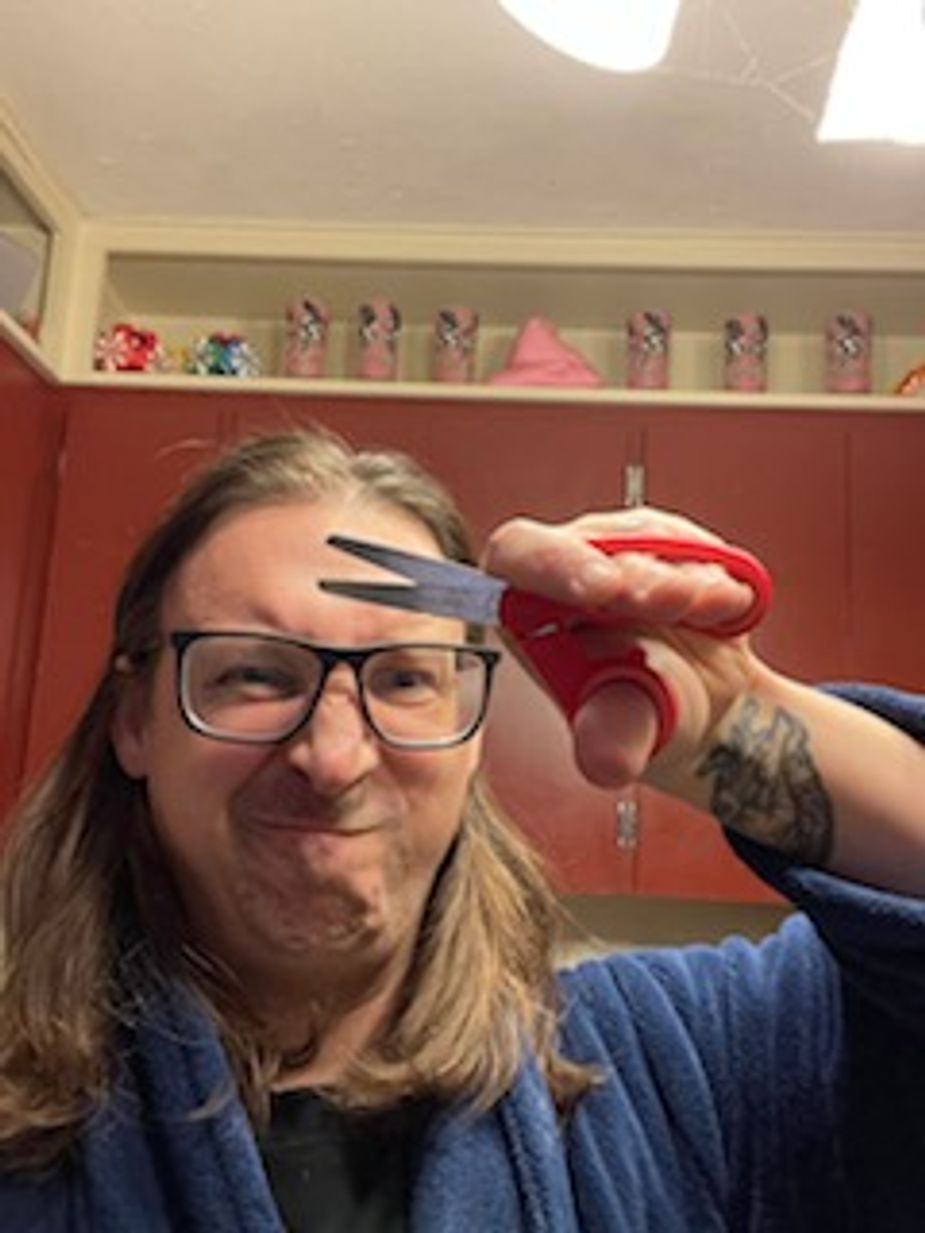 Scissors are hard for lefties, of which Nate is one.
I stuck it in the oven, and just like the directions said, it began to curl up at the edges. Once it had taken on a nice concave shape, I pulled it out. It only took a few seconds.
Then wham! Paint the base (I chose the blue paint) and glue the artful shape to it. I've historically had disagreements with glue, so I decided to Super Glue my artwork to its base. But now it makes for a lovely little light-catching object d'arte that catches the light beautifully. And it may not look just like Murano glass, but it's lovely, and I'm thankful to OKCMOA for the chance to dust off my crafting skills.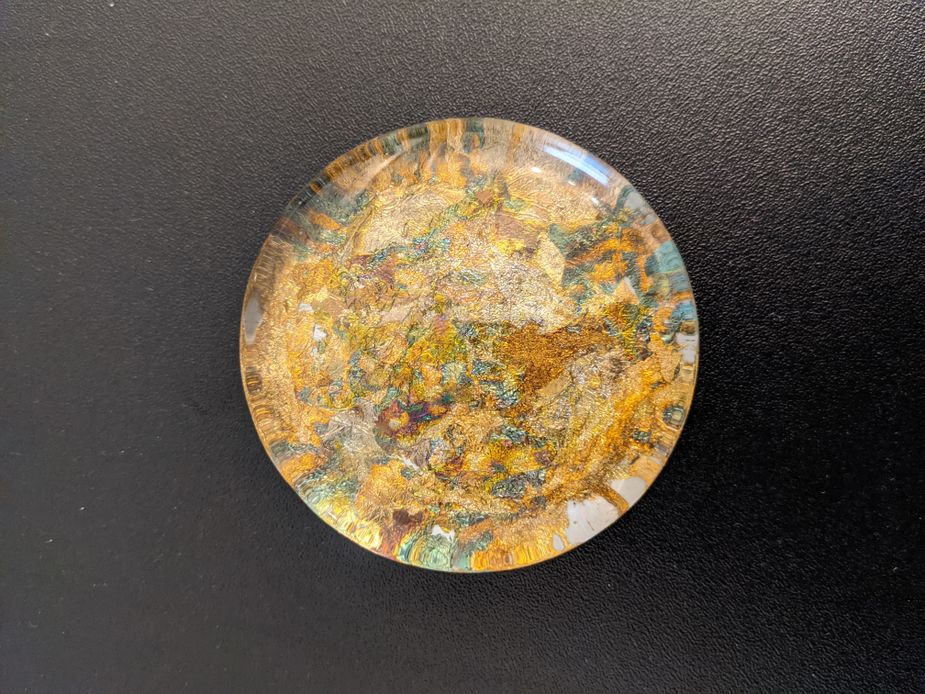 Lens Gem by Megan Rossman
Megan Rossman
Photo Editor
The little gem I created is based on Lens Picture No. 16 by Swiss artist Karl Gerstner. His piece falls under the category of optical art. That style of art refers to images or sculptures that appear to be moving, flashing, or skewed in some way when you look at them. In other words, they're basically optical illusions. Gerstner's sculpture is a lightbox outfitted with a convex lens over what seems to be a swirling black and white background, although its construction is more clever and complicated than that. The swirling lines your eye sees are actually a bunch of black and white circles distorted by the circular glass covering them. And although he used no color in the piece, the light shining through the glass gives it prismatic color along its outer curves.
My own Gerstner-inspired sculpture was a little more thrown-together than that. I have tons of gold leaf at my house, left over from another art project, so I decided this would be the perfect opportunity to do something with it. Precision and perfection have no place in my creations. I traced around the glass gem supplied in the art kit on a piece of white paper. Then I cut out the circle shape and glued gold leaf all over it. Next, I brushed Mod-Podge all over the base of the gem and stuck it on top of the gold-leaf covered paper circle, sandwiching in the delicate flecks of variegated shimmer. The result, I hoped, would be a gaudy bauble along the lines of what you might find in a low-budget pirate movie treasure chest. As the glue dried over the course of a few days, it became clear that I had succeeded wildly. Although it looks nothing like Lens Picture No. 16, it's pretty and I like it. Some art is not any deeper than that, and that's okay.
One takeaway I had was that after watching the museum's video about Gerstner's sculpture, I do wish I had cut out several circles to experiment with different optical effects before gluing everything together. I may buy some more glass and give it another go. In any case, it was fun.
Want to try your hand at the Family Day Art Kit? Visit the Oklahoma City Museum of Art store to pick one up.
Get There
Oklahoma City Museum of Art, 415 Couch Dr Oklahoma City, OK 73102 or
TravelOK.com
Next Blog
"Weekly Events Calendar February 8-14, 2021"
You May Like
Whether you're watching eagles soar, laughing at a famous comedian, or taking in Oklahoma's next artistic generation, there's plenty to d...
Whether you're watching eagles soar, laughing at a famous comedian, or taking in Oklahoma's next artistic generation, there's plenty to do in Oklahoma this week.
The challenging five-part exhibit "Ed Ruscha: OKLA" brings the one-time Oklahoman back to the state at Oklahoma Contemporary.
The challenging five-part exhibit "Ed Ruscha: OKLA" brings the one-time Oklahoman back to the state at Oklahoma Contemporary.
Learning piano is frustrating and difficult and so rewarding that intern Erik Charlson is eager to try more new things, even if he fails.
Learning piano is frustrating and difficult and so rewarding that intern Erik Charlson is eager to try more new things, even if he fails.