19 minutes
Published May 2023
By Nathan Gunter | 19 min read
What would Reba McEntire say to the people of Atoka? When she's asked the question, her eyes fill with tears.
"Wow. Thanks," she replies quietly.
It's a quintessentially vulnerable moment from the Queen of Country, who's seated before a bevy of reporters, influencers, and cameras from Entertainment Tonight to the Atoka County Times. They've gathered in the southeastern Oklahoma town of about three thousand for the grand opening of Reba's Place, a restaurant and retail destination in the heart of downtown.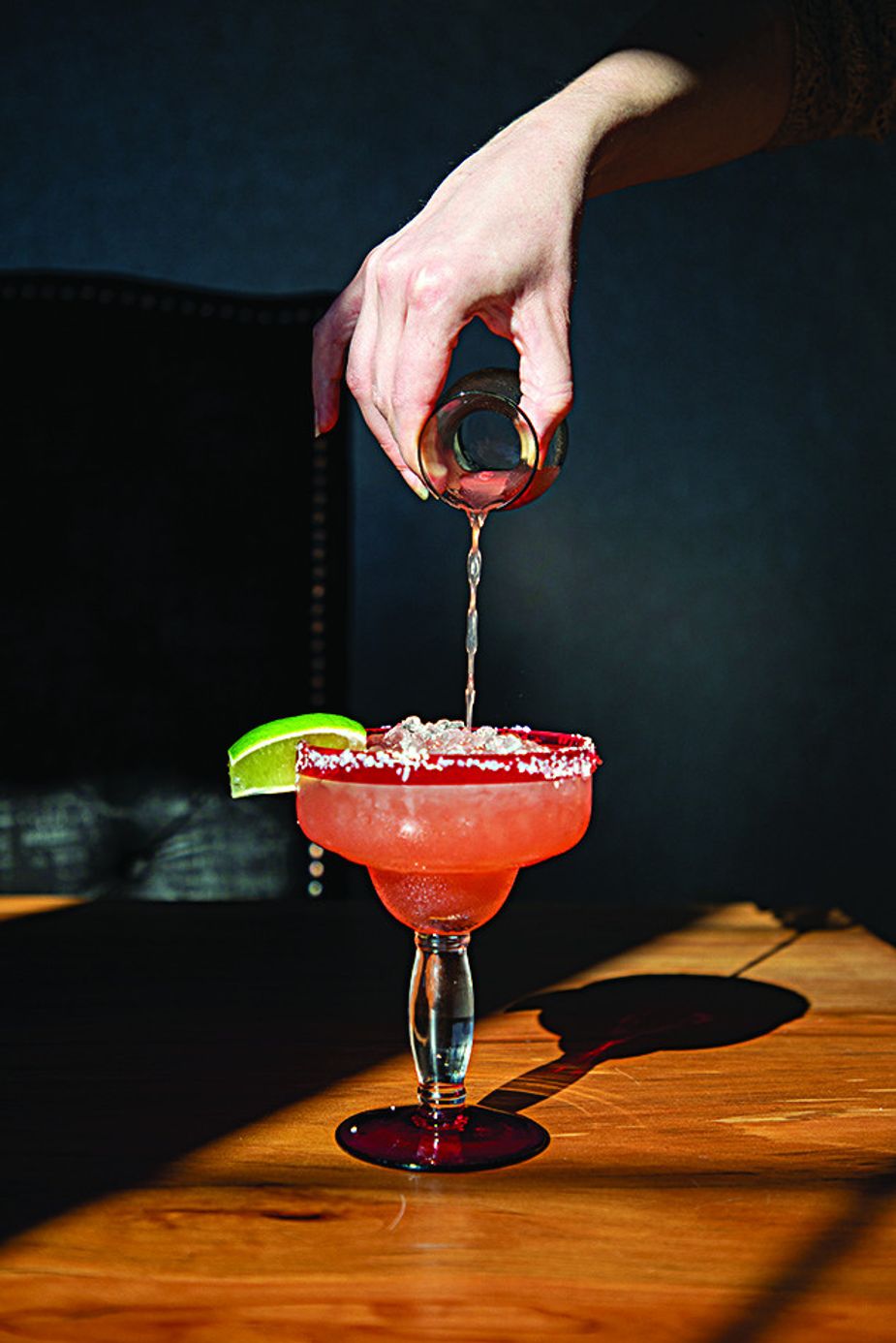 Guests can choose from several varieties of margaritas on the drink menu—plus a selection of alcohol-free mocktails. Photo by Lori Duckworth
But it's more than that. With old photos, concert posters, and newspaper clippings lining the walls alongside gold and platinum records and glass cases featuring iconic stage costumes from a career spanning more than four decades, Reba's Place is a monument not only to a country music legend but to the place—and the family—that raised her.
"I just wish Mama and Daddy were here to see it; they'd love it," Reba says. "They'd be parked right over there all day long and into the night."
In many ways, the singer's late parents, Clark and Jacqueline, are here, sidled up next to memorabilia, a menu of Southern-style deliciousness, and a hard-working, enthusiastic staff that have quickly turned an erstwhile Masonic temple into the biggest attraction this town has ever seen.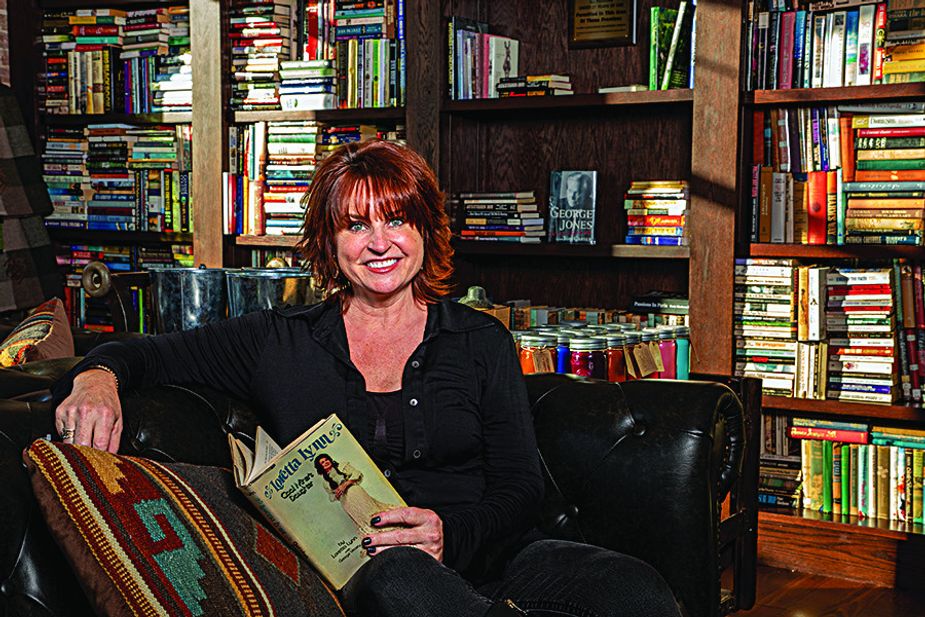 Reba's niece, Garett Smith, is the restaurant's general manager. Photo by Lori Duckworth
It all started with family.
"Reba said she wanted to do a legacy project," says Carol Ervin, director of the Atoka City Industrial Development Authority. "She mentioned it at a family gathering. I heard about it and said, 'We have a plan.'"
That plan was a strategy to redevelop downtown. Lying equidistant from Tulsa, Oklahoma City, and Dallas, Atoka sees more than eight million vehicles a year pass through—but the impact of all that traffic was minimal.
"We're two hours from Tulsa, two hours from Oklahoma City, two hours from Dallas," Ervin says. "But we couldn't get 'em to do anything more than stop at a fast-food restaurant and use the restroom."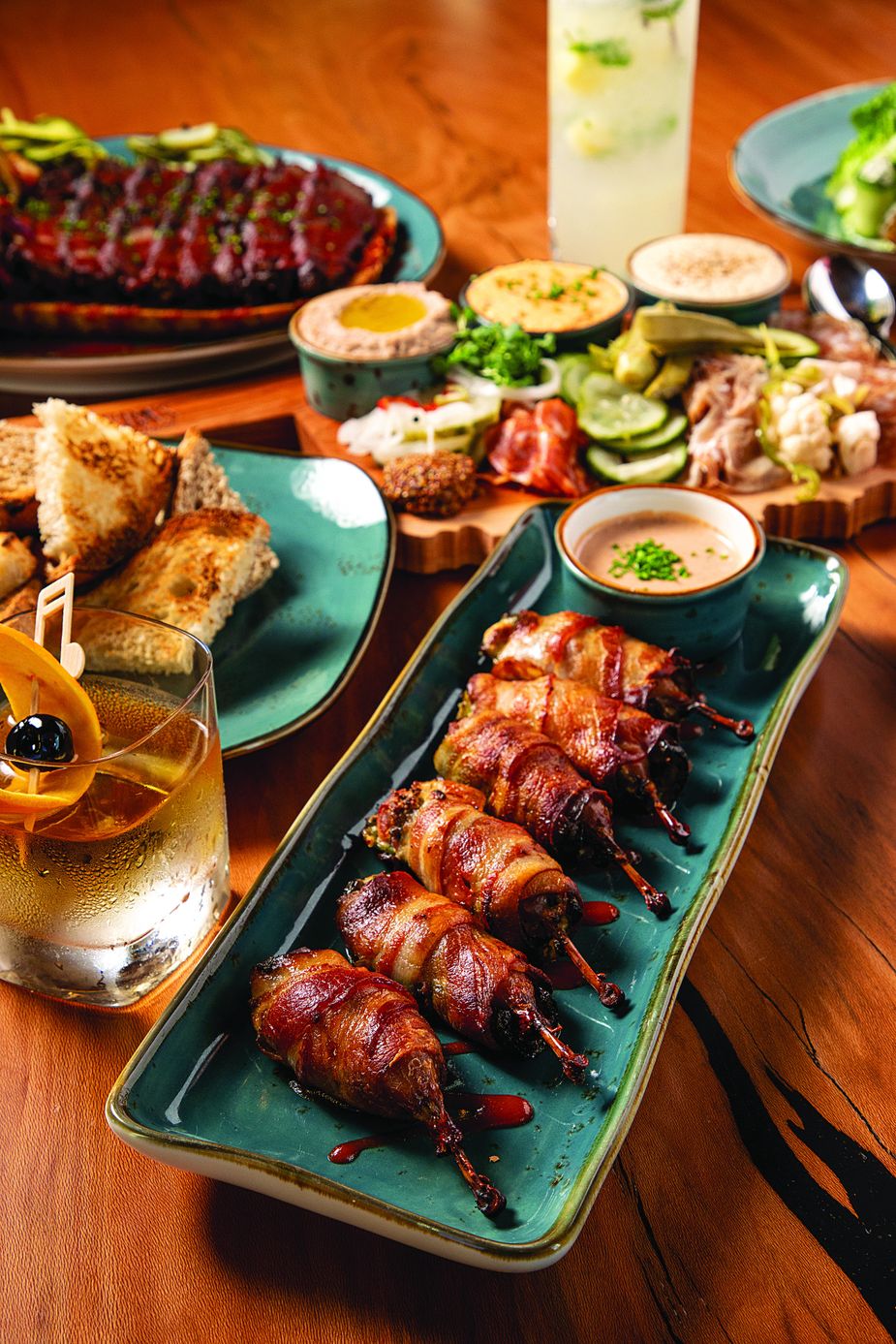 In the popular quail poppers appetizer, pieces of quail are enrobed in jalapeños, cream cheese, and bacon and served with spicy barbecue-ranch dip. Photo by Lori Duckworth
Enter Reba, not only a major star but a daughter of southeastern Oklahoma cattle ranchers whose family's historic property encompasses thousands of acres nearby. After her idea of a legacy project reached Atoka officials, locals got the star's people on the phone. With a new downtown streetscape recently completed and a tax increment finance district in the works, the iron was hot. But when Reba heard the pitch for a restaurant, she was doubtful.
"I said, 'Are you on crack?'" she jokes of the first time she heard the idea. "I'm a professional restaurant-goer. The best thing I can make is a reservation."
But Ervin and other city officials were sure that a food, retail, and music destination was just the legacy project she'd been looking for. Reba visited downtown Atoka in September 2021 to survey a potential location.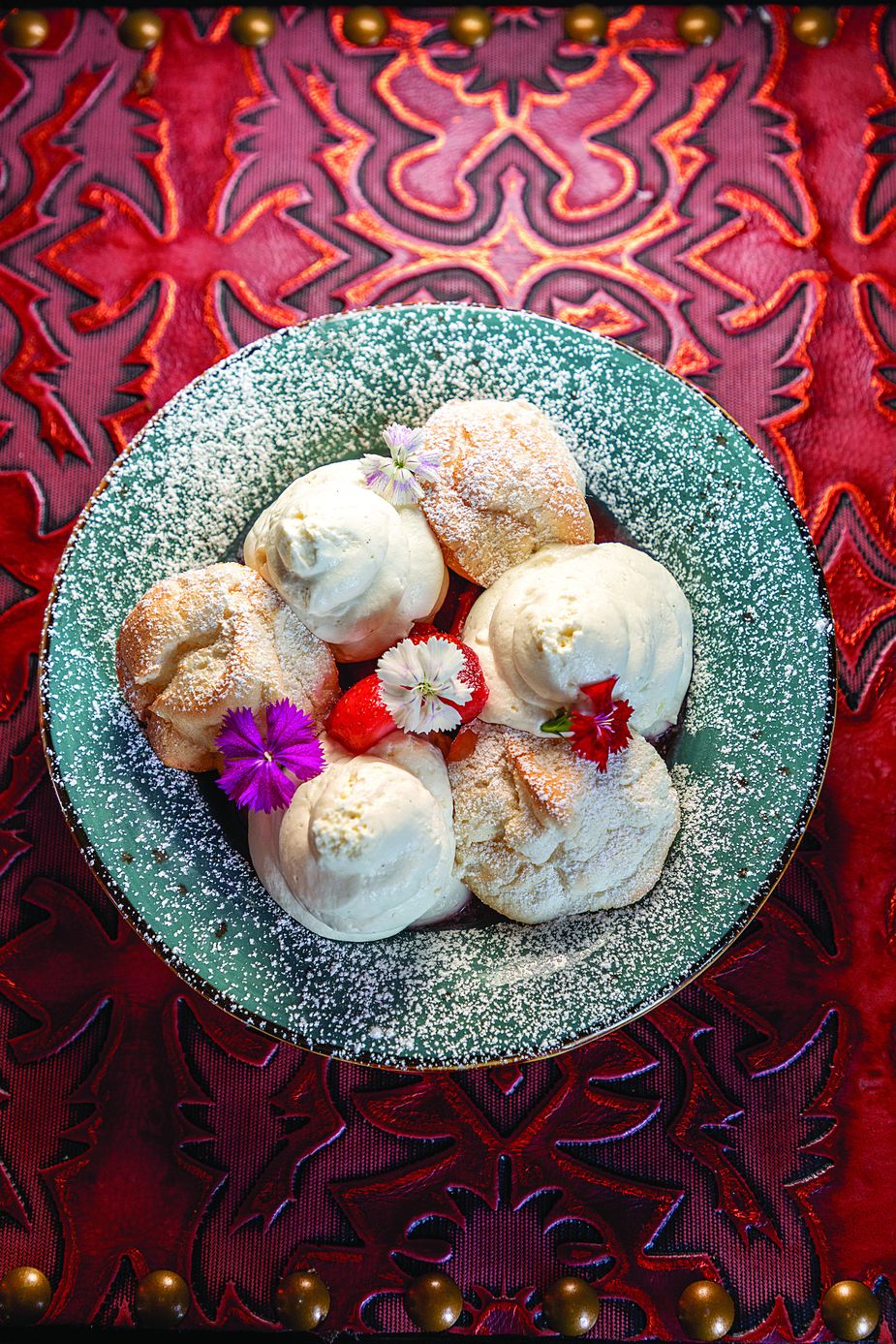 The strawberry shortcake is made with angel food cake dumplings, macerated strawberries, and puffs of whipped cream. Photo by Lori Duckworth
It didn't go great. As Reba and her team toured the dilapidated former Masonic temple site, a staircase collapsed behind them, trapping them on the second floor. Photos and videos of Reba escaping the building via an Atoka Fire Department ladder went viral. But no one could deny the building—pending some major upgrades—would be perfect. The next step was finding a collaborator. Reba suggested the Choctaw Nation of Oklahoma, who came aboard as fifty-fifty co-owners.
"The Choctaws are the best partner," Reba says. "They've been helpful, they've given advice and opinions, and it's all been 100 percent positive, so it was a win-win situation."
For the tribe, the decision was easy.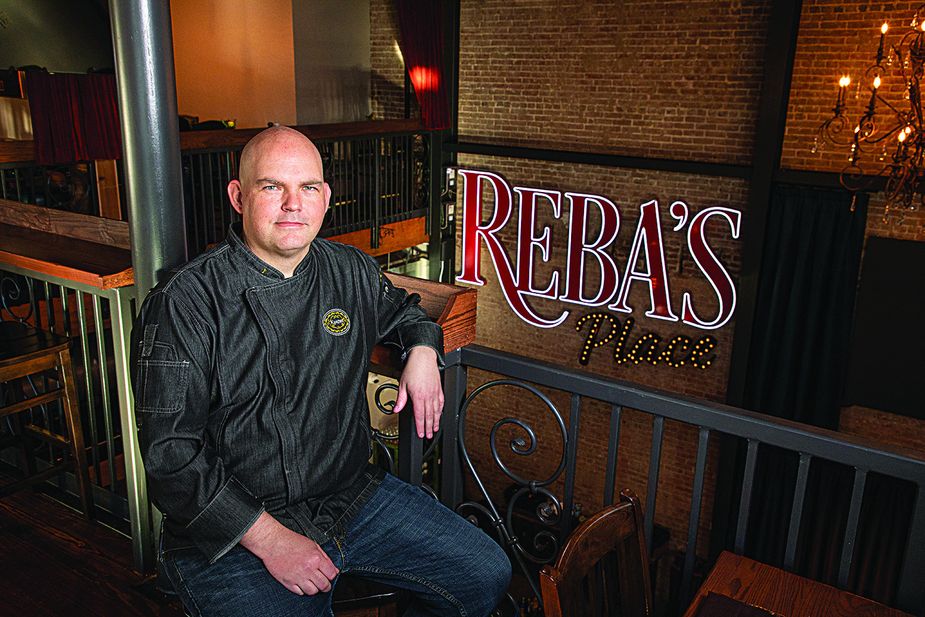 Executive chef Kurtess Mortensen Photo by Lori Duckworth
"The City of Atoka was looking for redevelopment opportunities, and they brought the idea of a restaurant to Reba McEntire and the Choctaw Nation," says Choctaw Chief Gary Batton. "Reba has a passion for growing the economy and creating jobs in her hometown community, and that passion perfectly aligns with the Choctaw Nation."
City planning ratcheted up, and the town's industrial development authority offered $5,000 grants to local businesses to improve their façades. It's early days still—Reba's Place only opened officially in January 2023—but the results already are clear.
"It's that window-box effect," says Ervin. "When someone cleans up their property, other people take a fresh look at what their building looks like and start addressing that."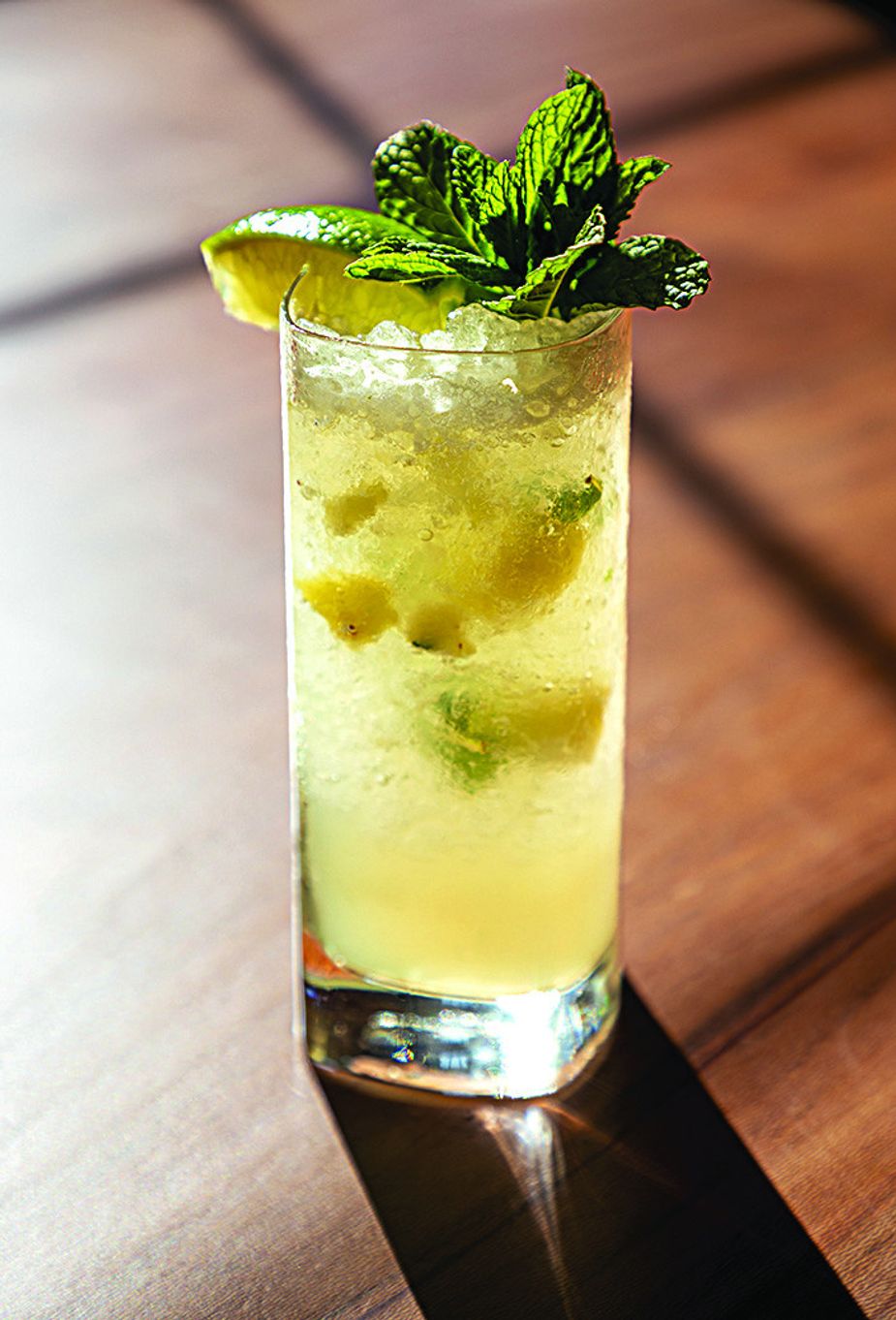 Mojitos are one of the many offerings on an ample cocktail menu. Photo by Lori Duckworth
With a major country star and a Native nation on board, everything was coming together for a fall 2022 opening. But supply-chain issues held things up for months. For executive chef Kurtess Mortensen, this was less a problem than an opportunity.
"I said we had to have—at minimum—four weeks of staff training before opening, and we ended up having six weeks due to construction delays," he says.
Mortensen says the most important thing about opening a new restaurant is staff training, and it shows at Reba's, where waiters, hosts, retail clerks, and kitchen runners alike are all polite, engaged, and enthusiastic to a degree that's rare in any restaurant.
"We say this is a high-end honky tonk, but it still wants to be treated as though it's a fine-dining restaurant, and doing that while still being friendly and comfortable—that's a challenge," Mortensen says.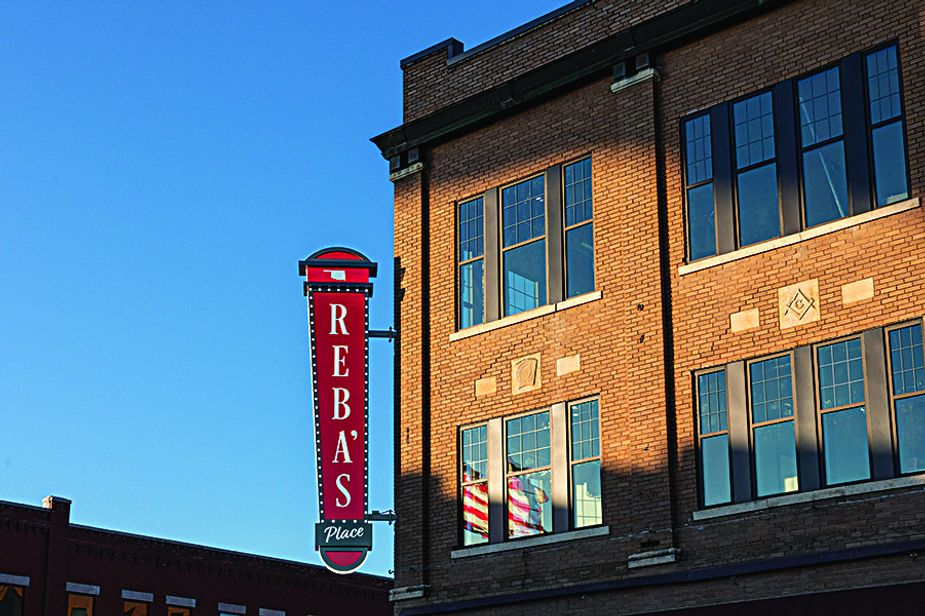 The restaurant is located at the northeast corner of Court Street and Pennsylvania Avenue in downtown Atoka. Photo by Lori Duckworth
He comes by this dedication honestly. He started as a dishwasher at age fourteen and worked his way up to places like Bouchon and the Hard Rock Hotel & Casino in Las Vegas before moving into the celebrity-restaurant game with chefs like Guy Fieri, Gordon Ramsay, and Giada de Laurentiis. This got the attention of Ree Drummond, who brought him to Pawhuska to curate the menus at The Pioneer Woman Mercantile and its partner restaurants.
"You don't want it to be blatant," he says of opening a celebrity restaurant. "I don't want you to look at it and have it feel super themey. It's all about bringing out touchstones from people's emotional experiences."
For Mortensen, one challenge was the fact that Reba was his first non-culinarian celebrity restaurant owner. Yet despite her persistent claims to a lack of kitchen prowess, she had some thoughts on the food. Beans and cornbread, a long-standing favorite, are here, as are Reba's crispy smashed potatoes, a recipe the singer developed while cooking at home with boyfriend and fellow Okie Rex Linn.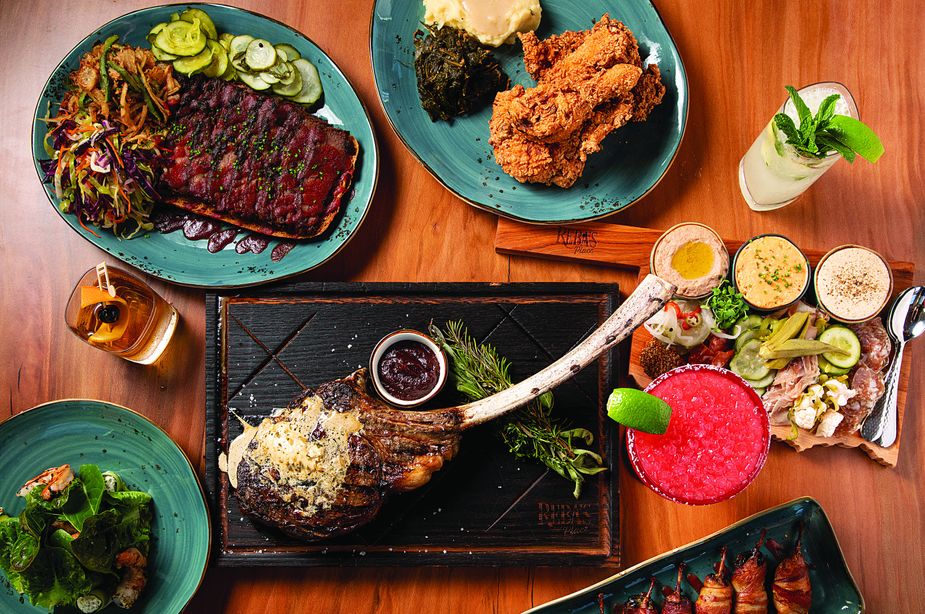 All the beef at Reba's Place—including the Tomahawk Chop, here—is sourced from the Choctaw Nation. Photo by Lori Duckworth
Those looking for a rib-sticking Southern-style meal will find much to love in the Cherry Coke BBQ Burger, chicken-fried steak, fried chicken, or the Southern Burger with pimento cheese and fried green tomatoes. But Mortensen's menu has a globetrotting flair, pulling inspiration from places that have been important in Reba's
life story. There's the Nashville Hot Chicken (of course), Memphis Style BBQ Bologna Sandwich, grilled salmon, Mexican street tacos, an appetizer of shishito peppers and okra, and NOLA Barbecue Shrimp with blue corn grits and crusty bread with tasso butter.
And then there's the beef of it all. Every ounce comes from the Choctaw Nation's beef program, which runs more than 27,000 Angus cows on seven ranches across the reservation.
"When I told Reba about the Choctaw beef program, she said, 'You mean I can have real local Oklahoma beef in my restaurant?'" Mortensen says. "She bought in instantly. There's integrity in that—that people can just sense when you've got a product that's really tied to the land."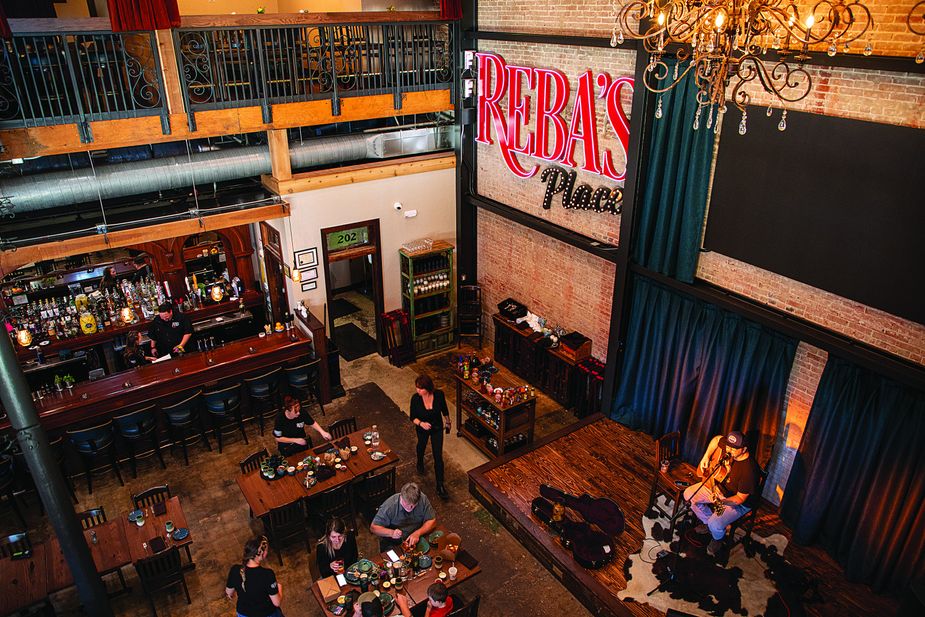 Live music is a mainstay at Reba's Place. Regular performers include Connor Harris, Emily Rhine, Jason Kyle, Charlie White, and more. Photo by Lori Duckworth
Choctaw beef's most memorable appearance on the Reba's Place menu is in the Tomahawk Chop, a forty-eight-ounce bone-in center cut with a mouthwatering pat of butter melting on top. At $150, it's by far the heftiest price tag of any food item in the place. (Mortensen suggests guests order it for the table to share.) But most entreés fall in the fifteen-to-thirty-dollar range, fitting the menu squarely in the affordable column.
With so many delectations to savor—not to mention a bar with eighty-five bourbons, a selection of creative mocktails, and a traveling cart where staff make a table-side Michelada to order—it may be hard to even think about dessert. But guests should definitely think about dessert. The strawberry shortcake—with angel food cake per Reba's insistence—is light, fluffy, and deeply satisfying, as is the banana pudding served in a glass jar. And for those who want just a little boozy with their sweet, the Atoka Float comes in a mug with cream and vanilla vodka that then is topped with alcoholic root beer—all served with a warm chocolate chip cookie.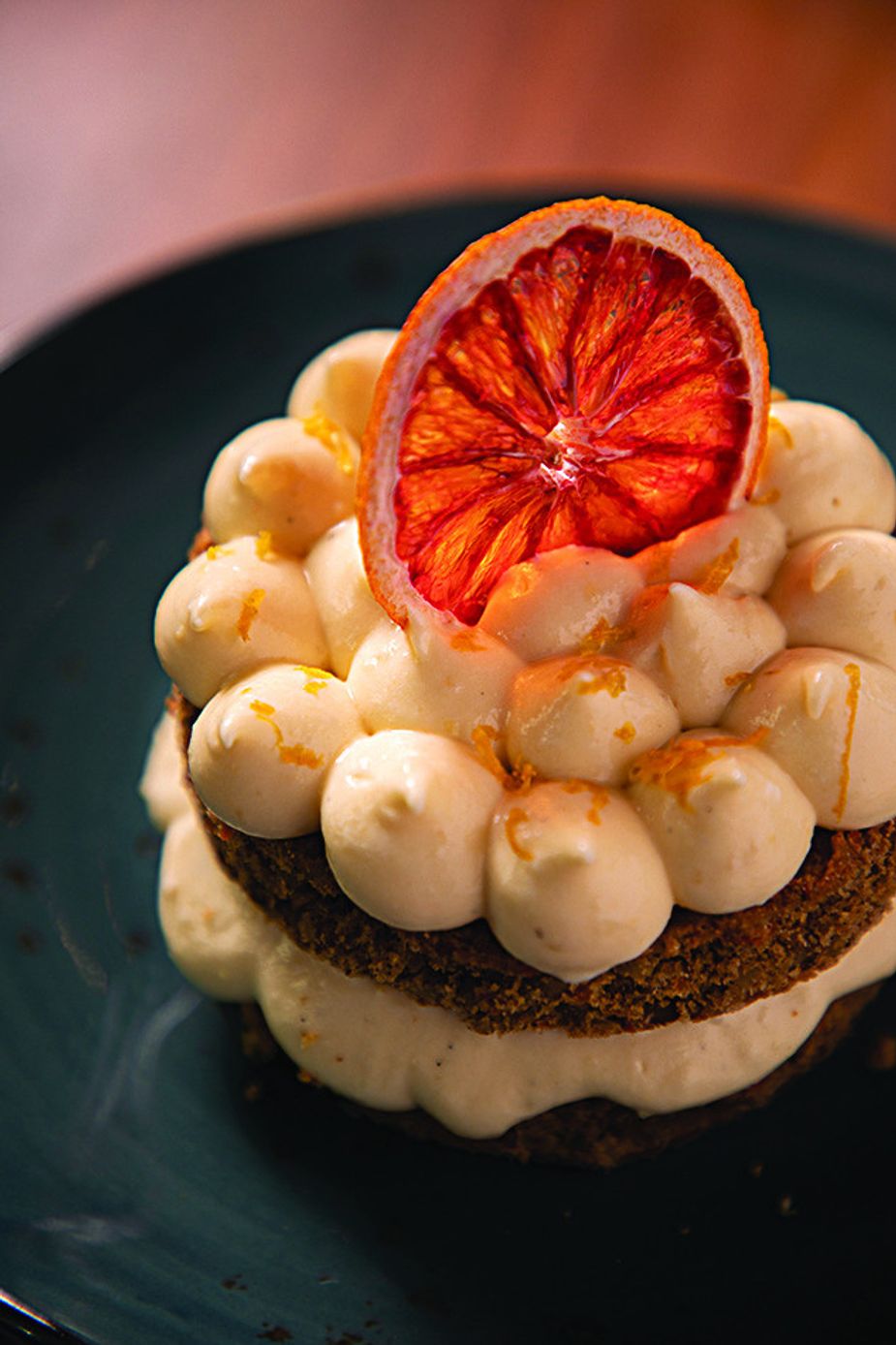 Bourbon carrot cake with brown-butter mascarpone frosting is one of many desserts that are a hit with diners. Photo by Lori Duckworth
"This is the first time I've ever written a menu where all the principals looked at it the first time and said, 'This is great; this hits all the beats,'" Mortensen says.
While guests are enjoying the menu, they may hear a familiar-sounding voice and spot the restaurant's red-headed manager whirling through the place, greeting each table, telling everyone how glad she is to see 'em. That's Garett Smith. She's Reba's niece—her mom is Reba's sister Alice.
"In our family, we work our butts off; nothing's given," Garett says. "When this got started, I told Reba, 'If there's a place for me, I'd love to be a part of it," and she said, 'Okay, I'll keep that in mind.'"
Like Mortensen, Garett has worked in the casino restaurant business and in nearly a dozen other restaurants. When Mortensen called her in February 2022, the pair hit it off instantly, and he asked her to come manage things.
"I've never seen a town back a project like the city of Atoka has," she says. "It's really great to see not just the city council but the other business owners and new entrepreneurs want to get in on this, because they love the energy."
Garett is endlessly smiling and a complete hoot—make it a point to say hello to her when you go—and with her minding the proverbial store, a bit of Reba always is present. But perhaps the greatest bit of McEntire heritage is on the third floor in Jac's Library. Alongside comfy couches and big windows are ceiling-high shelves containing hundreds of books all brought from the home of Reba's mom, an avid reader who passed away in March 2020. With COVID stopping plans for a funeral, Reba stayed in southeastern Oklahoma with her sister Susie for months at the pandemic's beginning, helping clean out Jacqueline's home—including her massive book collection.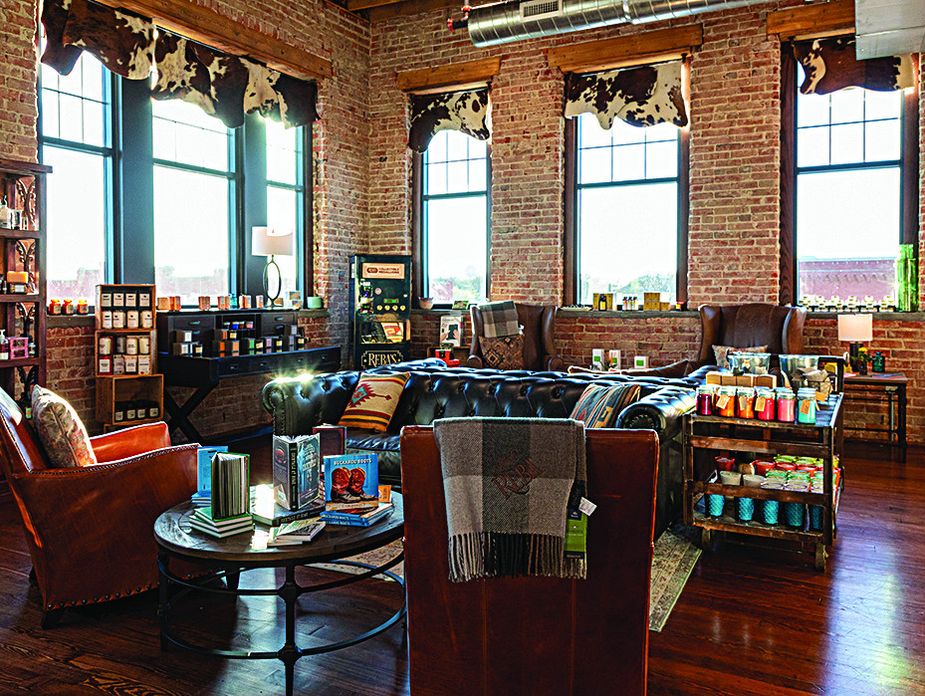 While waiting for their tables, guests can kick up their heels in the third-floor library and gift store. Photo by Lori Duckworth
"We wanted to do a library for Mama, and it didn't work out, and we couldn't figure out why," Reba says. "I tell ya—God's got the cutest ways of making things work out, so now, on the third floor are most of Mama's books. It's really a special room. When you walk up there and see it, I hope you feel what I felt: Mama's up there just kinda going, 'Sit down, let's have a seat. Grab you a book.'"
Eagle-eyed visitors will notice a photograph of the McEntire matron on one wall along with her favorite horse, Buck. Like her aunt, Garett believes Jacqueline would've loved the space.
"She'd be sitting up there holding court," she says. "She loved to read—it captured her sense of adventure. She could escape and go on all these adventures in these books."
Next to the library is an expansive retail space that features hoodies and T-shirts, cooking implements and Oklahoma-shaped cutting boards, and items from Reba's partnerships with Dillard's and Justin Boots. Near the back in a glass case is the outfit Reba wore when, in 1974, she sang the National Anthem at the National Finals Rodeo in Oklahoma City—a performance that landed her her first recording deal. Next to it is the costume she wore while playing Annie Oakley in Broadway's Annie Get Your Gun in 2001.
Moments like these fill the space. Here's the gold record for Rumor Has It, the album that contained "Fancy." There's a newspaper advertisement for a late-'70s gig at a pocketbook-sized club in southeastern Oklahoma. There's Garett's one-of-a-kind hospitality and Jac's Library, all alongside Mortensen's menu, where everything is so well done, so deliciously conscientious, that everyone is sure to have difficulty deciding what to eat.
All of that makes for an unforgettable trip. But more than any of that, visitors will leave talking about Atoka. They'll mention the staff's genuine friendliness and enthusiasm, the local stores and shops they stopped in while they waited for a text telling them their table was ready, and the magic of what can happen when a whole community comes together to make a dream come to life.
"Garett told me there was a lady coming in to celebrate her ninety-third birthday," Reba says. "She was from Missouri and wanted to celebrate at Reba's Place. There've been so many people saying, 'No, we traveled here specifically.' It's making this a destination we're really proud of—doesn't it make you feel so dad-gum good?"
Get There
Reba's Place, 319 E Court St Atoka, OK 74525 or
TravelOK.com