19 minutes
Published April 2022
By Karlie Ybarra | Photos by Lori Duckworth | 19 min read
It seems odd to call a sandwich intimidating, but that's one of the qualities that makes the Del Rancho Steak Sandwich truly supreme. It doesn't matter if customers have ordered the Triple S for the first or the four-hundredth time—when they unwrap that decadent grease-stained paper and reveal the golden goodness within, it feels like a taunt. "You can't eat all of me," it seems to chuckle as a hiss of steam escapes from beneath the perfectly grilled bun.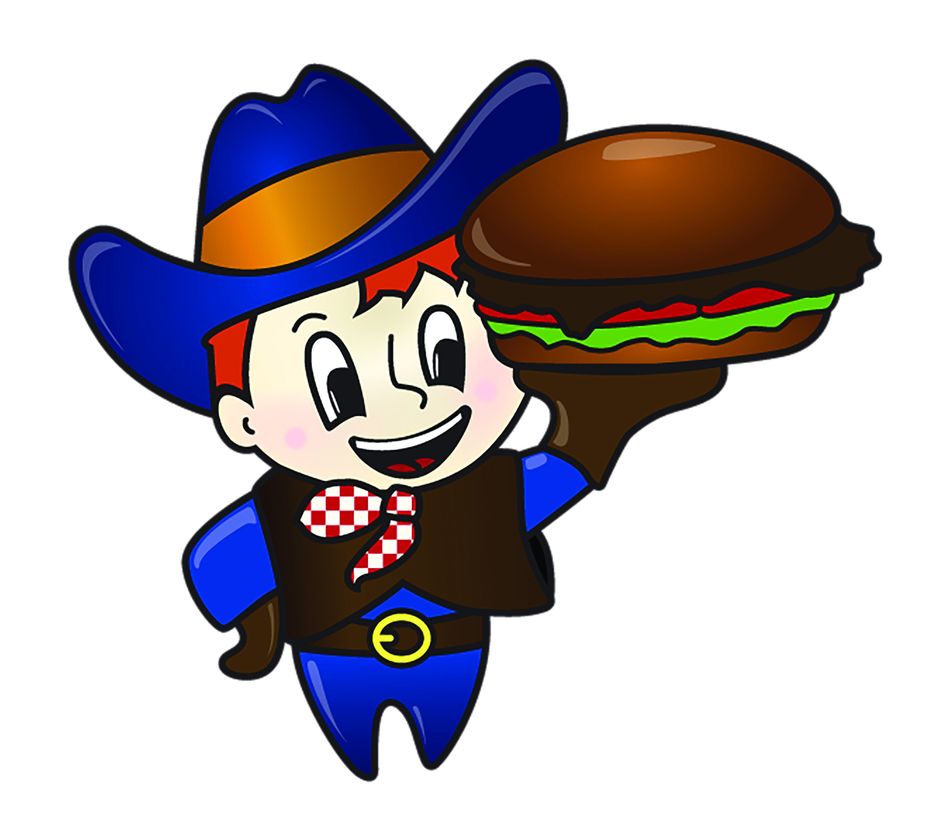 Founded in Del City more than 60 years ago, the Del Rancho chain has stayed more or less in the same family throughout its existence, and its consistency and quality have made it a favorite of generations of Okies.
In truth, many have failed in their attempt to best this beast, and it's easy to see why. Tender inside flank steak is spread to roughly the size of a dinner plate, covered in a proprietary flour and spice mix, and deep fried. The tawny breading is just thin enough to let the meat speak for itself, but it's thick enough to create crunchy prominences that extend inches beyond the bun. A slice of tomato, a handful of lettuce, and a dollop of Miracle Whip finish it off with a little bulk and a lot of freshness. The end result could eclipse the wheels of a Geo Metro, or, more to the point, the hunger of a roughneck who's been working in the field all day.
While it might be hard to see past the S.S. Supreme—sometimes literally, depending on the angle—Del Rancho has survived in some form or another since 1959 thanks to more than just one very popular menu item. Oklahomans have said farewell to the likes of Crystal's Pizza & Spaghetti, Casa Bonita, and Steak & Ale, yet Del Rancho has continued to thrive, even with a pandemic raging.
Franchise owner Michael Burchett attributes this to consistency. Not only can customers expect the same quality and service from franchise to franchise but also from year to year. While the exact locations have changed, grandparents still can drive in with their grandkids, order from a little speaker box, and get sandwiches and fries that taste just like when they were young. Therein lies the other factor that's kept the restaurants hopping for more than six decades: Whether it's a little nostalgic outing for a family topped off by a friendly carhop or the career of a first-time business owner, Del Rancho's success is centered on people.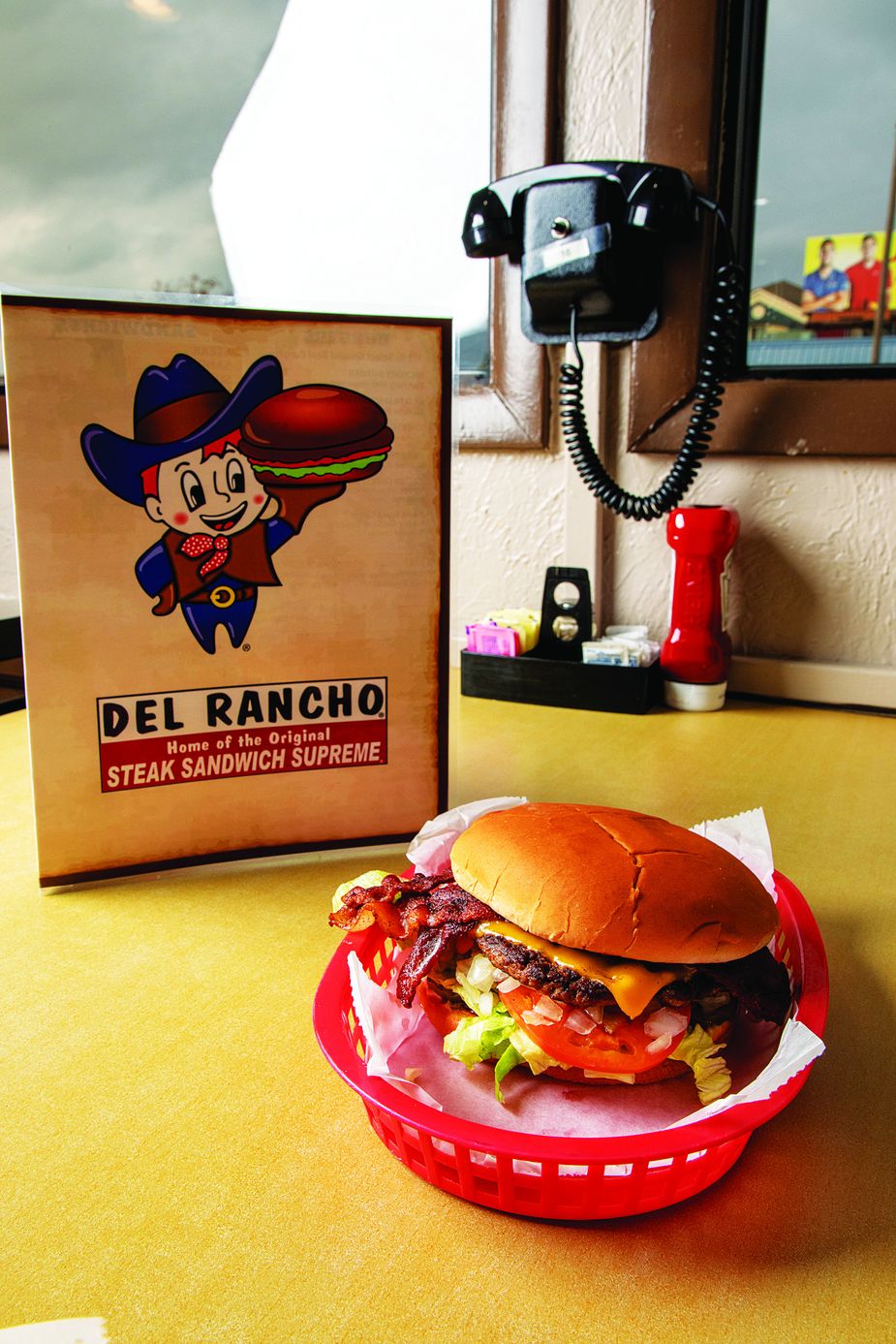 A family of third-pound burgers—in eight varieties from chili to hickory to double-meat—share the menu with their jumbo-sized steak cousins, hot dogs, and a variety of dinner plates.
J.R. Holt was probably bound to establish a dynasty. Born in Paris, Texas, he grew up poor in Oklahoma City and had to drop out of school early to support his family. But what he lacked in education, he more than made up for in determination.
"My grandfather was self-taught," Michael Burchett says. "He only had a sixth-grade education, so he would get all the books from the library he could and read about something."
This drive propelled Holt into a successful real estate career, but selling houses was never his passion.
"He always said if he had the money, he wanted to do a restaurant and sell hamburgers," says James Burchett, Del Rancho managing partner and also one of Holt's grandsons.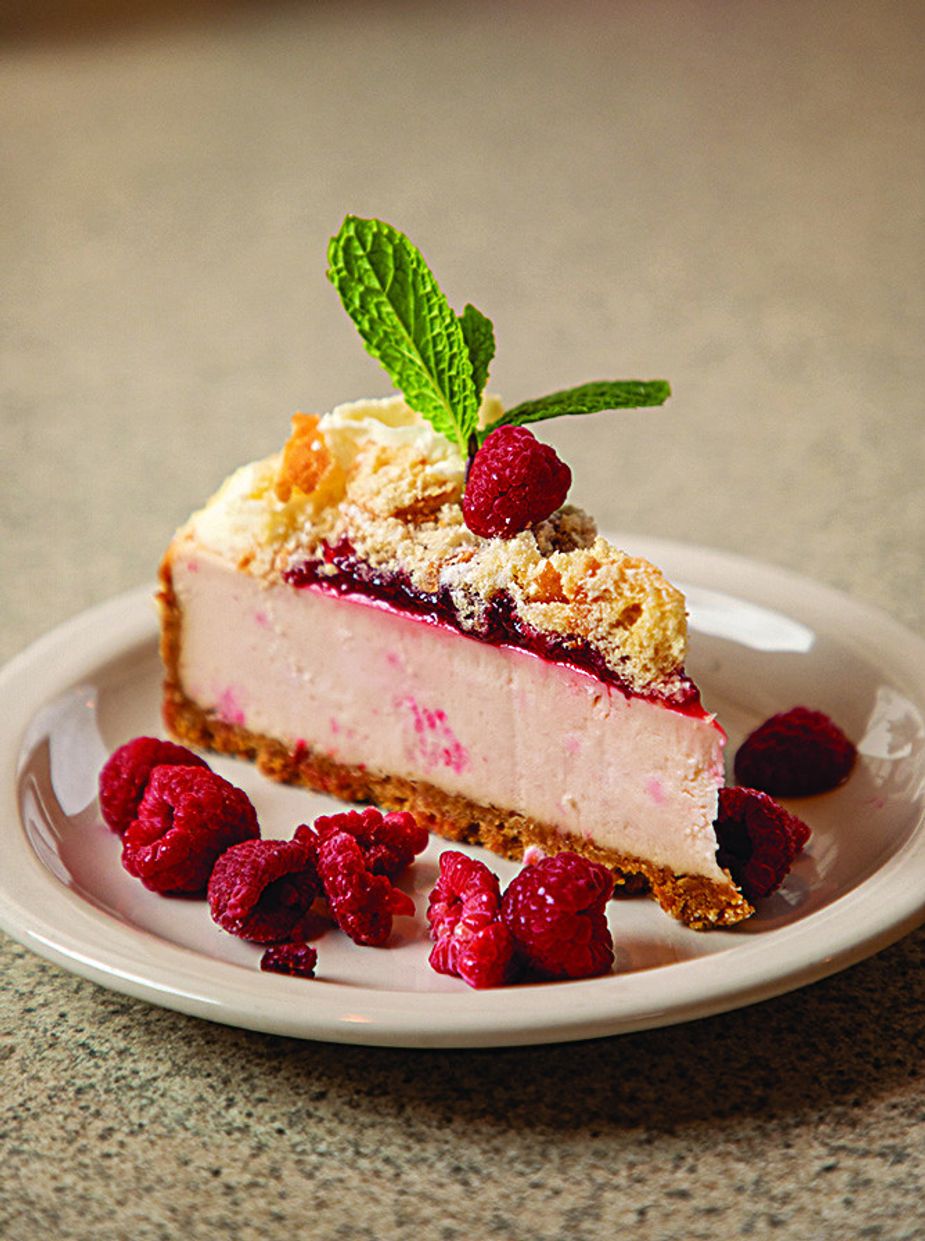 Slices of creamy raspberry cheesecake are found seasonally only at the Mustang restaurant.
So Holt saved money, bought a lot at 3300 South Western Avenue in Oklahoma City, and officially opened The Ranch House in 1959. With his wife Rosamond running the show, it didn't take long to start putting competitors out of business.
"Everyone told us The Hamburger Spot was so busy with the kids, we'd never make it," Rosamond said in a 2005 Oklahoman article. "But they're closed, and we're still here."
Two years later, the Holts acquired a property in Del City and named it after the nearby Del Rancho neighborhood. Once again, people could not get enough of the country-fried fare, especially one big sandwich with a big name.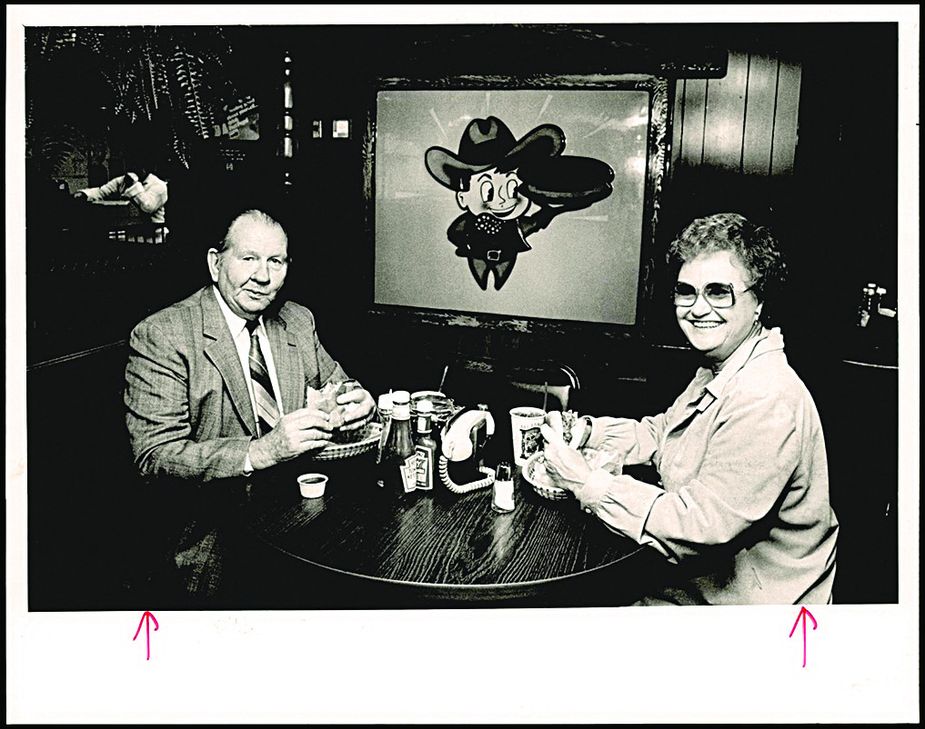 J.R. and Rosamond Holt, pictured in The Daily Oklahoman in 1987, often dined at the Oklahoma City Del Rancho location that once had housed their first restaurant, The Ranch House.
"Somebody told my grandfather that he needed a signature item that no one else had," Michael says. "So he worked for about a year on the recipe for the Steak Sandwich Supreme. We don't exactly know where the crispiness comes from, but you really have to sift the dark breading. There's a sweet spot where you'll get the crunchy critters, as we call them. And it's light on flour. And of course, the meat makes a difference—we don't use cheap meat."
With a little guidance from Sonic Drive-Ins founder Troy Smith, the Holts purchased two more restaurants then started franchising the Del Rancho concept. Their business continued to grow thanks to a menu stocked with hearty, homestyle food Oklahomans were bound to love. Chicken-fried sandwiches and platters with that secret breading recipe; the Chuck Burger with relish, cheese, and a double-meat patty plus a heaping scoop of chili; pork chop dinners with real mashed potatoes and crunchy fried okra; salads with homemade garlic dressing—Del Rancho's menu hasn't changed much in sixty years, because it doesn't need to.
With the exception of a commercial featuring a very hungry little cowboy in the 1970s, J.R.'s legacy grew rapidly with little advertising. As more stores opened, the Holts' daughter Rosamond—named for her mother—and her children all helped with the family business. At about age eleven, James and Michael both started car hopping, washing dishes, or doing whatever else was needed. Watching their grandfather, they say they learned how to operate with integrity in business and in life.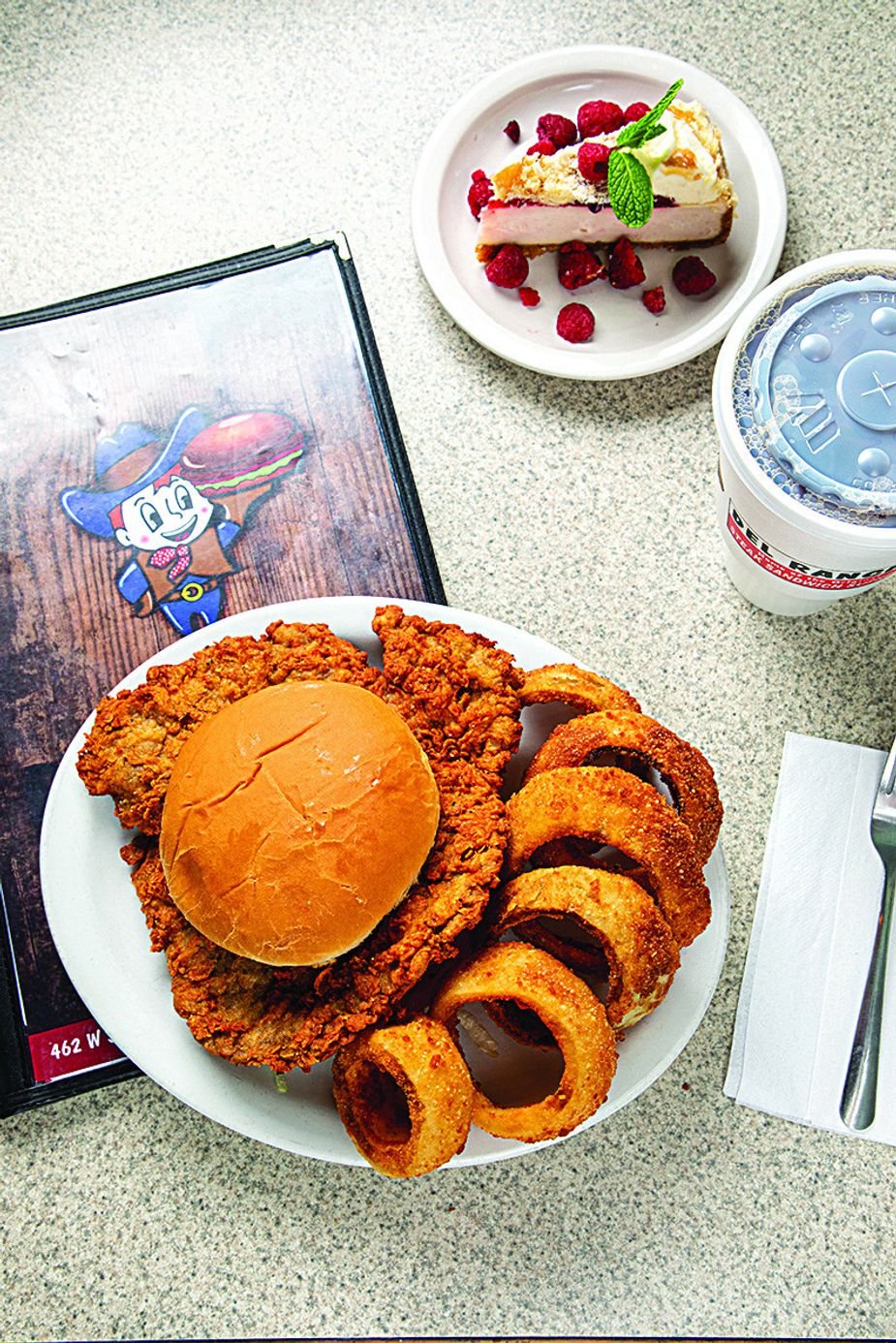 The legendary Steak Sandwich Surpreme has been Del Rancho's most popular menu item for decades.
"He was tough but fair," James says. "One time, my brothers and I found a wallet while we were walking around a boat ramp at Lake Tenkiller. We picked it up, and it had about 120 or 140 dollars in it. We thought, 'We have a lot of money!' but he made us take it back down there and find the person who lost it. He said, 'You'd want someone to do the same thing for you if you lost it.'"
As Del Rancho grew, it brought new economic opportunities. By 1982, Steve Fennell had tried college and a part-time gig in advertising, but he hadn't really found his career path. When his former pastor, Bob Holt, called with an opportunity to work for his brother J.R. in Oklahoma City, Fennell decided to give it a try. He spent six months each at two different Del Ranchos learning the ropes. The whole time, he was saving for his own store.
"I was working fifty to sixty hours a week as a manager, I had a paper route, and I was making apple dumplings in my apartment for the two restaurants," he says. "So I saved up five thousand dollars and told him, 'This is all the money I've got, but I will sure work hard at it.'"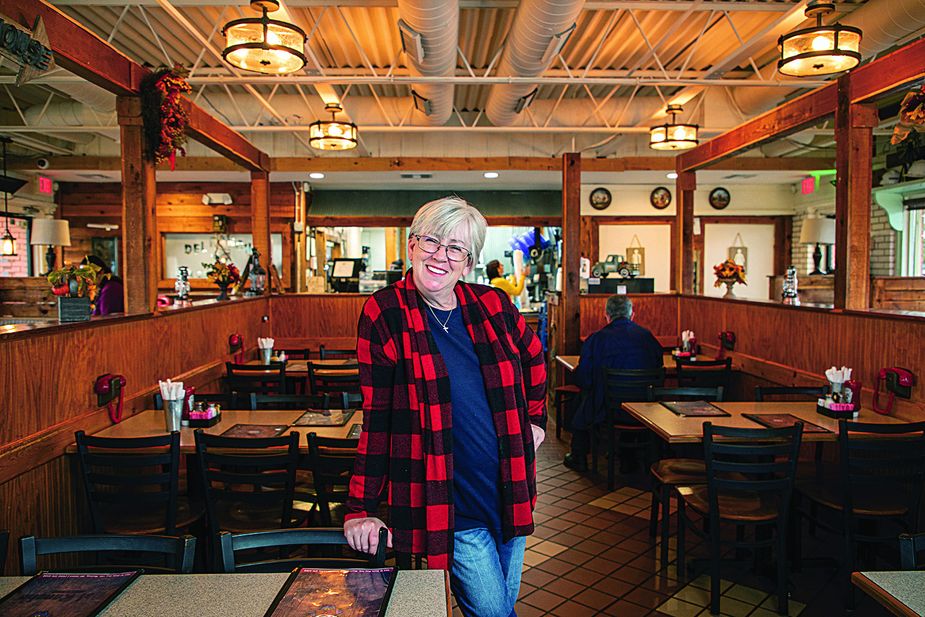 Longtime employee Cindy Reed owns the Mustang location.
Fennell took over the Tahlequah Del Rancho in 1983. After he purchased the cash in the drawers on opening day, he had eighty dollars left to his name.
"I knew I either had to make it go or find something else to do with my life," he says.
Make it go he did. Under Fennell's stewardship, the Tahlequah franchise has become the busiest of the bunch. This might be thanks, at least in part, to two things unique to Fennell's location. The Tahlequah Taco is served on authentic fry bread—the mix is distributed by Shawnee Mills from a recipe by Pawhuska-based Red Corn Native Foods. It rivals the State Fair variety. Northeastern Oklahomans also can start their day with breakfast Del Rancho style here with a steak or chicken biscuit supreme, ham and cheese omelet, or stack of pancakes.
A Steak Biscuit Supreme may be a rare beauty, but staff members who stick around are rarer still. Tahlequah's general manager Jerri McCarter has been with the company for thirty-eight years. Waitress Rakell Vann and cook Jeannie Moss have each put in a quarter of a century, and Sara McBride, also a manager, has lasted more than two decades.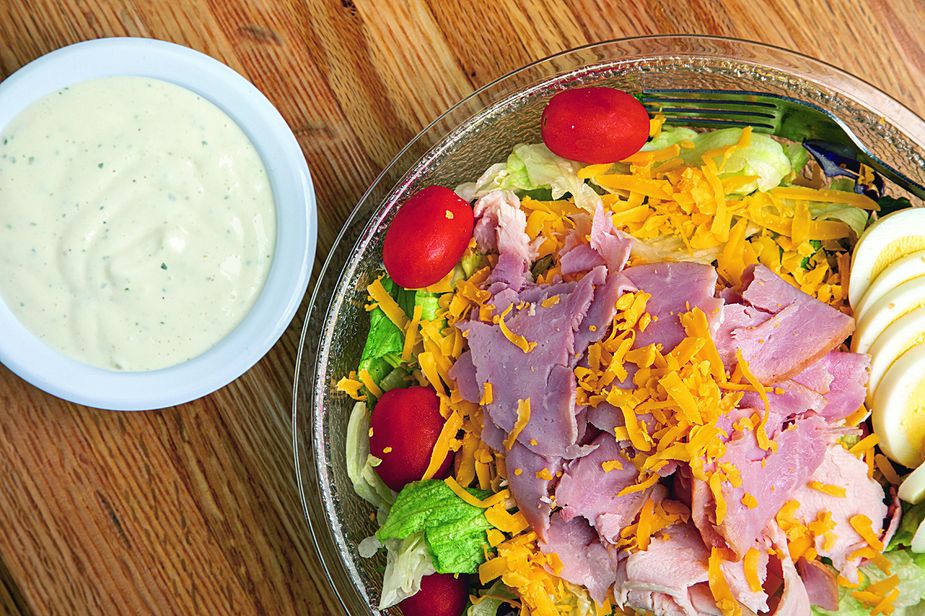 The sandwiches are king at Del Rancho, but don't overlook the Chef Salad.
Cindy Reed knows the rewards of loyalty herself. She started at Del Rancho's Mustang location more than twenty years ago as a dishwasher. Michael showed her around the store, and she learned how to cook steaks, make sides, run the drive-thru, and eventually manage the whole show. Though she'd always dreamed of owning her own business, she never considered the one she worked in.
"Mike and his mother Rosamond joked one day that I would own one of these," Reed says. "Then they started talking to me about what it took to run a business. So Mike kind of eased me into it."
Soon, Mike and Rosamond approached her about buying the franchise.
"I said, 'That takes money. I'm a single mom, and I don't have that kind of money,'" Reed says. "They said, 'You're family. We'll take care of you. You're going to be able to make a good living where you don't have to struggle paycheck to paycheck.'"
Today, the Mustang Del Rancho is thriving. Not only does Reed treat her staff with the same care and kindness she's received—the staff jokingly calls her Mom, which she claims to hate but obviously doesn't mind—she makes her customers feel like more than just people who spend money in her restaurant.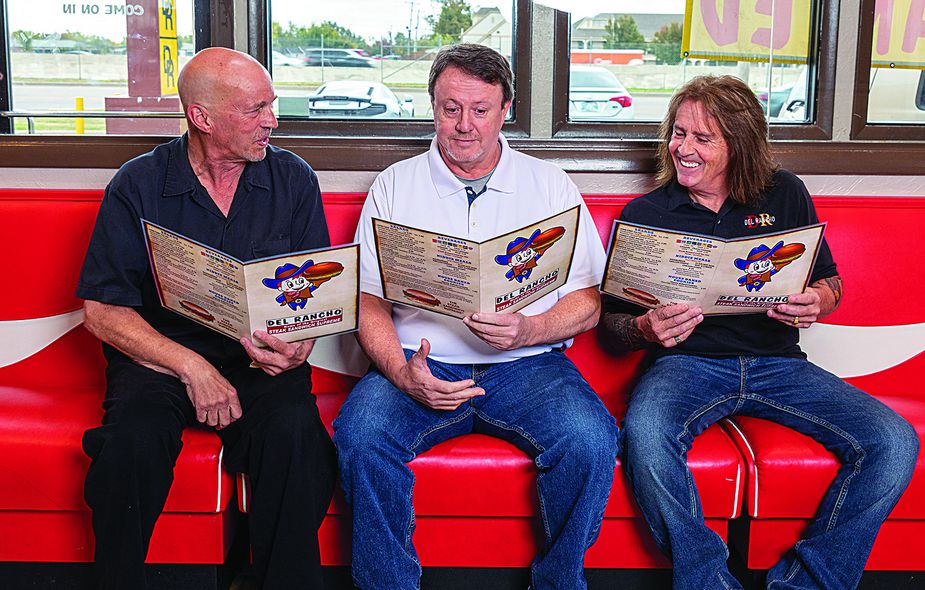 From left: Brothers Michael and James Burchett and Scott Jones continue the family legacy.
"I think of this as a ministry," Reed says. "If food is good and served in the right spirit, it does things to people. We've had people come in who've been through some rough things, like just coming from the funeral home. They come over here in tears, and by the time they leave, they're laughing, and they're happy. This isn't just a restaurant."
Though it's certainly more than the sum of its parts, Del Rancho wouldn't have become an integral part of the Oklahoma experience without legendary food. Mention the restaurant or its famous Steak Sandwich Supreme, and the response is usually the same.
"Whatever happened to that Del Rancho commercial kid?"
The next part usually finds the speaker carried away by the mists of nostalgia.
"I remember my Grandma used to take me there, and I'd get to order using those table phones. The steak sandwiches were bigger than my head!"
David Quirk doesn't care to recall exactly how many Steak Sandwiches Supreme he's eaten over the past thirty years, but he's pretty sure it's a lot.
"Living in Norman during college, we had one close to campus," he says. "I just kind of fell in love with it."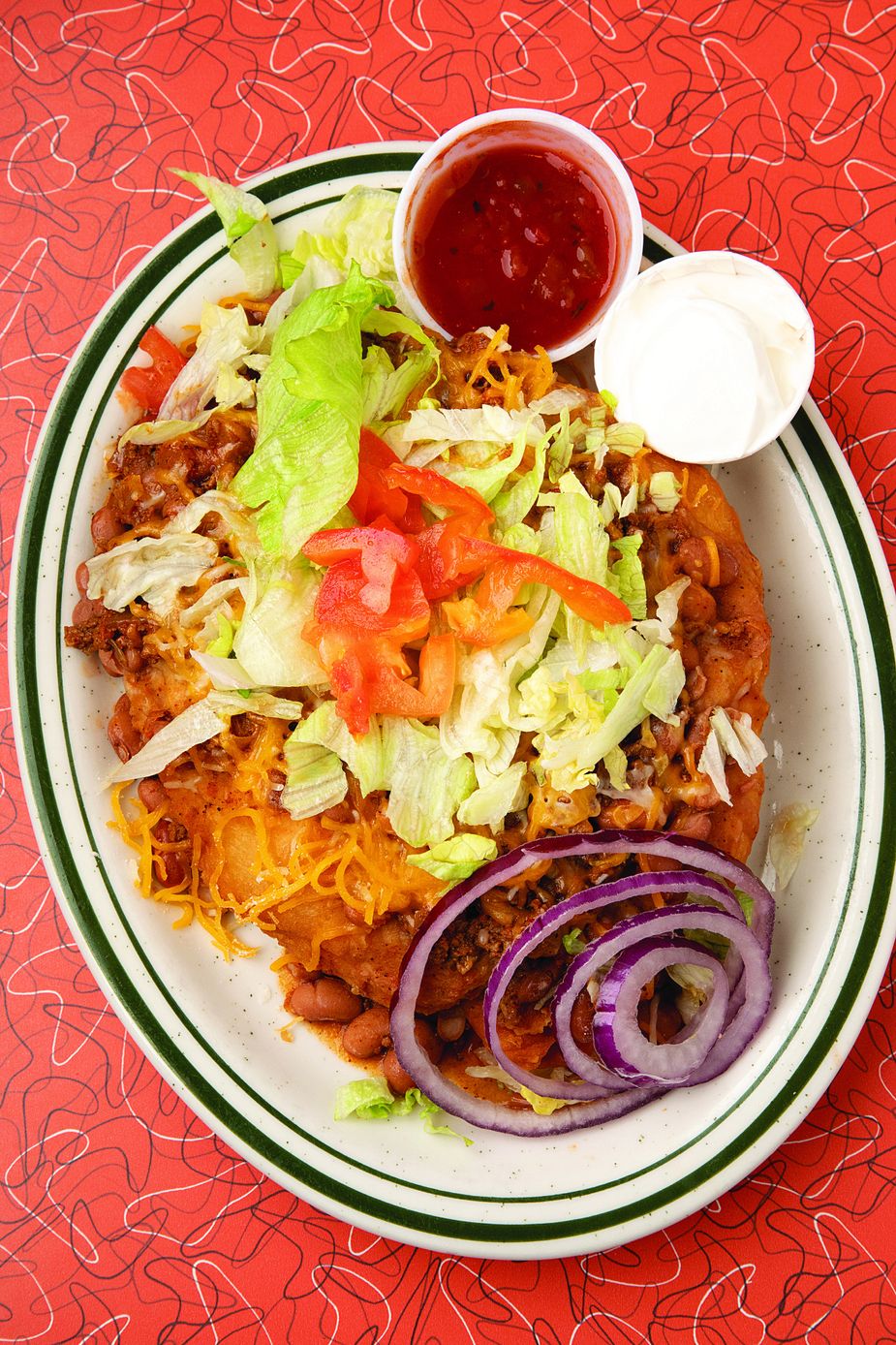 Hot fry bread topped with chili, beans, cheese, lettuce, tomato, and onions makes the Tahlequah Taco a local favorite, but this Del Rancho special is only available at the Tahlequah location.
Quirk cites consistency as one of the reasons he keeps going back to various Del Ranchos. Though Mustafa Koprucu of Edmond would agree today, when the born-and-bred New Englander arrived in Oklahoma with the Air Force in 1988, he wasn't keen on the place.
"When my friends at Tinker suggested we go to Del Rancho in Del City for a chicken-fried steak sandwich, I really had no idea what any of those terms meant," Koprucu says. "'What the hell is a chicken-fried steak?' They laughed and told me I'd like it—and if I didn't, they'd pay."
That day, Koprucu was the first one to finish his meal, and he immediately handed a five-dollar bill to the driver.
"Thirty years later, Del Rancho is my go-to guilty pleasure meal," he says. "When I retired from the Air Force and moved back to Edmond, I'd drive the twenty miles across town just to sink my teeth into that chicken-fried goodness. When COVID hit in 2020, the first place we went for takeout was the Del Rancho in Moore—I bought two Steak Sandwich Supremes, one to eat on the drive home and one for later. These days, I have a deal with my wife and son: For every four restaurants they pick for us to get takeout, I get one trip to Del Rancho."
Whatever happened to that Del Rancho kid?
When Josh Herrington's uncle—who owned an ad agency in Oklahoma City—needed a kid for a soon-to-be-classic Del Rancho commercial in the early 1970s, he knew just the little sharpshooter to hire. Little did Herrington, his uncle, or anyone else know how enamored the world would become with the precocious little cowpoke who politely demanded a Steak Sandwich Supreme. All these decades later, Herrington—now a father of two boys, husband of fifteen years, and Director of Product Management for an air ambulance company in Colorado—recalls his star turn fondly.
"It was fun to make, and I'm proud of all of my amazingly creative family for contributing to the popular culture of Oklahoma City."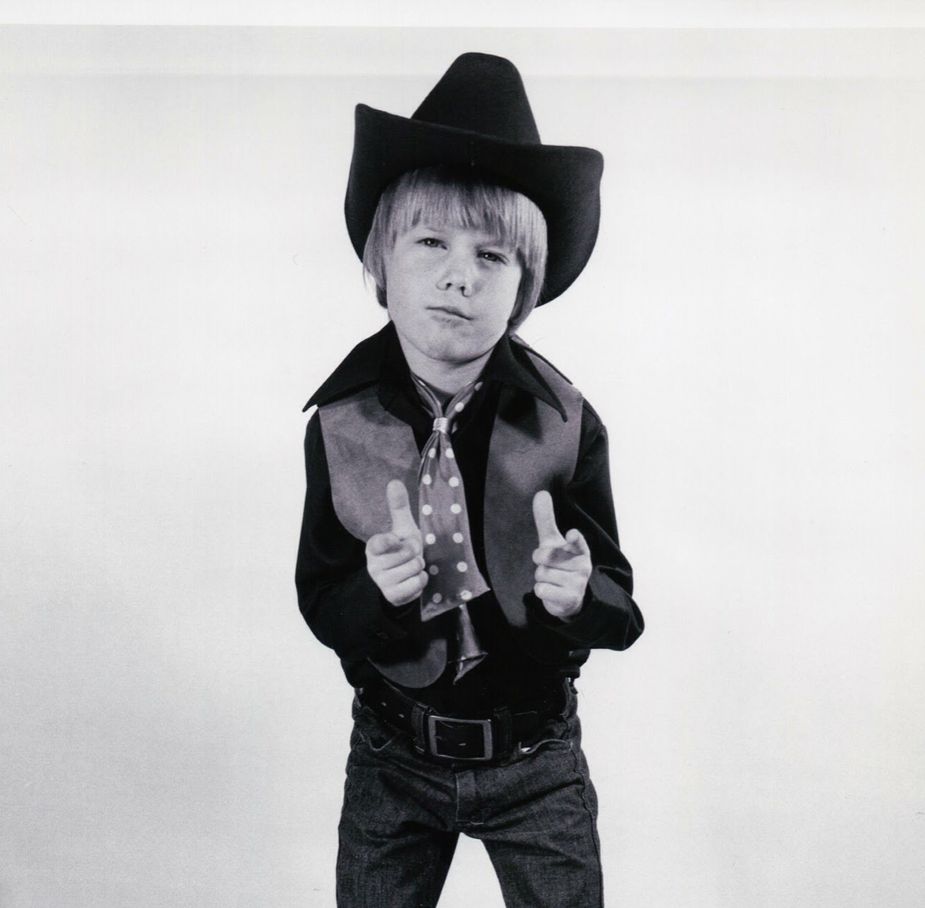 Josh Herrington was paid about $50 for the famous commercial. He used the proceeds to buy a new bicycle.
Get There
Del Rancho, 2300 W Lindsey St Norman, OK 73069 or
TravelOK.com
Get There
Del Rancho, 9411 NE 10th St Midwest City, OK 73130 or
TravelOK.com
Get There
Del Rancho, 5111 N MacArthur Blvd Warr Acres, OK 73122 or
TravelOK.com
Get There
Del Rancho, 4800 S Muskogee Ave Tahlequah, OK 74464 or
TravelOK.com
Get There
Del Rancho, 1409 N Moore Ave Moore, OK 73160 or
TravelOK.com