State Fair Fare is Better Than Fair
8 minutes
Published September 2021
By Greg Elwell | 8 min read
Well, I've eaten rattlesnake now.
There are a few things you come to expect at the Oklahoma State Fair's annual Great Taste of a Fair event, and one of them is the unexpected. Because while many of us gravitate to the classic fair foods like corn dogs, Indian tacos, and funnel cakes, there's always a sense of excess at the fair and vendors are more than happy to indulge patrons in the biggest and weirdest dishes.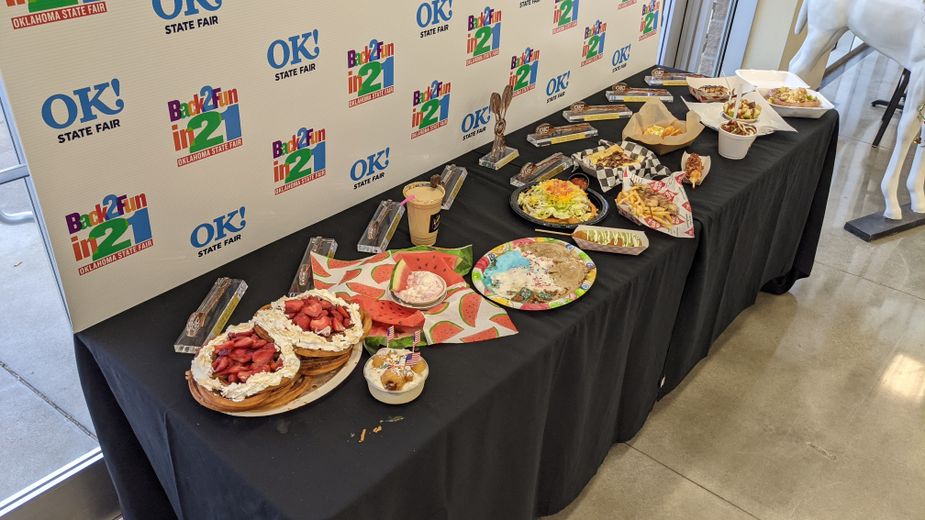 The photo table at the Oklahoma State Fair's Great Taste of a Fair
At Great Taste, foodies, writers, and TV reporters gather at the Oklahoma State Fairgrounds to judge dishes in three categories: Sweetest of the Sweet, Slice of Savory, and New to the Scene. That means there are usually a few old favorites to try, along with a passel of new, often hard-to-believe, fair treats to try.
If you're ever asked to judge a tasting event, let me provide you with a little advice: take small bites. Though the lineup of judged foods was winnowed down to fifteen this year, that's still a lot of fair food to handle in one sitting, even if the portions are smaller than you'd get at the vendor's tent.
Sweetest of the Sweet
Sugar lovers rejoice! This year's Oklahoma State Fair is loaded with some very sweet entries.
New this year is Gringo's Mexican Funnel Cake, which blends fresh churros with the form of funnel cake, covered in whipped cream, a pile of fresh strawberry slices, and a drizzle of chocolate and caramel. This is meant for a family, maybe a whole family reunion, because it's massive. That said, there is a prize for those who can finish it solo.
The Deep-Fried Cookie Dough Sundae from Original Minneapple Pie is another winner. By deep-frying the cookie batter, mouths are treated to a luxuriously crispy crust surrounding an ooey, gooey chocolate chip cookie. The contrast of the warm cookie to cold ice cream is a delight that is sure to become a few kids' favorite dessert.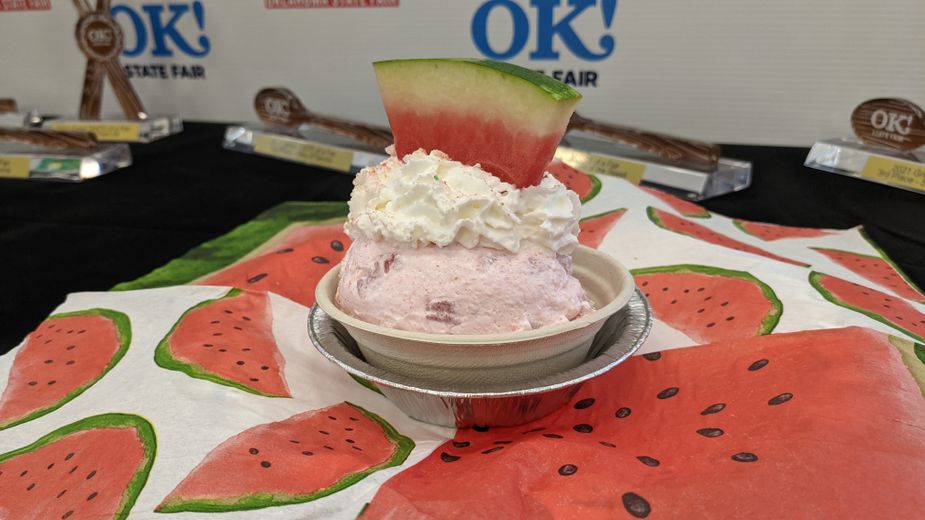 Watermelon Pie from Cutie Pies
WINNER: Cutie Pies' Watermelon Pie is a three-time winner for a reason. The fluffy mix of whipped cream and chipped watermelon on a graham cracker crust, garnished with a wedge of fresh watermelon, is perfect for those blazing days and muggy nights at the fair. Sweet without being cloying and light enough to allow diners to walk around after finishing, it's ideal for fair fare.
Slice of Savory
One measure by which we judge dishes is how they'd perform while walking around. By that penchant, and a few others, the Chicken Bacon Ranch Cheese Curd Taco from O'Neil Amusements delivers. Fried chicken, fried cheese, crisp bacon, and a drizzle of ranch dressing combine a whole host of flavors that Okies love and the fried shell that holds them all together not only tastes great, but makes walking and eating a breeze.
For a dish worth finding a seat, the Capital City Cafe's Indian Taco is just about the apex of the form. We've all had middling Indian tacos in the past; overly greasy fry bread, too-wet beans and ground beef, and mealy vegetables. This was the ideal. The fry bread was crisp and flavorful. The meat was cooked through, but not dripping with oil. Freshly shredded lettuce and diced tomato give it a lightness that fools diners into thinking, "Maybe this is healthy."
It's not. But who goes to the fair for health food?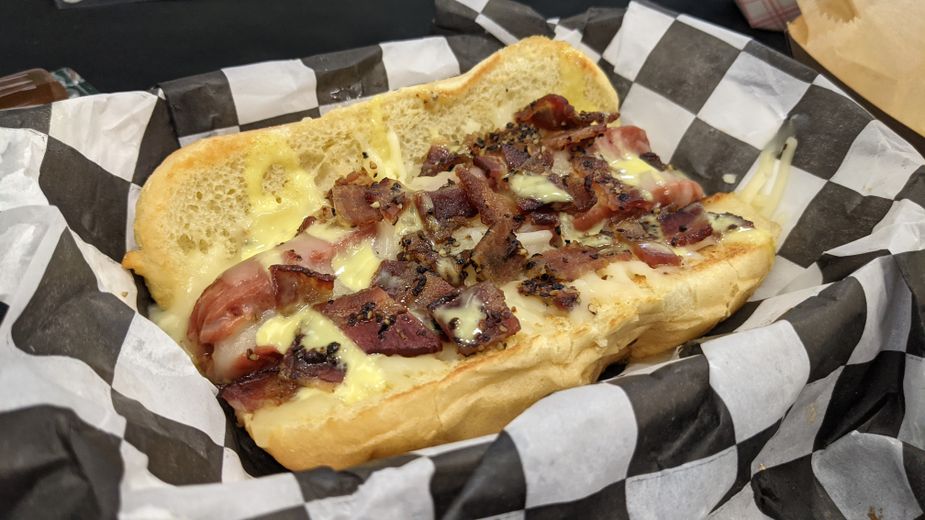 Honey Pepper Bacon Dog from The Urb Express
WINNER: The Urb Express has nailed the over-the-top hot dog game with their winning Honey Pepper Bacon Dog. A delicious hot dog is a State Fair staple, but the addition of chopped bacon and a tangy honey-mustard sauce in a steamed bun takes it into the winner's circle. It's the combination of sweet and savory that really grabbed the judges by the taste buds and wouldn't let go.
New to the Scene
For something on the savory side, the extremely meaty Loaded Gilty Mac from Gilty Pleasure is the way to go. Feed this to teenagers, farm boys, and football players, because it's a lot of filling food in one bowl. Creamy mac and cheese is covered in sauteed veggies, chopped up sausage, and pulled pork. The only downside to this meal is that there won't be much room for anything else.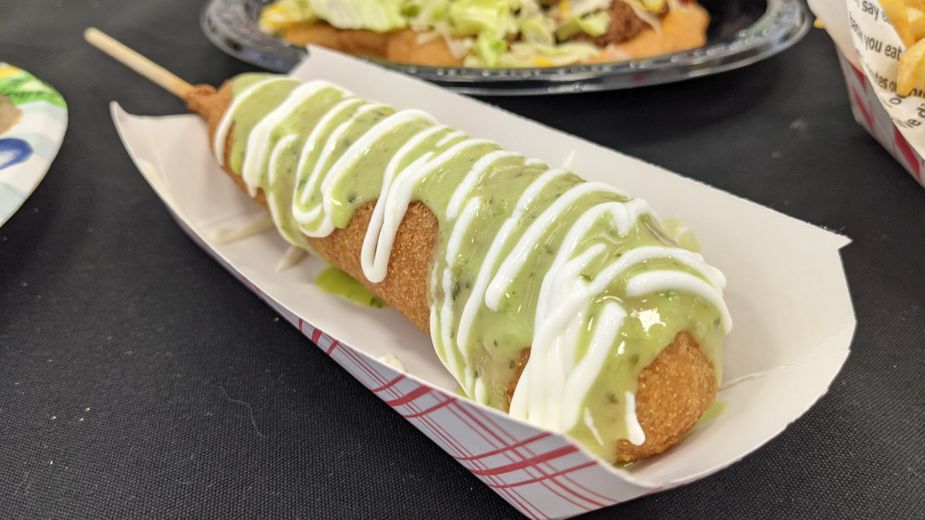 Rattlesnake Corndog from Pioneer Wagon
But the dish that was the most anticipated this year is Pioneer Wagon's Rattlesnake Corndog. And, yes, it contains rattlesnake meat. Granted, it's been ground and seasoned and stuffed into a bratwurst before taking a dip in a cornmeal batter and swimming in hot oil. Best of all, there's a drizzle of spicy "venom sauce" on top for added kick. Truthfully, folks will be hard pressed to nail down what's different about rattlesnake meat, but the novelty is still fun and the cornmeal batter Pioneer Wagon uses is slight, crispy, and full of fresh corn sweetness.
Caramel Apple Delight Donut from Amish Annie's
WINNER: The donut is the star of Amish Annie's Caramel Apple Delight Donut. While the mountain of whipped cream, caramel drizzle, and apple slices are certainly welcome, it's a freshly glazed mammoth-sized donut that grabbed all the attention. It's a nice, tender donut with a thin layer of glaze that adds the right amount of sweetness to make mouths water for a second and third bite.
Be sure to download the Oklahoma Today podcast next week as we talk to Holly Kinyon, integrated media creative specialist with the Oklahoma State Fair, about more fun fair foods and what you're supposed to do at the fair when you can't eat any more.
The Oklahoma State Fair runs from September 16-26 at the Oklahoma State Fairgrounds, 3001 General Pershing Boulevard in Oklahoma City. Tickets are available at okstatefair.com.