17 minutes
Published April 2020
By Megan Rossman | 17 min read
When plates and cutlery were luxury items and refrigerators did not exist, the easily transportable pie was its own protective vessel. It carried social class: Whereas the rich might fill ornate pastry shells with seafood or game meats, the poor stuffed whatever they could find into a thick barley or rye crust. In many instances, a pie's crust functioned purely as a preservative measure, a barrier protecting its innards against the elements. It was edible only to the determined and desperate.
Crust's fortune has improved over the years. Now, the masses can have their shell and eat it too. Every pie still begins with one, whether it's one crust, double crust, cookie crust, nut crust, or a classic buttery, flaky crust. Most modern bakers agree the overall outcome of the pie depends on this foundation; the best filling in the world can't disguise a second-rate crust.
Making one sounds simple. Mix flour and salt; cut in fat—butter, shortening, or lard will do—until the mixture becomes crumbly; gradually add ice water; and voilà: Pie dough. Ain't no thing. The reality is that many fledgling bakers struggle with the hidden variables: Overwork the dough and it becomes tough and dry. If it isn't rested in the refrigerator after it's fitted to the pie plate, it separates and shrinks. Is it more crumbly than flaky? The butter was probably too warm. When it comes to pie crust, science is a rigid master. The established methods are the best methods. Save the creativity for fillings and toppings—the crust is not having it.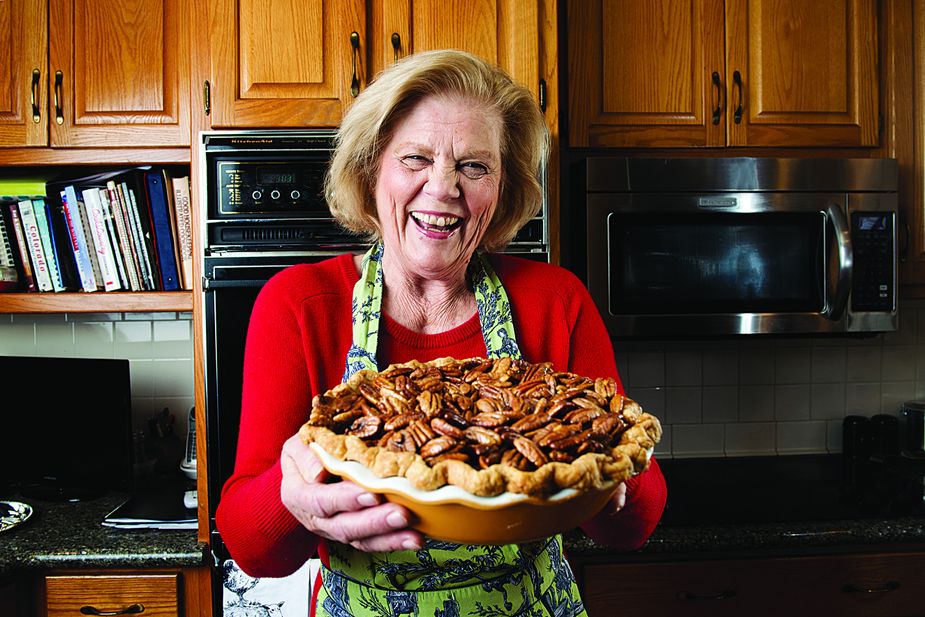 Over the past few decades, Rosalie Seebeck has won dozens of awards for her sweet creations. Her Honey Crunch Pecan Pie, here, won the Crisco American Pie Celebration contest in 1989.
Rosalie Seebeck has conquered the adversity of pie crust. Growing up the oldest of seven children in Okarche, she logged hundreds of hours with her mother in the kitchen, cementing cooking among her list of lifelong domestic skills. Now in her late seventies, Seebeck has been pinching and rolling dough for more than sixty years, winning numerous competitions at the state and national level. In 1989, she swept the national Crisco American Pie Celebration contest with her Honey Crunch Pecan Pie made with eggs from her own chickens, honey from her own bees, and pecans she collected in the backyard of her Bethany home. The victory earned her $10,000 to purchase new kitchen appliances, among them a blue KitchenAid mixer to match her blue ribbon. A coat rack at the rear of the kitchen displays more than twenty-five aprons awarded to her in cooking contests over three decades.
Seebeck and women like her are the traditional stewards of baking. Cozied up in kitchens on cold afternoons, they pass their art down to fidgety children and grandchildren. Often more interested in licking beaters than learning how to roll dough, those kids look back as adults and realize some formative culinary osmosis did occur.
In November 2015, Seebeck brought her expertise to another kitchen at the Lutheran Church of Our Savior in Bethany, where she taught a class on how to make crusts and followed up with a filling class in February 2016. A Piña Colada Icebox Pie brought her most recent accolade: Best in Show at the 2015 Oklahoma State Fair pie competition.
"The fair challenges me to come up with something different," says Seebeck. "You soon learn you're not the only one who can make a pie."
Geni Thomas knows this better than anyone. She's eaten thousands of those pies. It's been her appointed duty for more than thirty years at the Oklahoma State Fair. Before she retired, Thomas served for twenty-five years as the executive chef and food services director at Casady School in Oklahoma City. In 1984, she was the first female chef to be certified as an executive chef in the American Culinary Federation's central region. Cooking professionally since the 1960s, she brings her experienced and educated palate to the fairgrounds every September.
Pies at the state fair are judged in descending order of importance by taste, appearance, and originality. There are typically around fifty entries in the contest each year, and it's important for judges to pace themselves, taking a single bite of each. One year, Thomas and another judge were startled when an unrelenting swell of pies flooded the judging station. In all, there were 150 entries that needed to be sampled.
"I said, 'This isn't fair to anyone, and I'm not going to do it," says Thomas.
She made an emergency call to longtime Oklahoman columnist Melba Lovelace and her daughter Sandy Killian, who came to help judge.
"It's such a part of my life," Thomas says of the competition. "These women—and some men—work hard. They spend so much money practicing. I hope they know how much we as judges appreciate their efforts."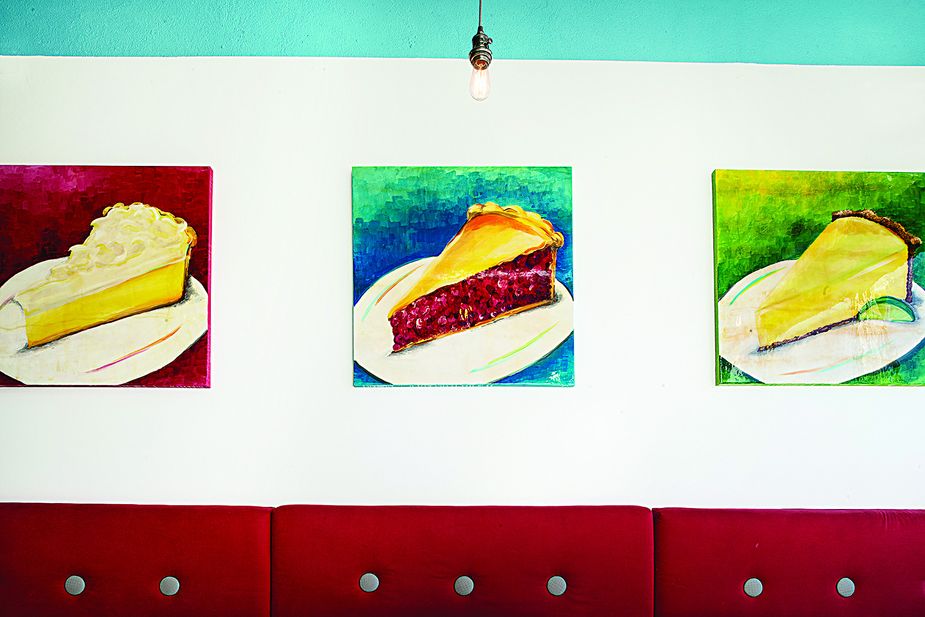 Colorful pie art adorns the walls at Pie Junkie's Plaza District location.
While many aspire to bake the perfect pie, plenty of others would rather just eat one. Fortunately for bakers and eaters alike, there will never be a shortage of pie in Oklahoma. Pies are everywhere. In fact, there's a high likelihood someone in your vicinity is drinking one from a Sonic cup right now.
Pie Junkie co-owner Leslie Coale-Mossman sums it up best: "Oklahoma is a pie state."
Friends and former stay-at-home moms Coale-Mossman and Darcy Schein were operating a catering business from the basement kitchen at St. Luke's United Methodist Church in Oklahoma City when their pie business was born. In 2010, S&B's Burger Joint cofounder Shannon Roper asked if they could create a few pies for the restaurant's menu.
Initially, Schein and Coale-Mossman made a peach pie for S&B's and created their first two signature pies shortly thereafter. A crushed graham cracker and macadamia nut crust added a new spin to the tangy, creamy key lime pie. The peanut butter chocolate is a sweet fudge pie topped with salty peanut butter and swirled with more fudge. These two creations became, quite literally, the pair's recipes for success.
Fast forward to 2016. Pie Junkie now inhabits a place among the busy strip of storefronts on Northwest Sixteenth Street in Oklahoma City's Plaza District. The mod-pop dining area is bright and white; patrons can sip coffee and dig into a slice of up to sixteen regular selections of pie or order whole ones to go. The Drunken Turtle—a fudge pie with graham cracker crust topped with roasted bourbon-spiked pecans and caramel—is the most popular, followed by cream varieties like coconut, French silk, and key lime. Apple Crumble, Tart Cherry, Bird Dog buttermilk made with blackberry whisky, and S'more—with close relatives like savory meat pies and quiches—are other options.
On average, Pie Junkie produces 500 to 600 pies per week, but, predictably, numbers spike during the holidays. Last year, Coale-Mossman, Schein, and their staff baked 1,200 pies in the twenty-four-hour period before Thanksgiving they refer to as Black Pie Day.
"We never thought it would be this way. We had a line wrapped around the building, and one of our favorite customers, Stan Clark, waited in that line, laughing the whole time," says Schein. "It feels good that people like Stan like the product so much, and it feels good for them, so they keep coming back."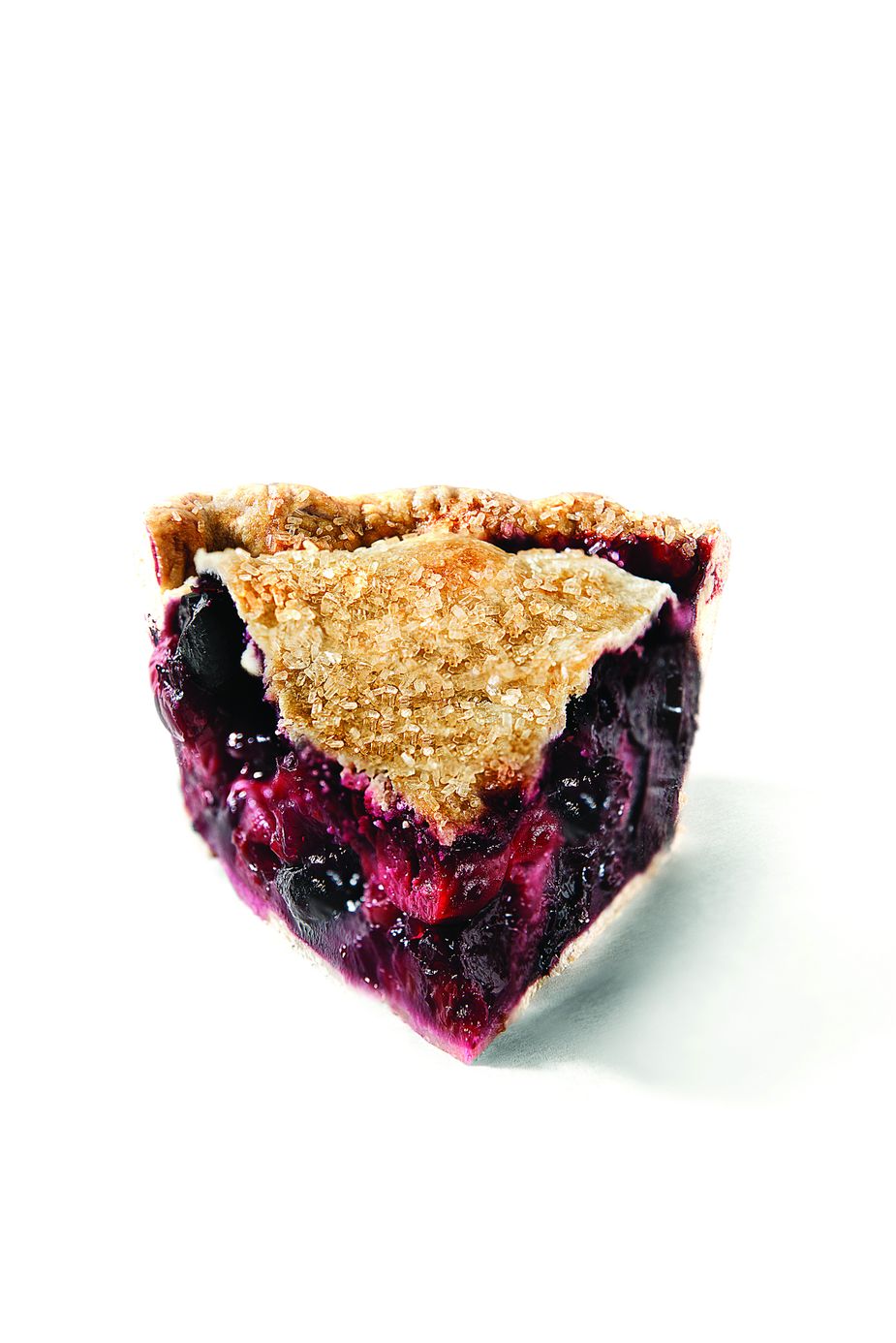 In March 2015, USA Today named Pie Junkie in Oklahoma City one of the top ten places to go for pie in the United States. Tart Cherry, above, is one of the shop's regular flavors.
Clark met several others on Black Pie Day who were told by their spouses not to come home unless they had pies with them. Fortunately, he was able to snag three that day.
"I love most pies, and my waistline is starting to prove it," says the Edmond resident. "My wife and I have told friends and relatives about Pie Junkie, and now they won't buy pies anywhere else. A lot of passion goes into them."
Although Coale-Mossman says Black Pie Day feels like it may kill them, she and Schein are grateful for the sometimes overwhelming demand.
"For me, it's a labor of love," says Coale-Mossman. "I think about summers at my grandma's, where there were fresh peaches. She'd be making a pie, and the cousins and I were all fighting over the scraps she rolled in cinnamon and sugar and baked. If you put effort and love into it, that's the art of pie. It's not perfection; it's making something that brings people together to eat."
"If you enjoy what you're doing, the person who eats the pie is going to enjoy it that much more," adds Schein. "That joy comes through."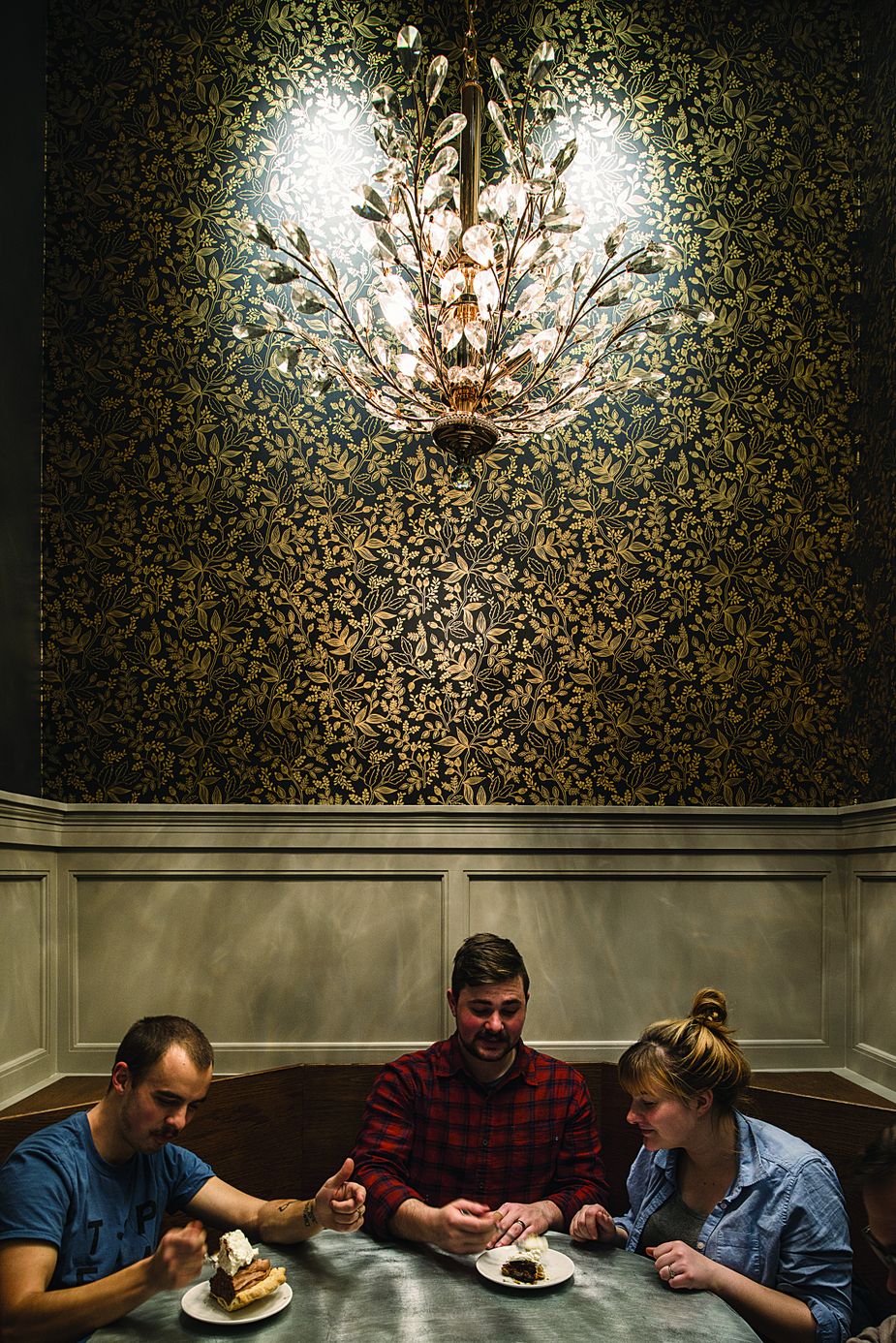 Pie nights are Friday and Saturday at Antoinette Baking Company in Tulsa.
Pie also enjoys a cheerful reign at Antoinette Baking Company in Tulsa. In 2014, the bakery moved from Brookside to a much larger location in the Brady Arts District. A sprawl of patrons, coffees and confections in hand, basks in the morning light streaming in through large windows facing Main Street. Display cases along the front counter exhibit pastel macarons, artisan bread, and an array of pretty pastries, behind which an exuberant staff greets each person as they enter. It's a space everyone seems happy to occupy.
While Antoinette offers at least two kinds of pie each day, it's known among dessert enthusiasts for its pie nights every Friday and Saturday, where visitors mingle over six varieties sold by the slice.
"We started the pie thing three years ago in Brookside," says Molly Martin, who co-owns the business with Andrea Mohn. "When I go out for dessert, I like to go to a dessert-specific place, and there aren't a ton of places to go."
So Martin and Mohn opened their own. A consequence of owning a bakery is the early morning arrival time, so Martin rarely attends pie night, but she makes sure it's well stocked.
"We generally offer fruit, a few cream, and we throw some weird ones in," she says.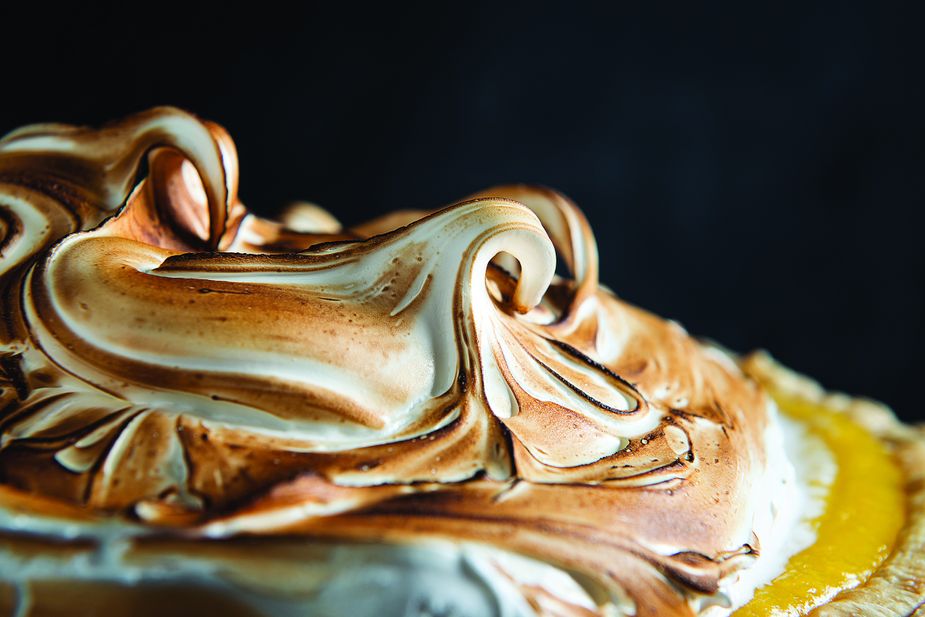 Pie, like this lemon meringue from Antoinette Baking Company in Tulsa, is Oklahomans' dessert of choice.
Pink Berry pie contrasts homey blackberry pie with a graham cracker crust and delicate notes of rose water, while the Versailles Pie is thick chocolate custard steeped in Earl Grey tea and capped with clouds of lemon whipped cream. Recently, they offered a roasted beet and white chocolate mousse pie with orange and honey. But traditionalists need not fear—classics like coconut cream, strawberry rhubarb, and Mile-High Chocolate hold their own alongside the avant-garde. After author David Sedaris stopped by in 2014, he declared to an audience at the Tulsa Performing Arts Center that Antoinette's coconut cream pie was the best he had ever tasted.
Coconut cream is one of the most prevalent varieties of pie in Oklahoma. It's hard to find a person that doesn't like it, but Brenda Gates is one.
"I don't eat the pies, to tell you the truth," she says. "I'm not a pie eater."
A visitor would never guess that the mastermind behind the famous pies at Click's Steakhouse in Pawnee doesn't much care for pie. For sixteen years, she's been a fixture in the kitchen, making pastries that have earned a rightful place alongside Click's mouthwatering cuts of beef. She arrives early in the morning as many as six days a week to bake, sometimes not leaving until four or five in the afternoon. If it's been busy, she may return later to bake more.
"When they hired me, they asked me if I could make pie," says Gates. "I told them, 'I can sure try.'"
Gates worked for years at Pawnee's now-closed Miss Lillie's Tea Room, but she didn't have any formal training or background in cooking. Hiring an inexperienced pastry chef is a gamble at most restaurants, but here it paid off. When she first started at Click's, Gates made about ten pies a week. Now, as their reputation has become legendary, she's making fifty to sixty-five.
The Tollhouse pie is essentially a huge chocolate chip cookie studded with buttery pecans and best enjoyed with mass of vanilla ice cream layered on top. That and coconut cream are her best sellers, but the restaurant is most famous for Gates' meringue pies. With spiked white peaks that seem to rise for miles, Click's lemon meringue pie might qualify as Pawnee's highest point.
While countless customers have inquired about how she gets the meringue so high, Gates' methods remain a secret.
"I can't tell you," she says with a laugh. "It might put me out of business."
It's an understandable fear, but it's a safe bet that gifted bakers like Gates will always be in demand, given humankind's enduring love of pie. After all, Oklahoma is a pie state.