September/October 2019: The Animal Issue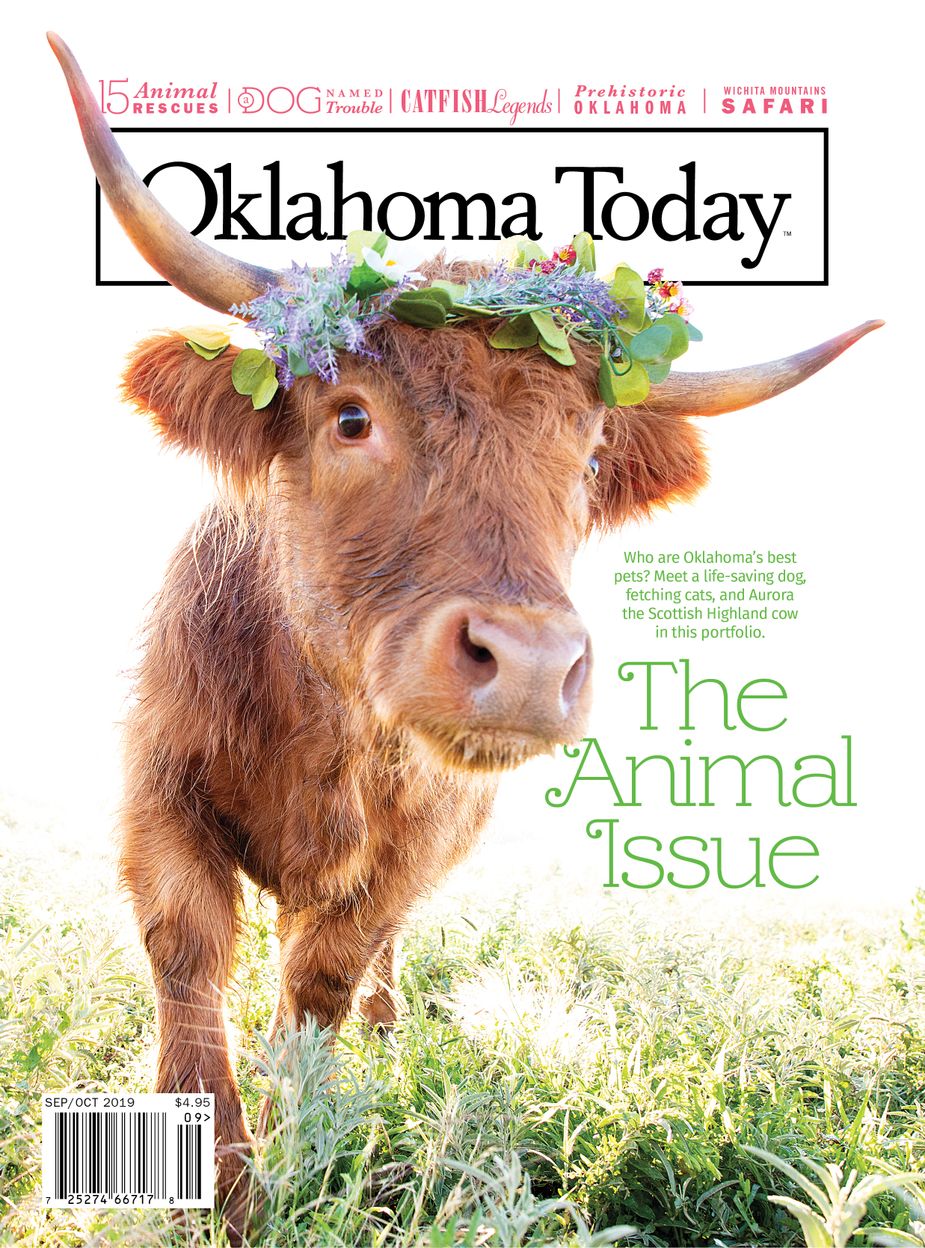 September/October 2019
Reign of Fur
We asked, and you answered with gusto. From calls on social media and in the magazine for photos of Oklahoma's best animal friends, we culled more than five dozen entries to select seven dogs, cats, and farm animals to find some of the state's coolest and most interesting pets.
Trouble
Nobody forgets their first animal buddy, and in this essay, managing editor Karlie Ybarra looks back on the dog that started a lifelong love of creatures great, small, and everywhere in between.
Human Kind
In 2012, the Oklahoma City-based Kirkpatrick Foundation began a statewide effort to make Oklahoma the most animal-friendly state in the country. It hasn't been easy, but the work has paid off in less cruelty, fewer animals euthanized, and a better world for Oklahoma creatures.
Homeward Bound
Those whose mission in life is to save animals from cruelty and untimely death face a long, uphill road. But for the Oklahomans who run these animal rescues, the work is a calling.
Extinct Oklahoma
Long before humans domesticated dogs, cats, horses, cows, and more, Oklahoma's prehistoric world was wild with fauna that teases the imagination. Naturalist, writer, and illustrator Debby Kaspari catalogues some of the ancient titans who wandered this land before people did—from Acrocanthosaurus to wooly mammoths.
Wild Cats
The sport of noodling gave Oklahoma's enormous catfish a media boost, but legends about river monsters lurking in Sooner State waters have persisted for centuries. Follow along with Gordon Grice as he tracks down the truth behind these famous fish tales.
Routes
Creatures great and small call the Wichita Mountains Wildlife Refuge home; fossils from shops around the state will make an impression on any gift-getter; The Rattlesnake and Venom Museum in Oklahoma City is full of hiss-tory; and hop on board the ONEOK Safari Train for an amazing view of elephants, tigers, and much more at the Tulsa Zoo.
Roots
Scaled, furred, and feathered helpers are assisting Oklahomans in interesting ways; the George Miksch Sutton Avian Research Center in Bartlesville helps birds take flight; Ken Allan Dronsfeld waxes poetic about an old hound; stampede in the Stockyards; and the Oklahoma City Zoo's staff talks flamingos, painted dogs, and turtles in this Q & A.
The Menu
Ethical farming is hard, but these Oklahoma producers want to do things right; planting native flowers, trees, and grasses helps save resources and feeds all kinds of wild critters; vegans and vegetarians can find their perfect veggie match with this handy fl ow chart; and healthy food for pets is big business in the Sooner State.
IN EVERY ISSUE
Point of View The painted bunting
Contributors Gordon Grice, Debby Kaspari, NS Mary Water
Welcome A letter from editor-in-chief Nathan Gunter
Feedback Letters from our readers
To-Do List A list of statewide events
Lost and Found Can you guess this Oklahoma location?