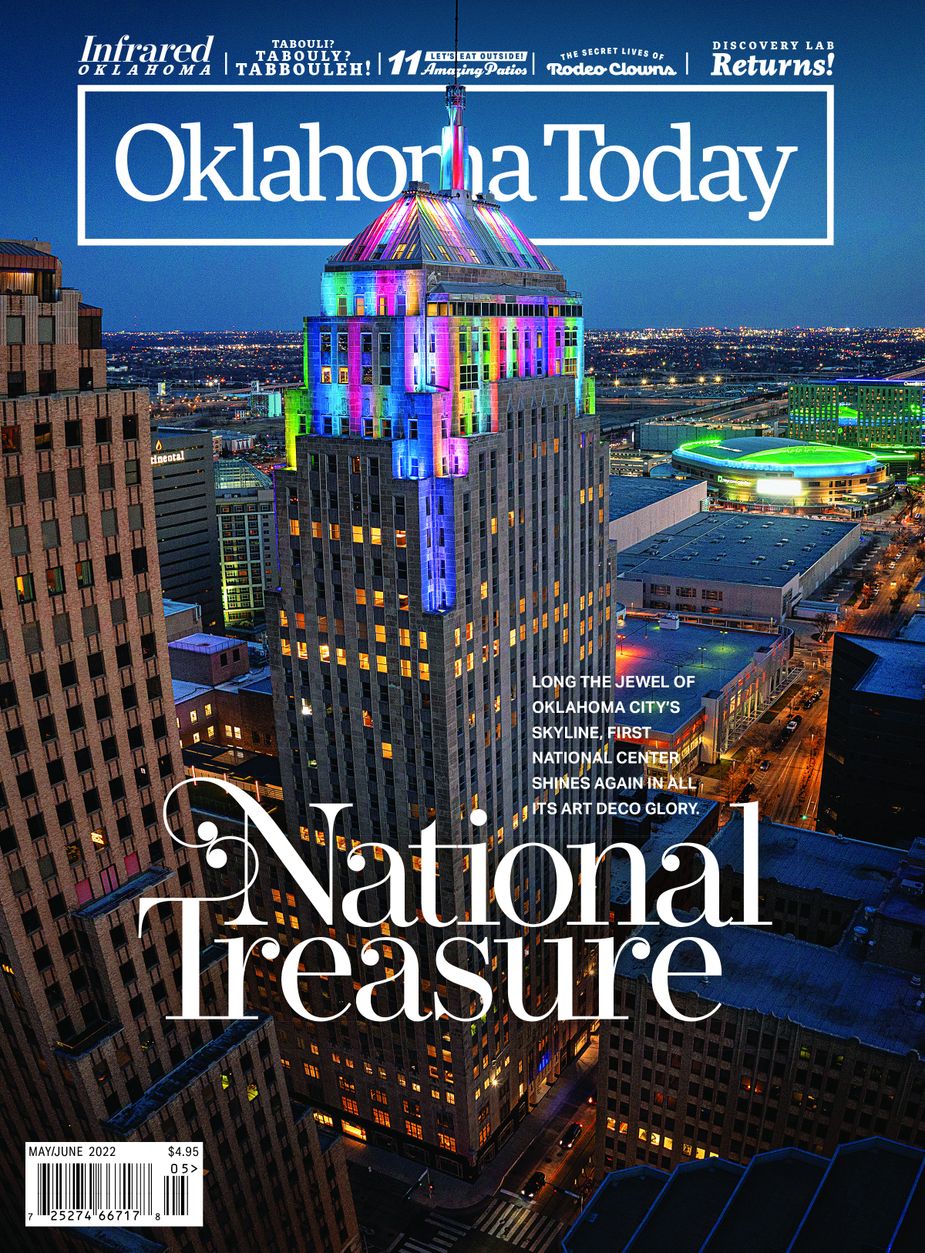 May/June 2022
ON THE MAP
Find your temporary home on the range at Buffalo Point Retreat & Event Center; Tulsa's Discovery Lab is back open and ready to engage young minds; get a noseful of Oklahoma with state park candles; Camp Trivera is one of Oklahoma City's coolest new adventures, scout's honor. And pay Mother (Road) a visit in Miami.
ORDER UP
Little Venice in Sand Springs has big Italian flavor; find out What's Poppin' in Lawton; Edmond's Okola-homa joins the cola wars; Cornish Smokehouse in Oklahoma City fires up the smokers once again; and Greg Elwell takes a detour for a slice of Chicago-style 'za.
ORIGINALS
The Remember the Removal bike ride bridges past and present; follow The Right Path to Drumright for equine emotional support; Chihuly Then and Now: The Collection at Twenty opens at the Oklahoma City Museum of Art; and folks call Perry Maxwell the golf father for good reason.
IN EVERY ISSUE
Contributors, Point of View, Welcome, Feedback, Out There, Off The Map
FEATURES
Gilded Age
Sometimes the pride of downtown Oklahoma City, sometimes the bane of its existence—and once the state's tallest building—First Naional Center has defined art deco grandeur in the capital city for nearly a century. Now, thanks to enterprising local developer Gary Brooks, this architectural beauty and its famous Great Banking Hall are reinstated as Oklahoma City's locus of luxury.
Operation Patio
Sunshine is on the menu at these eleven restaurants all over the state, each with an outdoor dining area not to be missed.
The Rites of Spring
Green leaves shine orange and pink in this unique collection of Oklahoma landscape shots taken with an infrared camera.
Bull House
They may look buffoonish, but these clowns' makeup belies a harrowing side of rodeo.
Hot Meze
At Bristow's Tabouleh Fest, celebrate the state's Lebanese community while enjoying some of Oklahoma's best food.
On the Cover
The First National Center in downtown Oklahoma City shines bright once again. The 1931 building reopened in early spring as The National—a Marriot Autograph Hotel—and The First Residences at First National, a collection of luxury apartments. The property also includes restaurants, bars, and retail spaces open to the public.