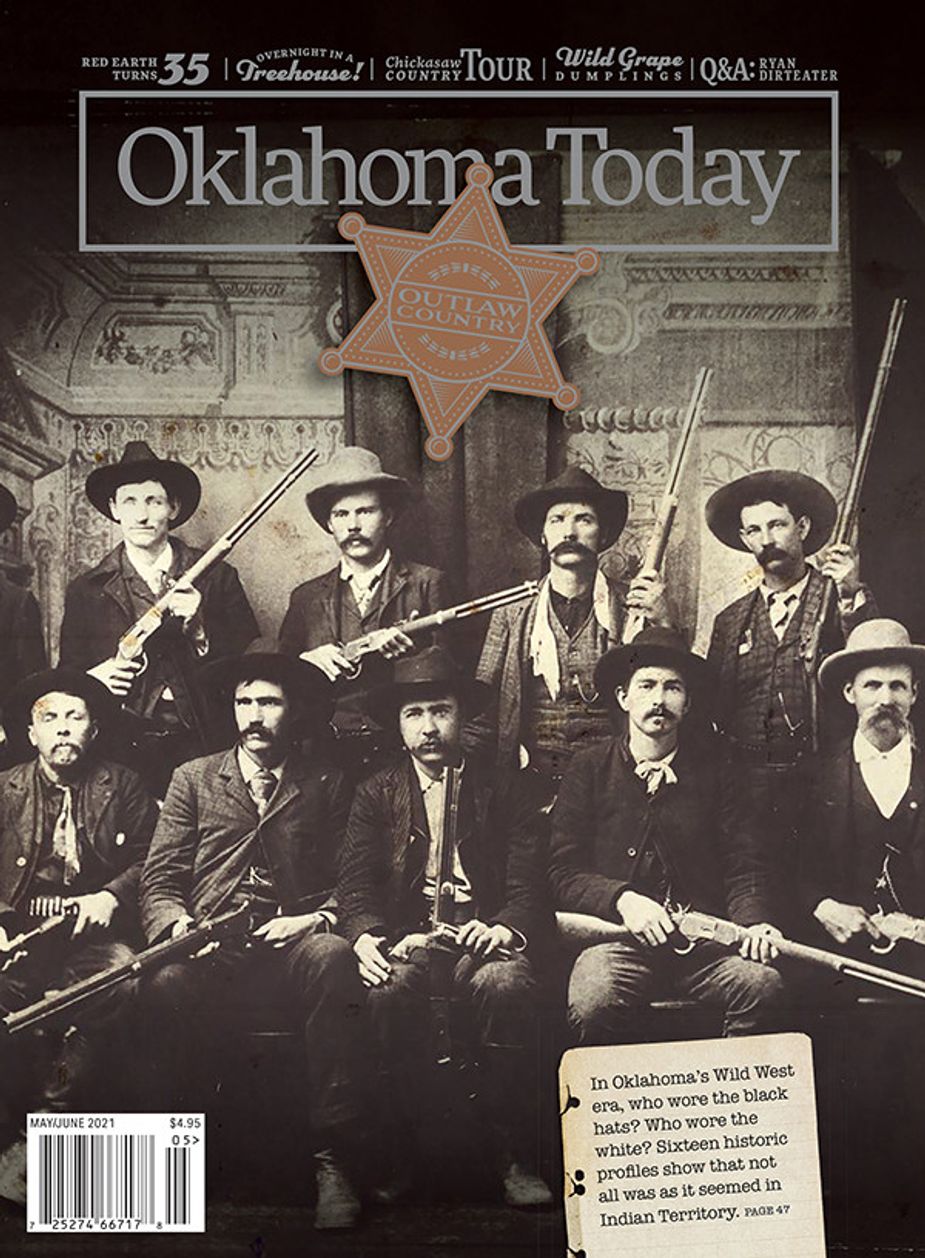 May/June 2021
ON THE MAP
The Ben Johnson Cowboy Museum in Pawhuska celebrates a rodeo and cinema star; artist Steven Paul Judd and Native-owned Prados team up to create a beautiful new makeup collection; sleep among the trees at the Bird's Nest in Davis; and visitors can shop, eat, and explore for days in Ponca City.
ORDER UP
Bar H Bar Branding Iron in Shawnee is steaking a claim to greatness; spice up your margarita with a recipe from Ole Red; O-Gah-Pah Coffee is the Quapaw Nation's newest culinary adventure; JoAnn Ellis' grape dumplings are a Chickasaw delicacy; the Cherokee Nation Seed Bank keeps growing.
ORIGINALS
This year marks a century since the 1921 Tulsa Race Massacre; the Muskogee Phoenix is one of Oklahoma's oldest newspapers; DT Ranch in Marlow provides sanctuary to all sorts of critters; poet Gordon Grice contemplates the "Campfire;" and Ryan Dirteater gets real about rodeo.. 
IN EVERY ISSUE
Contributors, Welcome, Point of View, Feedback, Out There, Off The Map
FEATURES
The Good, the Bad, and the Legendary
The Wild West long has been depicted in movies and books as a place where white-hatted good guys took on black-hatted bad guys in near-daily good-versus-evil confrontations. But the white hats weren't always so good, most of the black hats weren't pure evil, and it wasn't just the men who got in on the act. Find out where your favorite territorial legends fall in these sixteen profiles of Oklahoma's history's best, baddest, and in-betweenest.
Due South
The Chickasaw Nation in south-central Oklahoma is a place of stunning natural beauty. Explore it for yourself in this photographic portfolio.
The Good Earth
Now in its thirty-fifth year, the Indigenous art and culture juggernaut that is Red Earth is entering a new era.
Chikashsha po'yacha iláyya'sha katihma (We are Chickasaw, and We are Still Here)
Like many Indigenous nations, the Chickasaw Nation has worked hard to preserve its language. In this portfolio of images by Osage photographer Ryan Red Corn, meet some of the Chickasaws who've carried Chikashshanompa' into the twenty-first century.
 
ON THE COVER
In the Wild West, the lines between good and not-so-good could be blurry, as evidenced by this photo of the posse that killed Ned Christie, a respected Cherokee citizen who was falsely accused of murder and shot in 1892 after a five-year standoff with law enforcement. Explore Indian Territory's historic complexity in "The Good, the Bad, and the Legendary" (page 47). Photograph provided by the Oklahoma Historical Society.