March/April 2020: The Food Issue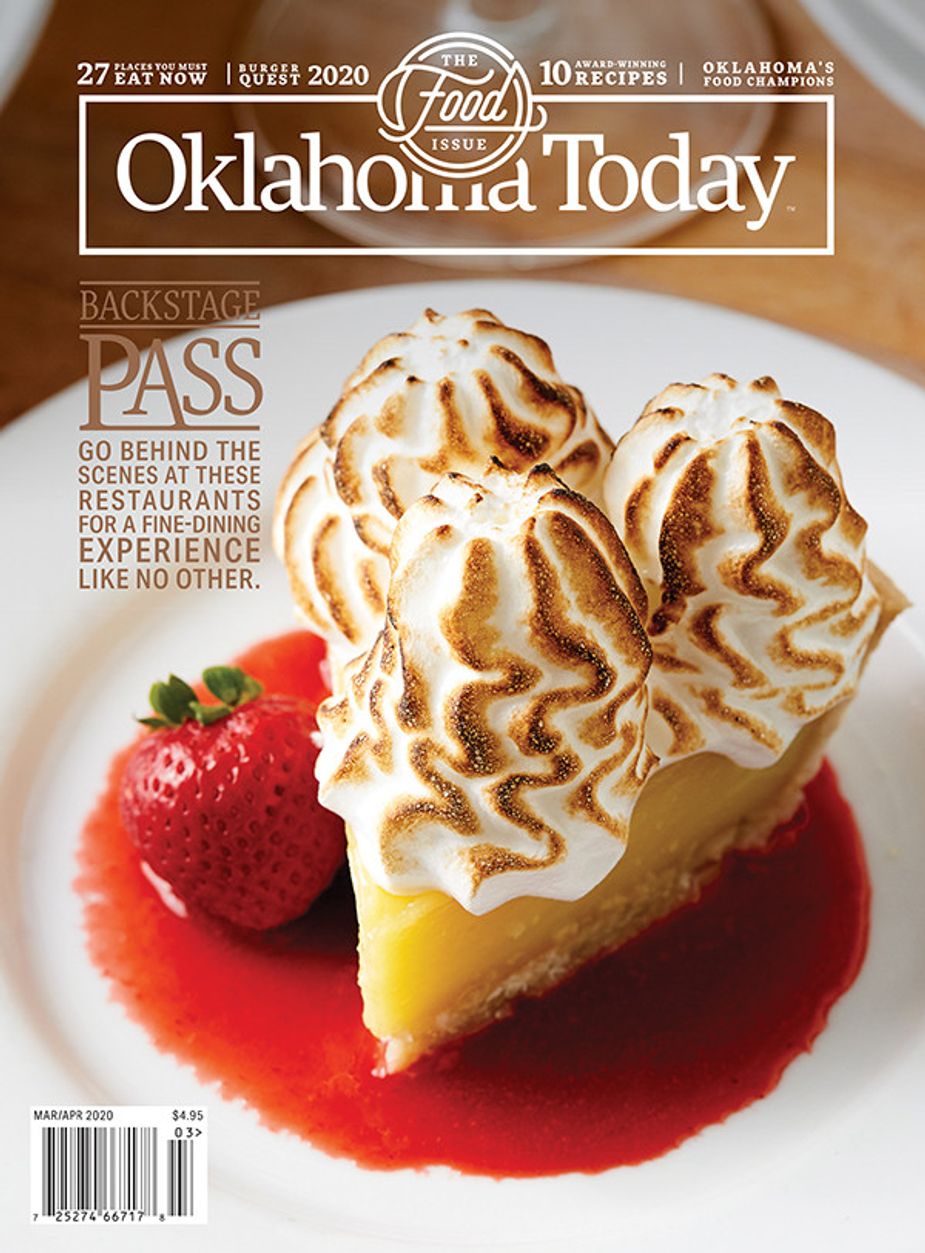 March/April 2020
ON THE COVER
The Tavern in the Tulsa Arts District serves a VIP experience—along with delicious desserts like lemon meringue pie with strawberry coulis. Read about it and five other one-of-a-kind dining adventures in "The Welcome Table"
Food Worth the Drive 2020
Ditch those New Year's resolutions and join our annual road trip roundup of dozens of the state's best eateries.
Char Trek
The hamburger's history may be hazy, but in Oklahoma, the picture is clear: Burgers rule.
A Taste of Glory
Every year, Oklahoma Today pairs with the Oklahoma State Fair to find the best home cooks in the state. Learn their secrets with these award-winning recipes.
The Welcome Table
These restaurants let foodies get up close and personal through the whole culinary process.
We Are the Champions
There's no single road map to becoming a champion. These five Oklahomans—restaurant owners, competitive cooks, and even an enterprising attorney who helped pave the way for the state's rapidly growing craft beer industry—put in years of work in pursuit of gastronomic excellence. Now they're making the state a more delicious place to live.
IN EVERY ISSUE
On The Map
The Chhoker Family Travel Center in Sayre is a hub for all aspects of Punjabi culture; Our Favorite Place in Eufaula sells spice and everything nice;at Perry's Round House Bakery, students learn the basics of baking; and culinary discoveries occur daily at The Collective, Oklahoma City's first food hall.
Order Up
Good Little Eater café and catering feeds Stillwater with an ever-changing menu; go nuts with a fruity salad recipe from Miller Pecan Company in Afton; hot dogs get gourmet at Rockin' HD Ranch; and tips from Jincy's Kitchen in Qualls help biscuits reach new heights.
Originals
Pet Food Pantry Oklahoma City helps hungry pets and their owners find relief; food purveyors in Tulsa, Oklahoma City, and Edmond are doing their part to make their industry more sustainable; and Cathy Miller's poem "In April" examines the beautiful transition between winter and spring.
Point of View Hop to It: Enid Brewing Company
Contributors John Jernigan, Brandon Smith, Megan Rossman
Welcome A letter from editor-in-chief Nathan Gunter
Feedback Letters from our readers
Out There A list of statewide events
Off the Map Can you guess this Oklahoma location?
Related blog, by Kashea McCowan: The Cornbread Gospel
Purchase this issue here.