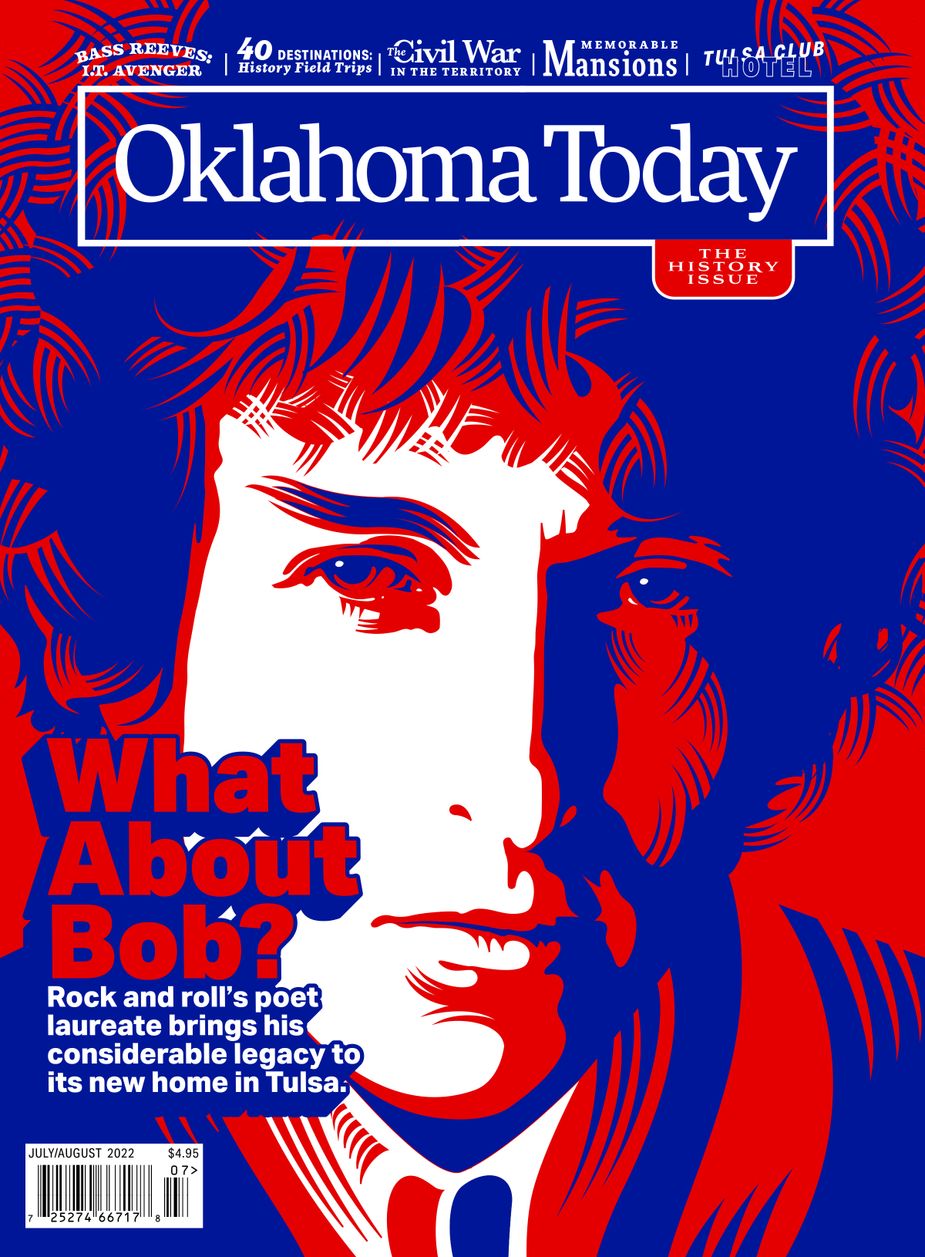 July/August 2022
ON THE MAP
Comfort and glamour await guests at the Tulsa Club Hotel; explore space and get some cool souvenirs at the Oklahoma History Center; the Vintage Sewing Center in Tulsa is a crafter's dream come true; Preservation Oklahoma has saved sites around the state; and there are plenty of reasons to spend a day in Okemah.
ORDER UP
In Ardmore, Big Brothers Ice Cream has the scoop; Oakhart Barbecue in Tulsa brings the heat and the flavor; Land Run in El Reno and The Flower Shop in Yukon serve cheer by the glass or the bottle; and learn how to grill your own pizza.
ORIGINALS
The Five Moons Dance Festival in Norman takes the stage; the L.A. Breakers dominated Lawton's dance scene in the '80s; mysterious arrows reveal an interesting chapter of the past; sit a spell and listen to a "Prairie Picnic Trail Song;" and the Choctaw gift to the Irish never will be forgotten.
IN EVERY ISSUE
Contributors, Point of View, Welcome, Feedback, Out There, Off The Map
FEATURES
Good Times in Tulsa Town
Bob Dylan is one of the greatest songwriters of our time, and now, his expansive archives have found a home in the Magic City's new Bob Dylan Center.
Bass Unmasked
From his origins in slavery to his triumphs and tragedies keeping order in Indian Territory, Bass Reeves' story is ready for a close-up.
House Rules
We learn about historic figures in classes and books, but there's no better way to really get to know Oklahoma's founding titans than by visiting these five historic mansions.
House Proud
You may not have noticed them, but shotgun houses hold much history in their tiny frames.
Battle Hymn of the Territory
During the Civil War, Indian Territory saw more than a hundred North-South clashes—including a fateful surrender and one of the war's most diverse battles.
History Scavenger Hunt
Turn your car into a time machine—no flux capacitor required—by visiting these forty historic spots all over the state.
On the Cover
By locating his archives in Tulsa, legendary songwriter and artist Bob Dylan has amped up the city's status as a locus for all things pop culture in the American Heartland. Read "Good Times in Tulsa Town," Preston Jones' introduction to this expansive and important touchstone, on page 46 before planning your own visit.