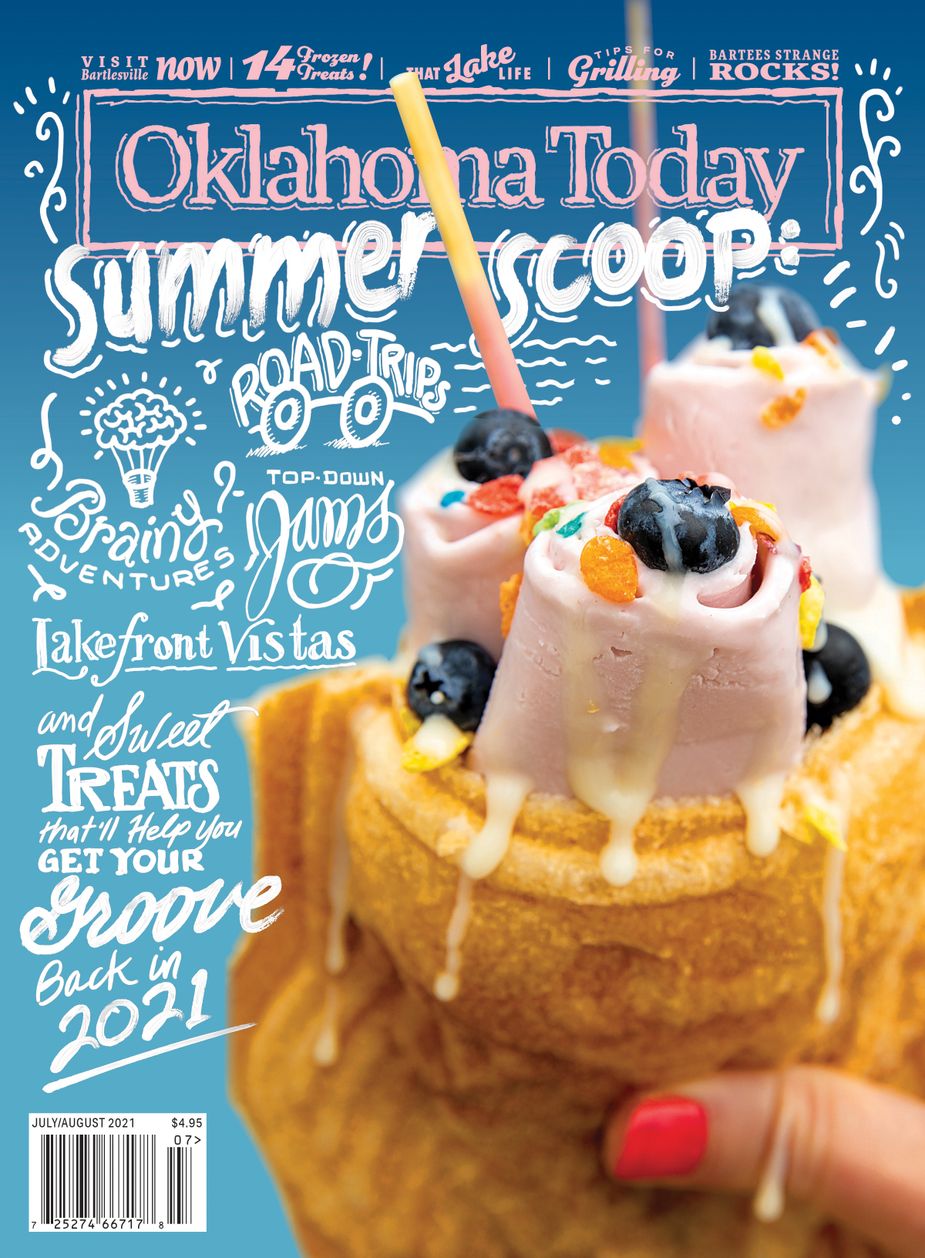 July/August 2021
ON THE MAP
Edmond Art in Public Places is bringing beauty to the masses; Oui & Si makes learning Spanish and French fun; history comes alive at the Museum of the Western Prairie in Altus; and at Grand Lake, adventure is a shore thing.
ORDER UP
Great food is on the horizon at Captain John's in McAlester; Oklahoma Gardening shares a fresh watermelon tomato salad recipe; Tulsa's Chimera Cafe defies belief; snow cones take over the Sooner State; and grillmaster Greg Elwell shares hot takes for char-ming meals.
ORIGINALS
Ms. Oklahoma Senior America proves age ain't nothin' but a number; the Blackwell Tourism Information Center charms travelers; Little Richard gets into big trouble; "Jazz" by poet Ken Hada sings; and Jackson Gifford talks about starting Southern Plains Productions.
IN EVERY ISSUE
Contributors, Welcome, Point of View, Feedback, Out There, Off The Map
FEATURES
Brain Waves
With post-pandemic life in sight, many parents are wondering how to make up for educational time lost. Our statewide scavenger hunt will have your family road-tripping from one end of Oklahoma to the other, exploring museums, working ranches, and even visiting a chocolate factory. Discover these twenty-nine can't-miss Oklahoma spots where kids, parents, and grandparents are all sure to learn something–even if they're having too much fun to notice.
Sub-Zero Heroes
What would summer be without ice cream? The Oklahoma purveyors, parlors, and good old-fashioned ice cream trucks know how to make the heat sweet.
Shore Leave
When the weather gets hot, Oklahoma's waterways get busy. Get an eyeful of scenic beauty with these nine images from some of the state's many alluring lakes.
The Bartian Chronicles
Before you visit Bartlesville, watch out: You may love it so much you end up moving there. Why this town is calling your name this summer.
A Strange Arrangement
Mustang native Bartees Strange is charting a new course in indie rock, and critics anf fans are happy to come along.
 
ON THE COVER
Tai-Okie, a food truck based in Ada and Oklahoma City, is the perfect representation of summer in Oklahoma: a delicious, unexpected blend of cultures and flavors. The fish-shaped pastries filled with rolled ice cream are large enough to feed two to four people, but you'll want to devour this entire treat yourself. Photograph by Lori Duckworth; Illustrations by Steven Walker.