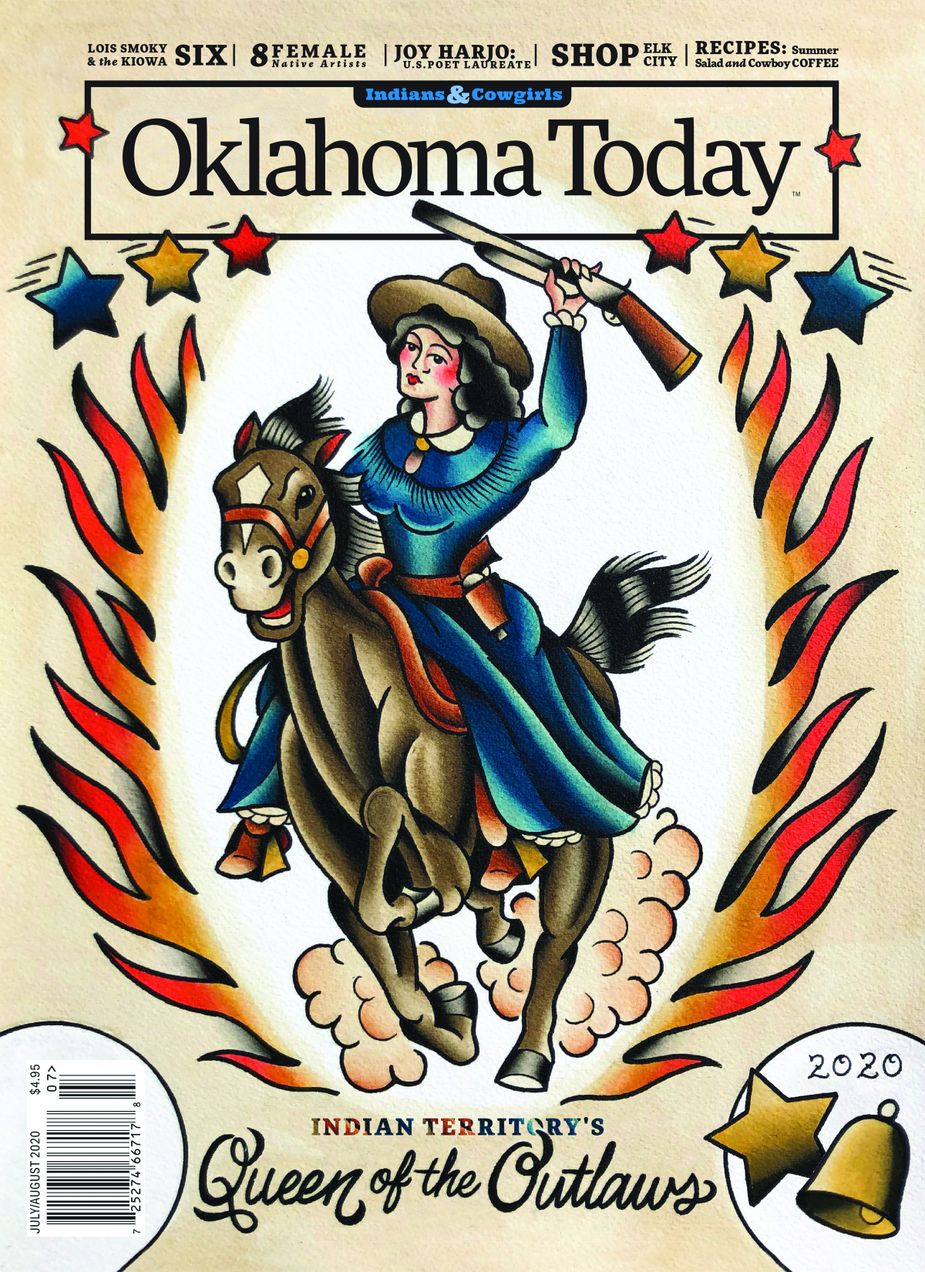 July/August 2020
Hear Her Roar
The women of the West are much more than Wild West myth would have us believe.
Petticoat Terror of the Plains
Belle Starr's legend outgrew her life. But who was the real woman behind the stories?
Feminine Mystique
Native American art has long been a point of fascination for art lovers, collectors, and scholars the world over. These eight Oklahoma women–representing a diversity of tribes, styles, media, backgrounds, and viewpoints–weave their visual magic throughout ten pages showcasing their works.
Girl on Fire
For decades, Lois Smoky's name was left out of the chorus of praise of the Kiowa Five. But her contribution to Kiowa culture cannot be erased.
Shape of the Soul
Poets Laureate Jeanetta Calhoun Mish and Joy Harjo talk words, wisdome, and fishing in this Q&A.
IN EVERY ISSUE
On The Map
Creating an object with one's own hands is an increasingly rare talent, but Oklahoma organizations are keeping the tradition alive though blacksmithing; in Woodward, The Cowboy's Tack Shop sells some of the most fashionable Western shirts in Oklahoma; for travelers on Interstate 40, Elk City is a town with plenty of shopping and dining destinations.
Order Up
Something good is brewing at Shades of Brown Coffee & Art in Tulsa; start your morning ride right with a strong cup of cowboy coffee; bison from the Cheyenne and Arapaho is good for consumers and the planet; and summer salad is a fresh alternative to normally fatty fare.
Originals
Cherokee Maiden Monica Taylor is one of Oklahoma's most famous songbirds; The Hunt mural by Comanche artist Eric Tippeconnic makes Colony a little more colorful; a dispute along the Red River means war; poet George Rhoades explores "The Wallows" of his home state.
Point of View Cattle Tale
Contributors Jeanetta Calhoun Mish, Ashley Dawn, Camille Wallace
Welcome A letter from editor-in-chief Nathan Gunter
Feedback Letters from our readers
Out There A list of statewide events
Off the Map Can you guess this Oklahoma location?
ON THE COVER
Like many of the storied figures of Wild West Indian Territory, Belle Starr's real life has become indistinguishable from the legends about her. On "Petticoat Terror of the Plains," Karlie Ybarra tried to find the real woman who inspired tall tales. Ashley Dawn of Keepsake Tattoo in Oklahoma City created this artwork for this issue of Oklahoma Today. Illustration by Ashley Dawn
Purchase this issue here.