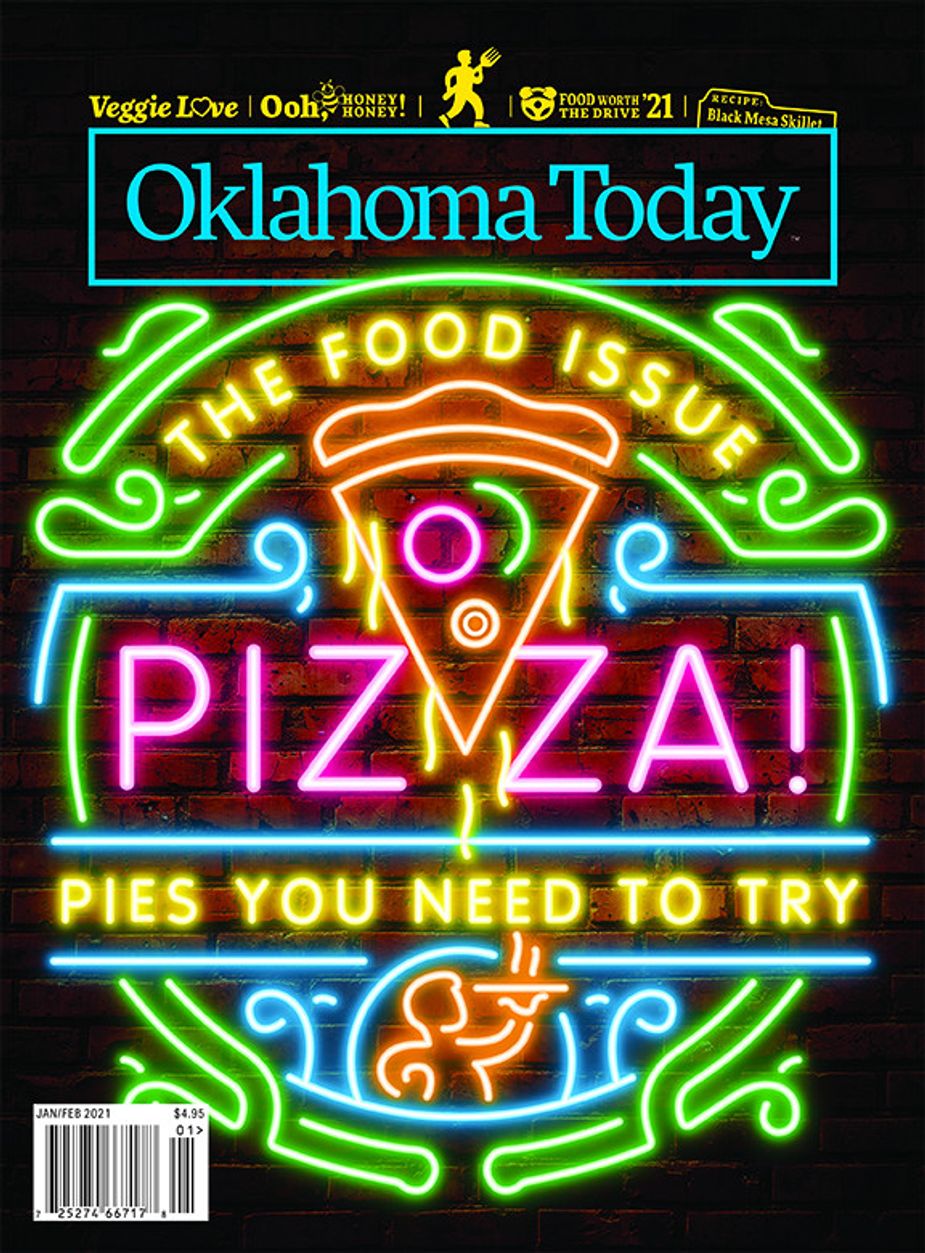 January/February 2021
ON THE MAP
Good eats do some good at the Special Kneads food trailer in Shawnee; in Oklahoma City, Urban Teahouse has delicious drinks down to a t; Monica Rorick, owner of The Pastry Nook in Enid, reigns over a kingdom of sweets; and Pawhuska is a bustling center of cuisine and commerce.
ORDER UP
OK Cider Co. is brewing liquid gold; our new recipe column kicks off with an ap-peeling apple skillet cake; Duncan's Wishbone Scratch Kitchen makes Okies' food dreams come true; Vicki's Velveeta Breakfast Skillet sets a perfect table; and Arcadia's Domenica Farms is growing.
ORIGINALS
Roy Bryant, owner of Roy's Bar-B-Q in Chickasha, is a food legend; poet Ken Allen Dronsfield showcases "A Day in Winter;" Ridley's Butcher Shop in Duncan has the meats; and meet the new CEO of the Regional Food Bank of Oklahoma, Stacy Dykstra, in our OKT interview.
IN EVERY ISSUE
Contributors, Welcome, Point of View, Feedback, Out There, Off The Map
FEATURES
Life of Slice
Pizza is famous for its infinite possibilities and near-universal appeal. Though good pie is never too far away, these restaurants have mastered the art of crust, sauce, cheese, and toppings.
Sweet Love
Bees are crucial parts of our ecosystem, and in Oklahoma, they support a thriving industry.
Food Worth the Drive 2021
It's an annual tradition: The Oklahoma Today editors fanned out across the state to bring you this rundown of thirteen must-visit restaurants.
Veggie Tales
Whether plant-based diners eschew animal-based foods for moral or health reasons, Oklahoma restaurants are happy to oblige with a rainbow of vegan and vegetarian delights.
Food Fighters
In a year like any other, many Oklahoma restauranteurs found their lives upended, their beloved spaces empty, their customers ordering in but not usually dining out. How they adapted and kept their industry running–as well as their lifelong dreams–is a story of true Oklahoma grit, creativity, courage, and determination.
 
ON THE COVER
No matter their dining preferences, nearly everyone can find something to love about pizza. For "Life of Slice" (page 44), Greg Elwell visited seven restaurants all over the state that offer exemplary combinations of crust, sauce, and cheese–but any Okie knows a satisfying slice of 'za is never too far away.Illustration by Steven Walker.