January/February 2020: The Oklahoma City Issue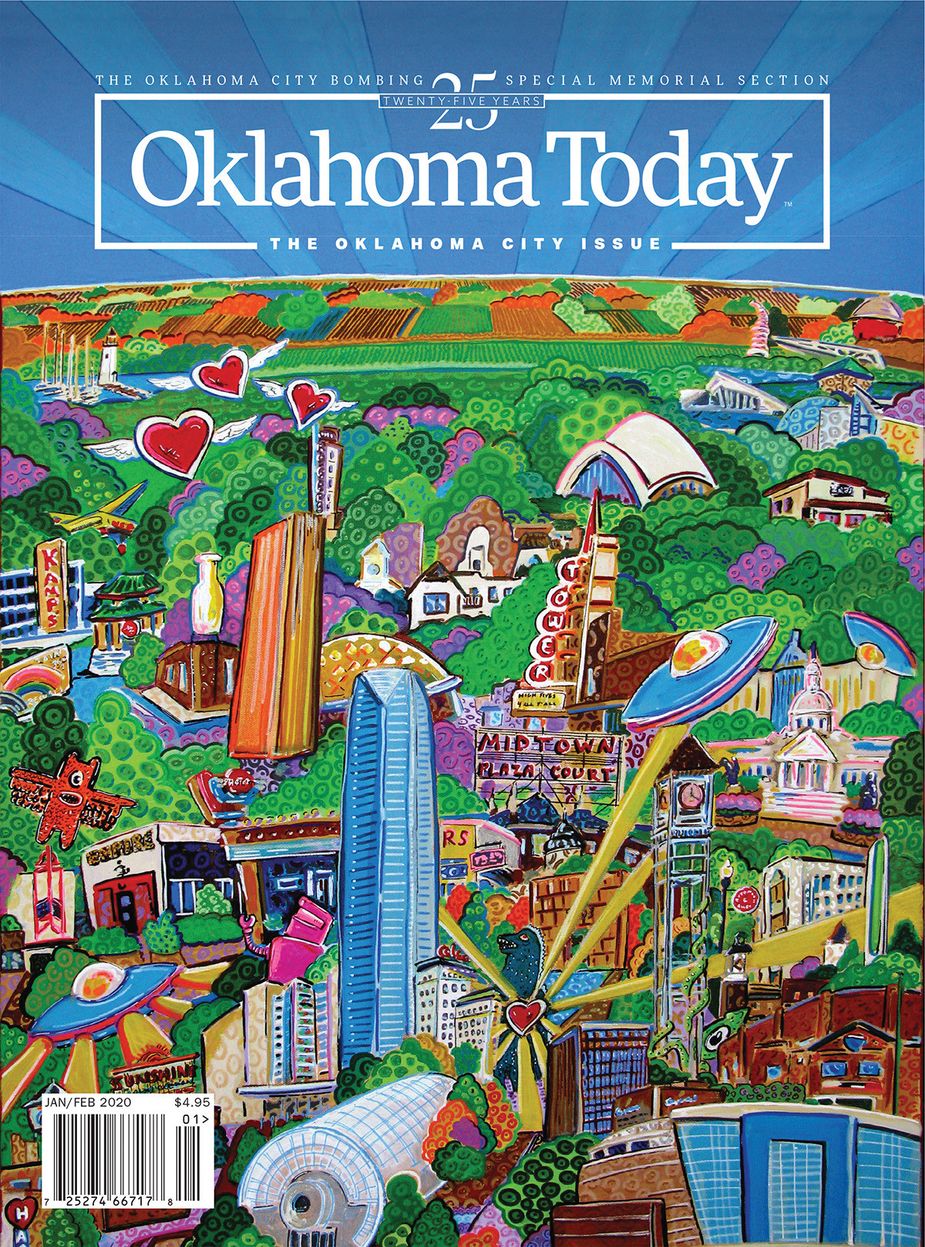 January/February 2020
ON THE COVER
hen we wanted a piece of artwork to reflect this issue's OKC love, we looked no further than Oklahoma City by Clint Stone, whose work also graced our last OKC-focused issue in 2008. Visitors to the Oklahoma City Museum of Art gift shop can purchase a poster of this work for $24.95.
Central Spark
A sprawling new downtown park—made possible by MAPS 3—brings life to a formerly blighted area of Oklahoma City.
Creative Suites
Known for decades as an artistic enclave, the neighborhood now known as the Paseo Arts District experiences a rebirth.
Won't You Be My Neighbor?
We gave Oklahoma City rapper, entrepreneur, and activist Jabee a camera and asked him to take us on a tour of east side Oklahoma City.
Art-omobile Alley
Launching their new destination headquarters, Factory Obscura and Oklahoma Contemporary are turning one neighborhood into an art mecca.
Oklahoma City Scavenger Hunt
With more than six hundred square miles and more than a half million citizens, Oklahoma City has something for everyone—from historic sites to hip new restaurants, stores, and attractions. Get to know Oklahoma's capital city with our guide to all the weird, the wonderful, and the mouth-watering places it has to offer.
THE OKLAHOMA CITY BOMBING: TWENTY-FIVE YEARS
City on a Hill
How does a city come back from an unfathomable act of terrorism? Boom Town author Sam Anderson tells the story of how Oklahoma City came to grips with the bombing and how healing continues twenty-five years later.
The Witness Bearers
Local journalists saw up-close the immediate aftermath and long-term fallout from the bombing. Many followed the story for years and have struggled to deal with what they experienced.
In the Long Run
For Oklahoma Today editor-in-chief Nathan Gunter, running the Oklahoma City Memorial Marathon in 2013—two weeks after the marathon bombings in Boston—was an act of defiance in the face of terror.
Sacred Ground
Open for nearly twenty years, the Oklahoma City National Memorial & Museum continues to be one of the most visited places in the state. In these divided times, it is an essential destination for all Americans.
What Remains
The Oklahoma City National Memorial & Museum archives hold more than a million artifacts. This small selection tells a story of loss, courage, and recovery.
On The Map
Full Circle Bookstore and Commonplace Books are keeping Oklahoma City in the read; the Capitol Hill neighborhood is nothing short of historic; check out the haute couture at Library; Craig's Emporium grows curiouser and curiouser; and Lyric Theatre of Oklahoma gives audiences plenty of razzle and a whole lot of dazzle.
Order Up
Hector Lopez and Wenddys Rios traveled thousands of miles to provide Oklahoma City with delicious Puerto Rican treats at D Taíno Bakery; pump up the jam with fruit pâtés from Ganache Patisserie; and La Esquina has cornered the market on fresh Mexican fare in Capitol Hill.
Originals
Color rules at the Oklahoma City Girls Art School; the Oklahoma Library for the Blind makes reading possible again; poet Jane Vincent Taylor celebrates a favorite spot; At Home in Oklahoma steals the scene; and the Oklahoma City National High Performance Center is making waves.
IN EVERY ISSUE
Point of View Electric Feel
Contributors Sam Anderson, Jabee, Helen Stiefmiller
Welcome A letter from editor-in-chief Nathan Gunter
Feedback Letters from our readers
Out There A list of statewide events
Off the Map Can you guess this Oklahoma location?