5 minutes
Published January 2020
By Brian Ted Jones | Photos by John Jernigan | 5 min read
Originally published in the March-April 2016 issue of Oklahoma Today.
In the April 1913 edition of the Oklahoma Miner, a newspaper that operated in Krebs beginning in 1912, a recipe appeared for "Beef, Italian Style." It calls for two pounds of rump, flank, or neck beef to be trimmed, dressed with onion, carrot, turnip, and salt pork, seasoned with salt and pepper, and cooked in a deep dish for three hours. What made the beef "Italian Style" was the sauce—or "gravy"—recipe, which called for the leftover juices to be mixed with mustard and tomato catsup.
Of the 2,564 Italians in Oklahoma in 1910, 2,162 lived in Pittsburg, Latimer, and Coal counties. Today, in Krebs, the old ways of cooking are still in use in four area businesses.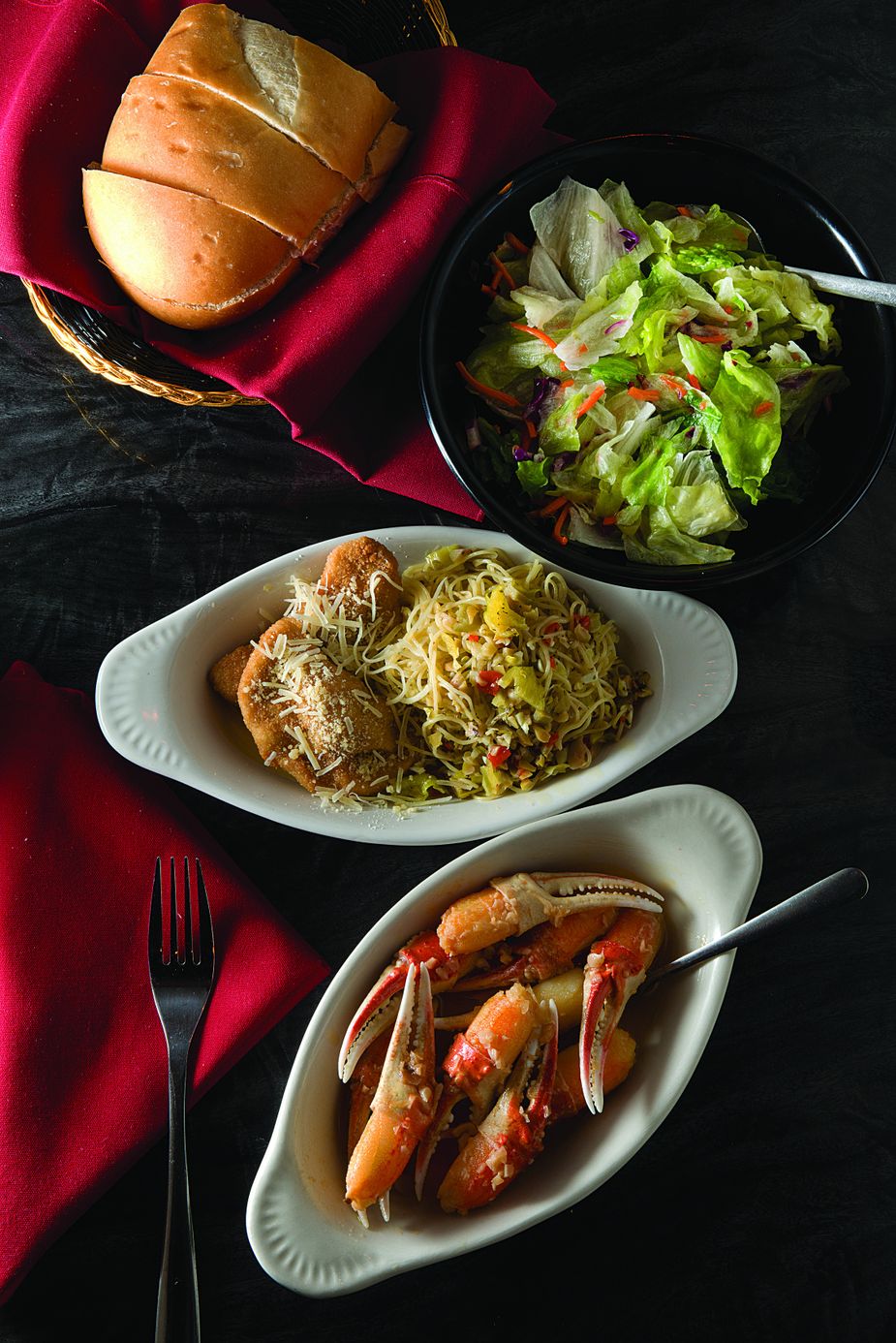 The Toscani Dinner at Isle of Capri in Krebs includes bread, salad, crab claws, fried ravioli, and white spaghetti. Photo by John Jernigan.
Stephanie Fields runs the Isle of Capri. Her great-great uncle Dominic Giacomo bought the lumber from a decommissioned prisoner of war camp and designed the restaurant so it could function as a house if the business failed. Aside from a brief closure following a 1972 fire, the restaurant has operated continuously since 1950. The sauce at Isle of Capri is hearty and thick, with a heavy taste of beef and garlic.
Roseanna's Italian Food was founded by Frank Prichard in 1975 and is owned today by Paul Prichard, Frank's youngest child. Roseanna's quarter-portion—perfect for a relatively light lunch—includes a pile of pasta, ravioli, meatballs, a slice of lasagna, and spiralled gnocchi in a bed of mild, deep-red sauce.
Pete's Place Restaurant is the oldest Italian restaurant in town, founded in 1925 by Pete Prichard, who was born Pietro Piegari in Italy and emigrated to America as a child. The walls are adorned with photographs of governors, senators, congresspeople, beauty queens, and country music stars who've eaten here. Pete's sauce has a strong, well-seasoned flavor, and every meal is served family-style—the spaghetti, meatballs, and ravioli are complimentary along with a vinegar and oil salad, antipasto, and a basket of warm, buttery garlic bread.
The Italian sausage at Pete's comes from Lovera's Grocery, just a few blocks east. One of the proprietors is eighteen-year-old Matteo Lovera, who speaks with more knowledge of old-world Italian cooking than ought to be possible given his age.
In the aging cave, bulbs of Lovera's international award-winning caciocavera hang from the ceiling by string. In the sausage plant, vats of pork shoulder wait to be transformed into sausage links. Matteo serves espresso and brags on the quality of Lovera's olives—imported by the barrel from Italy.
Matteo lived up in a house above Lovera's Grocery when he was growing up and is a fourth-generation Italian cook. His great-grandfather, Mike Lovera, founded the store in 1946.
Up and down the streets of Krebs live people like Matteo, descendants of the first Italians to settle in this part of Oklahoma. They've been sharing their recipes for more than a hundred years, calling to mind an old Italian toast: cent'anni. Literally translated, it means "a hundred years"—in this context, it's an Italian way of saying, "May you live a hundred years."
Cent'anni, amici.
Isle of Capri
Monday through Thursday, 11 a.m. to 2 p.m. and 4:30 to 10:30 p.m.; Friday and Saturday, 4:30 to 10:30 p.m. 150 Southwest Seventh Street, (918) 423-3062 or isleofcapriofkrebs.net.
Roseanna's Italian Food
Tuesday and Wednesday, 11 a.m. to 8 p.m.; Thursday through Saturday, 11 a.m. to 9 p.m.; and Sunday, 11:30 a.m. to 2:30 p.m. 205 East Washington Avenue, (918) 423-2055 or roseannas.com.
Pete's Place Restaurant
Monday through Thursday, 11 a.m. to 9 p.m.; Friday and Saturday, 11 a.m. to 10 p.m.; and Sunday, 11 a.m. to 8 p.m. 120 Southwest Eighth Street, (918) 423-2042 or petes.org.
Lovera's Market
Monday through Saturday, 8 a.m. to 7 p.m.; Sunday 10 a.m. to 5 p.m. 95 Northwest Sixth Street, (918) 423-2842 or loverasmarket.com.