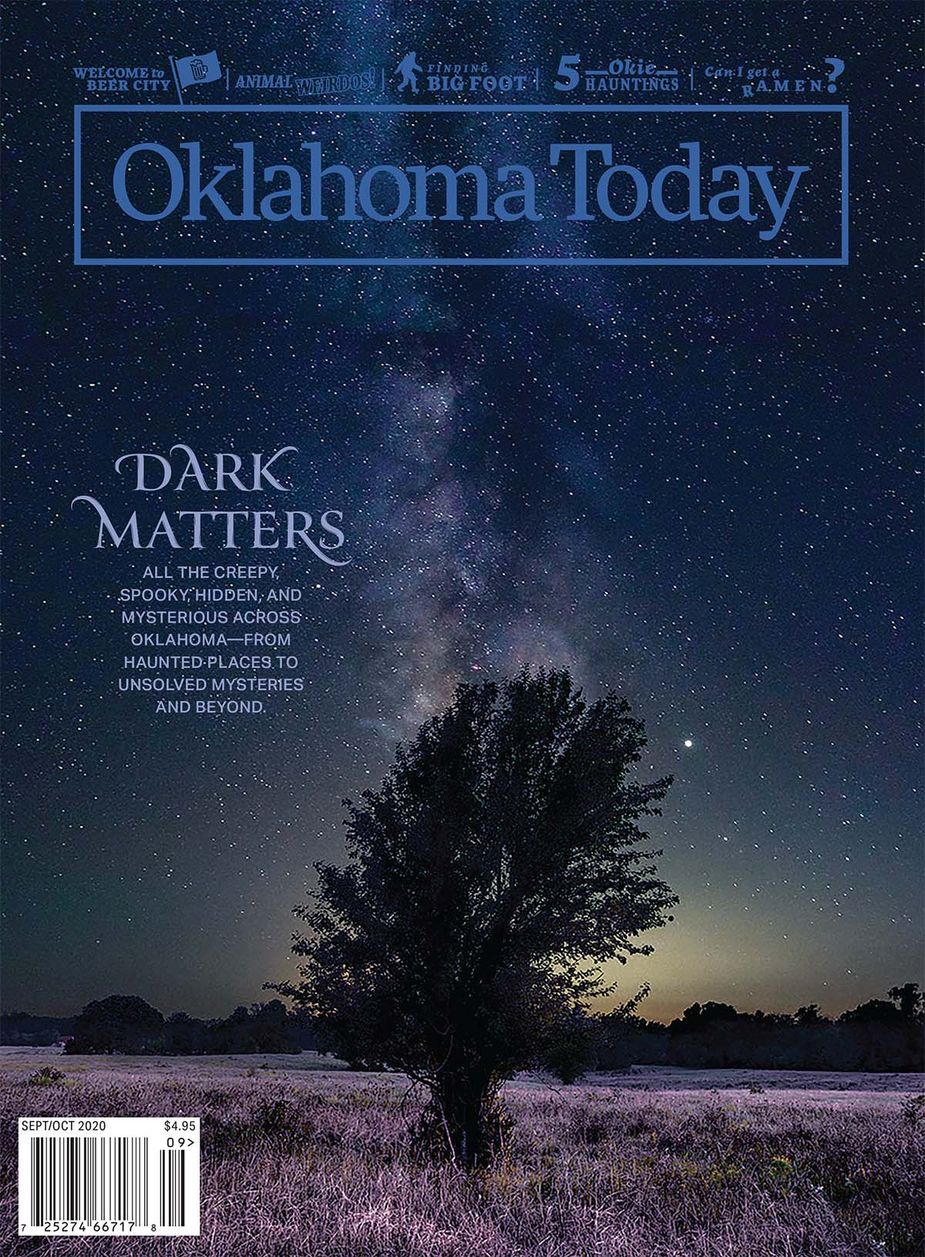 September/October 2020
Spooky Oklahoma
Ghosts hiding under bridges. Portals waiting among Panhandle dunes. Get your Halloween on at these scary Sooner State destinations.
Something in the Woods
Bigfoot is big business in southeastern Oklahoma. But how real are the legends?
Light Show
Oklahoma's great big skies take on a certain magic when the sun goes down. Though these shots may be moody–even a little frightening–there's no denying that Oklahoma's beauty is evident at dawn and dusk in these eight photographs.
Creature Features
Rabbits with mysterious horns. Terrifyingly huge insects. These Oklahoma animals may seem strange, but their weirdness serves a purpose.
Anarchy in the I.T.
In the 1880s, the Wild West town of Beer City was known as the "Sodom and Gomorrah of the Plains."
IN EVERY ISSUE
On The Map
Despite many changes, the Red Earth Festival is back with a bang; Good Mischief in Tulsa offers a spooktacular array of Halloween goodies; Goose dogs are taking on pesky intruders humanely; and despite its small size, Ada is full of big opportunities to shop, dine, and play.
Order Up
Nothing warms the soul like a steaming bowl of ramen; people are going nuts for the Luther Pecan Festival; and web editor Greg Elwell overcomes his desire to not do things–at least temporarily–to prepare roasted pumpkin seeds and carve jack-o'-lanterns.
Originals
Tulsa musician Branjae bares her soul on stage; for fifty years, the Neustadt Prize has brought alternative literary voices to the forefront; poet Jill Hawkins spotlights "Ringling, Oklahoma;" a view of Lake Murray State Park stuns; and Tahlequah native Ryan Helsley plays in the big leagues.
Point of View Attitude of Gratitude
Contributors Danielle Maniguet, Gordon Grice, Jerry Bennett, Ramon Renteria-Lara
Welcome A letter from editor-in-chief Nathan Gunter
Feedback Letters from our readers
Out There A list of statewide events
Off the Map Can you guess this Oklahoma location?
ON THE COVER
Photographer Jason Ward captured this starry scene in a pasture on his property in Bennington.
Purchase this issue here.