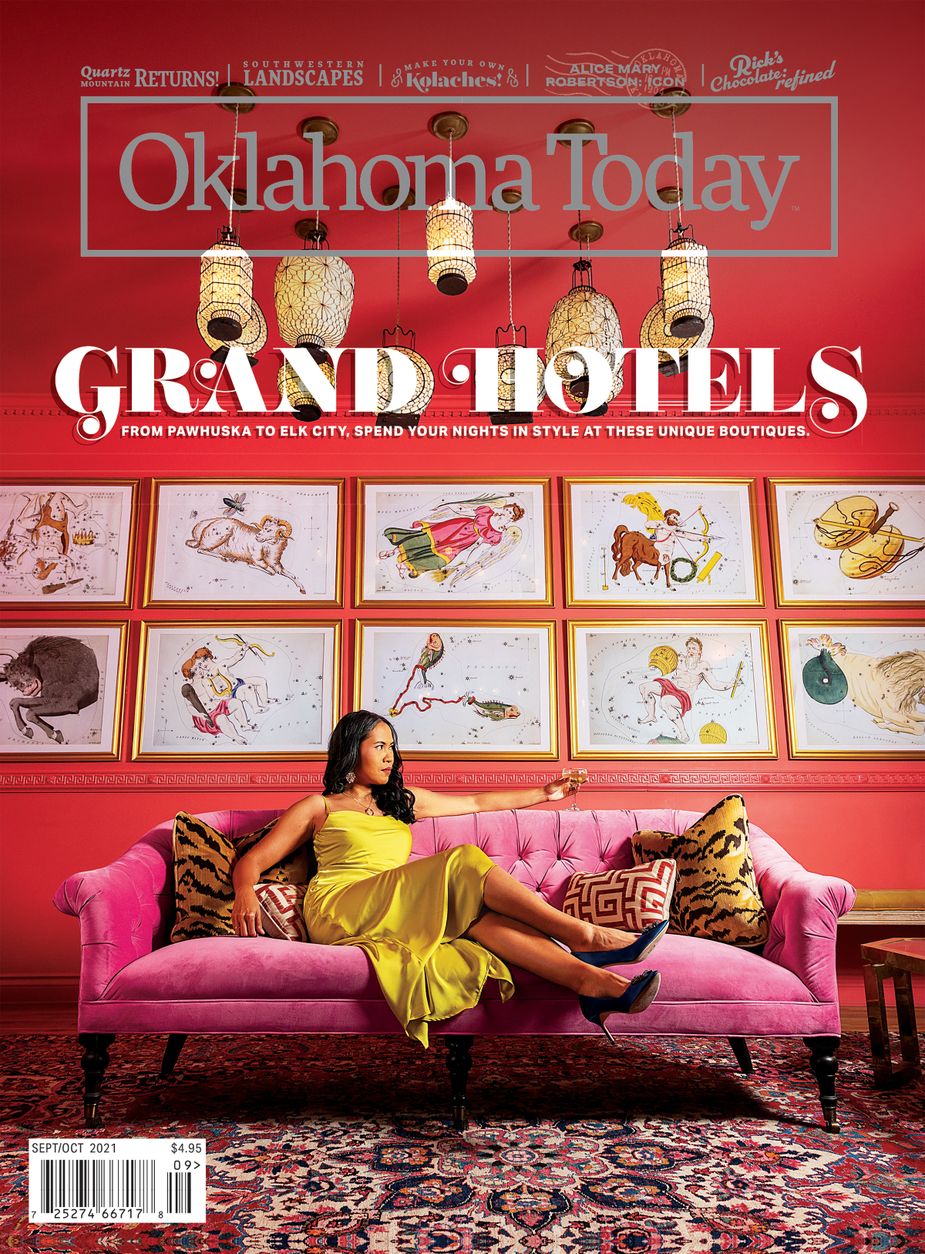 September/October 2021
ON THE MAP
The Center for Public Secrets is telling the truth in Tulsa; Tulsa's Bead Merchant sells a slew of sparkles; Norman's Main Street is one electric avenue; and the scares certainly aren't scarce in this map of haunted Oklahoma.
ORDER UP
Patty Wagon burgers are so goof, it's criminal; Rick's Fine Chocolates & Coffees makes Guthrie sweet; go ham, Robertson's style; find your (fro) zen at the Old Ice House Durant; and make one of Yukon's famous Czech kolaches with this recipe.
ORIGINALS
The tradition of spirit houses lives on in Oklahoma; in Granite, the Comecos Cemetery brings a little levity to grave matters; the Sooner State League was a home run for nearly a decade; and Lawton native Patricia Bassel explores one of her favorite topics in her poem "Song of the Wichitas."
IN EVERY ISSUE
Contributors, Welcome, Point of View, Feedback, Out There, Off The Map
FEATURES
Comfort Zones
Sure, chain hotels are fine places to reset after a day of driving. But these days, travelers are looking for more than a bed, a shower, and a continental breakfast. These six boutique hotels from Pawhuska to Elk City to Sulphur to Tulsa dazzle visitors with luxurious amenities, stunning interiors that are just made for Instagram, and an experience that is a bit more personalized, a bit more comfortable, and a lot more restful than the typical vacancy. Check your worries by the door.
Mountain Standard Time
One of Oklahoma's seven original state parks, Quartz Mountain long has held a special place in the hearts and minds of Oklahomans. Now returned to the state parks system, this southwestern Oklahoma gem is ready to welcome visitors once more with a remodeled lodge and a wonderland of adventure and activity. Head southwest and get to know Quartz Mountain again for the very first time.
Land Before Time
The Wichita Mountains Wildlife Refuge in southwestern Oklahoma puts its best foot forward in these scenic images.
Fiery Fighter
Alica Mary Robertson was the second woman in US history to serve in Congress and a crusader for Indigenous rights. Today, she stands as an inspiration to Oklahoma women.
 
ON THE COVER
Blending Old World charm and Instagram chic, the Bradford House hotel in Oklahoma City opened in 2020 and has been a runaway hit with locals and out-of-town visitors ever since. Model Lestari Kusumawardani relaxes in the lantern room, one of the Bradford's colorful, stylish lounges. Visit this and five more amazing boutique stays in "Comfort Zones."