Devouring deadCenter Film Festival
8 minutes
Published June 2019
By Greg Elwell | 8 min read
A common refrain in Oklahoma City circa 2019 is to remember how little there was to do in Oklahoma City, circa 1999.
"Remember when we were so bored?" you might hear people say as they dunk entire hoagie sandwiches into a buckets of thick, black coffee. "In 2003, I slept an entire eight hours in a row one night."
But no longer! If you're not deeply stressed about cramming every available activity into your schedule, your name is being put on a list of people to forcibly relocate to Delaware. So if you want to stay in Oklahoma, you better get BUSY.
NOW!
Which brings us to the 2019 deadCenter Film Festival, which celebrates its nineteenth year of existence June 6-9 with (big shock) a lot of great movies, short films, and documentaries in Oklahoma City.
For four glorious days, you'll be inundated with movies. It'll be like that scene in A Clockwork Orange, except you paid for it.
I'll leave the movie reviews for another post, but right now I want to help you film buffs find the best food to eat before and after the movies.
The majority of the shows will be screened at the Harkins Theaters Bricktown 16, so we're focusing on a lot of places to eat in Bricktown. Which is nice, because Bricktown has a lot of restaurants.
We're also splitting these up into quick options and more extravagant sit-down options, because when a movie is about to start, sometimes you need to wolf it down and go.
Eats near Harkins Theatres Bricktown 16
Something Fast
Fuzzy's Taco Shop
208 Johnny Bench Drive, Suite C
Obviously the thing to get here are tacos (it's in the name), but there are also salads filled with grilled seafood, giant plates of nachos, and very strong (and very tasty) margaritas. It's also open late, in case you're last film of the night lets out around midnight.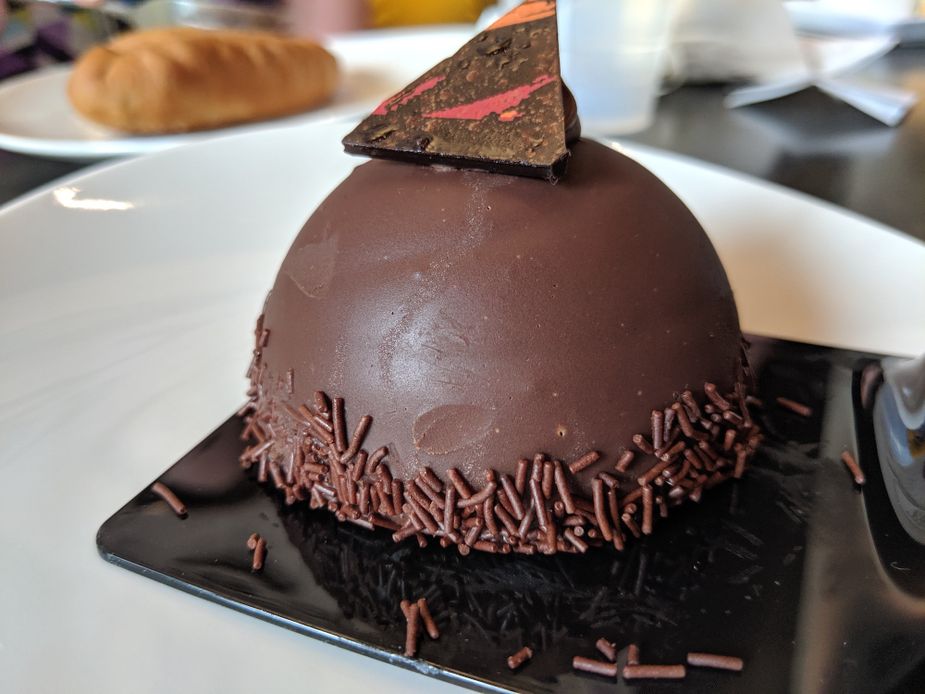 Petite bomb at La Baguette Deep Deuce
La Baguette Deep Deuce
100 Northeast Fourth Street
One of the fancier fast options, La Baguette Deep Deuce is located at the bottom of the Maywood Building and has plenty of delicious and portable options. If a sandwich is too much, grab a croissant and nosh on the way. Got a minute to spare? Check out the pastry case for some ultra-rich treats.
Hot Dog OKC
209 East Sheridan Avenue
There might be a line at Hot Dog OKC, but don't fret—it moves fast. The simplest items are served quickest, but it might be worth an extra minute or two for a bacon-wrapped chili-cheese footlong and a tasty Frito chili pie.
Stitch
229 East Sheridan Avenue
A new addition to Bricktown is Stitch, which has a sister shop in the nearby Film Row District. Coffee shops aren't usually known for their food, but Stitch has some outstanding sandwiches (blackberry grilled cheese, avocado salad) and toasts, as well as a nice selection of adult beverages.
All About Cha
100 East Main Street, Suite 101B
Coffee and tea orders are streaming out the door at Bricktown's All About Cha, but you'd be remiss if you missed out on the tasty wraps here. For maximum flavor and maximum portability, the bulgogi wrap is nigh impossible to beat.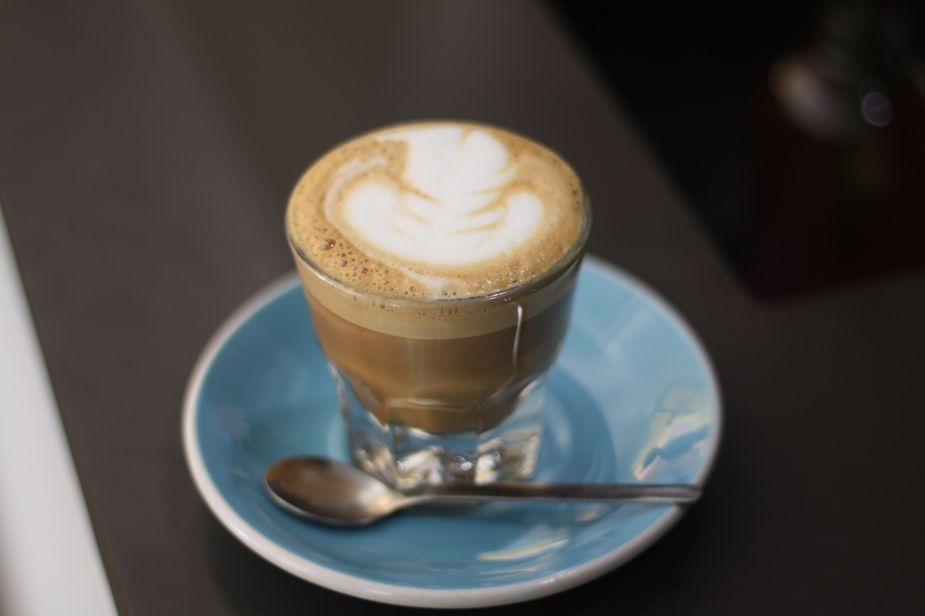 Cortado at Leaf + Bean
Leaf + Bean
321 North Oklahoma Avenue, Suite 107
The food selection is sparse at Leaf + Bean, mostly just doughnuts and energy bars, but if you're anxious about staying awake through a serious documentary, what you really need is this cozy shop's fine caffeinated beverages. Owner Paul Zimmerman's roastery—Gambit Coffee—supplies the fresh beans for some truly delightful cups of joe.
Something Fancy
Black Walnut
100 Northeast Fourth Street
Just next door to La Baguette Deep Deuce (and run by the same culinary wunderkind, Chef Andrew Black) is Black Walnut. This is a gourmet experience in a semi-relaxed atmosphere. Check out the smoked mac & cheese bites or charred rosemary bread to start before diving into a filling entrée like English beef ribs or spinach pappardelle with crispy anchovies, butternut squash and a soft-poached egg.
Crabtown
303 East Sheridan Avenue
Cousin to Pearl's Oyster Bar and Trapper's Fish Camp, Crabtown is an enormous, faux-rural seafood joint with a real Cajun and creole bent. For a meal that's just as memorable as a deadCenter film, the Cajun crab & shrimp boil is an eye-catcher. The table is covered in butcher paper and then a server dumps a bucket of shrimp, snow crab legs, andouille sausage, boiled potatoes, and corn on the cob on top for all to enjoy.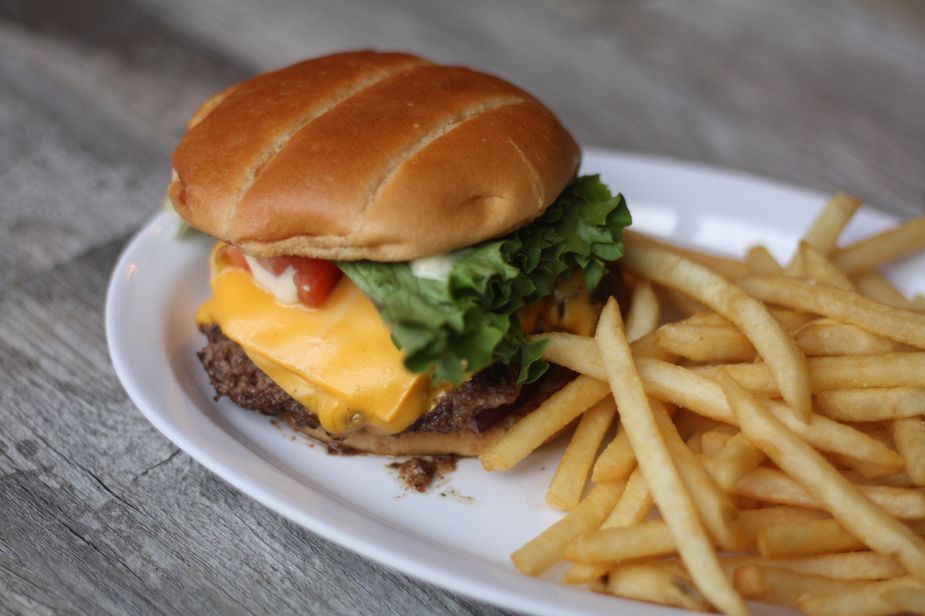 Barrel Burger at Whiskey Biscuit
Whiskey Biscuit
322 Northeast Second Street
Hidden away in Deep Deuce, Whiskey Biscuit is fast making a name for itself with twists on classic fare. The Barrel Burger is good for beginners, but the Inferno Burger (replete with grilled onions, ghost pepper cheese, fried wontons, avocado, and Thai sweet chili sauce) will set your mouth and heart aflame. And don't sleep on the seafood platter, which serves up fried oysters, shrimp, calamari, crawfish, and hushpuppies.
The Wedge Pizzeria
230 Northeast First Street
The smart play at The Wedge is always to start with the Wedge trio of roasted artichoke hearts, red pepper hummus, and Kalamata olive tapenade, served with delicious flatbread. Or get your veggies in with the assortment of roasted seasonal veggies on the antipasto platter. If you still have room (and that's not guaranteed), a trip to The Wedge isn't complete without eating a Truffle Shuffle pizza.
Previous Blog
"Short films are the way to experience OKC's deadCenter Film Festival"
You May Like
Leonardo's Children's Museum in Enid offers unexpected opportunities for enriching revelry.
Leonardo's Children's Museum in Enid offers unexpected opportunities for enriching revelry.
One regional organization is fighting crime to help save ranchers' livelihoods.
One regional organization is fighting crime to help save ranchers' livelihoods.
Memories of a meal at Living Kitchen Farm & Dairy last long after the plates have been cleared.
Memories of a meal at Living Kitchen Farm & Dairy last long after the plates have been cleared.