November/December 2019: The Tulsa Issue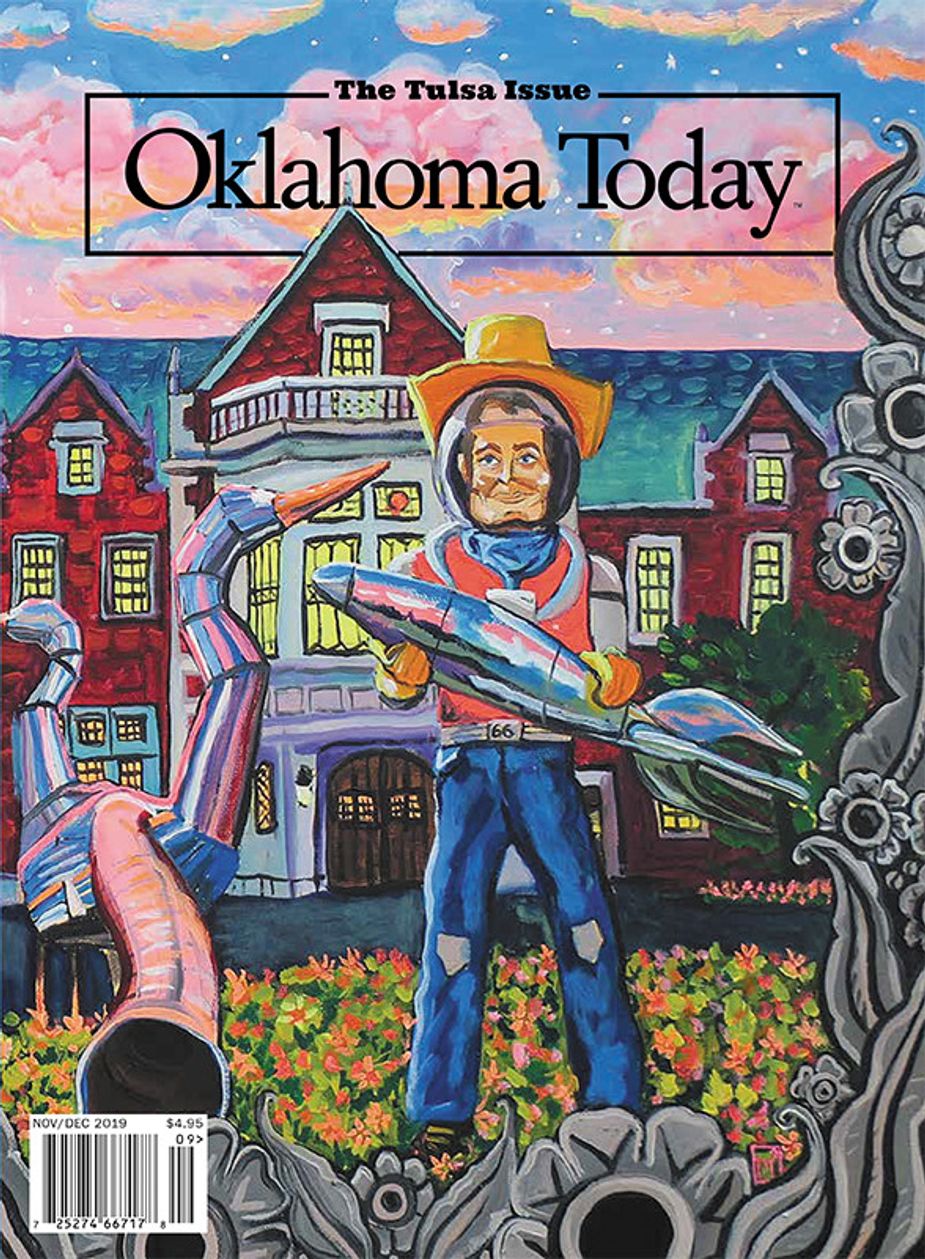 November/December 2019
ON THE COVER
With Art Deco flourishes representing Tulsa's past framing a collage of some of the city's coolest new locales, Tulsa Renaissance by Matt Moffett is a celebration of all things Tulsa. The oil-on-canvas was created exclusively for Oklahoma Today. Click here for an interactive graphic that reveals all the painting's locations.
My Tulsa
Tulsa is filled with cutting-edge parks, tasty food, trend-setting music, and some of the coolest humans around. These eight Tulsa icons—including entrepreneur Mary Beth Babcock, U.S. Poet Laureate Joy Harjo, and musician Taylor Hanson—talk about why they love this city.
Tulsa Scavenger Hunt
As the second largest city in the state, Tulsa offers a unique experience around every corner. Whether you're new in town or have lived here for decades, this scavenger hunt will help you discover all the sights, sounds, and tastes of this northeastern Oklahoma jewel.
A Beautiful Day in the Neighborhood
Just a couple miles east of downtown Tulsa, the Kendall Whittier neighborhood represents the city's forward momentum. Once a run-down and forgotten place, it's now one of the hippest can't-miss stops on any tour of the 918.
North Stars
Over the years, north Tulsa has developed a less-than-stellar reputation. But thanks to delicious soul food, fresh fish, and other unforgettable dining options—not to mention the community surrounding them—the area north of Interstate 244 is a part of the city everyone should visit.
Liquid History
When he returned from a tour in Korea in the mid-1960s, Gaylord Oscar Herron wasn't planning to document Tulsa's history. But over the intervening decades, his photographic eye has shown Tulsans—and the world—how this place and its citizens have evolved.
The Golden Age
What do an Academy Award-winning director, a librarian's aide in California, the Oklahoma film industry, and a group of up-and-coming actors have in common? They all helped bring the classic novel The Outsiders to the big screen by way of Tulsa.
Routes
The Greenwood Cultural Center tells the story of Black Wall Street, its destruction, and the area's rebirth; violin delights don't meet violin ends at The Tulsa Violin Shop; Tulsa's Art Deco buildings astound all who look up; and The Boxyard fills shipping containers with delicious food, stylish accessories, and radical skateboards and gear.
Roots
Many Zomi refugees have found a new life in Tulsa; the Slumgullion art installation immerses Philbrook visitors in light; Steph Simon raps about life in Greenwood; the Tulsa Girls Art School brings color to the lives of local girls; and "Tulsa Is Our Voice (Tulsa is a song)" by poet Bill McCloud sings the praises of one of Oklahoma's greatest cities.
The Menu
Drivers along Route 66 will find plenty of reasons to stop and refuel their bellies at Mother Road Market; the cocktails are cold and the arcade games hot, hot, hot at The Max Retropub; Duet restaurant and jazz lounge gives Tulsans twice the fun at one location; Amanda Simcoe reports on Celebrity Restaurant in this guest edition of "Dish."
IN EVERY ISSUE
Point of View Urban Exposure
Contributors Abby Kurin, Mason Whitehorn Powell, Shane Bevel
Welcome A letter from editor-in-chief Nathan Gunter
Feedback Letters from our readers
To-Do List A list of statewide events
Lost and Found Can you guess this Oklahoma location?