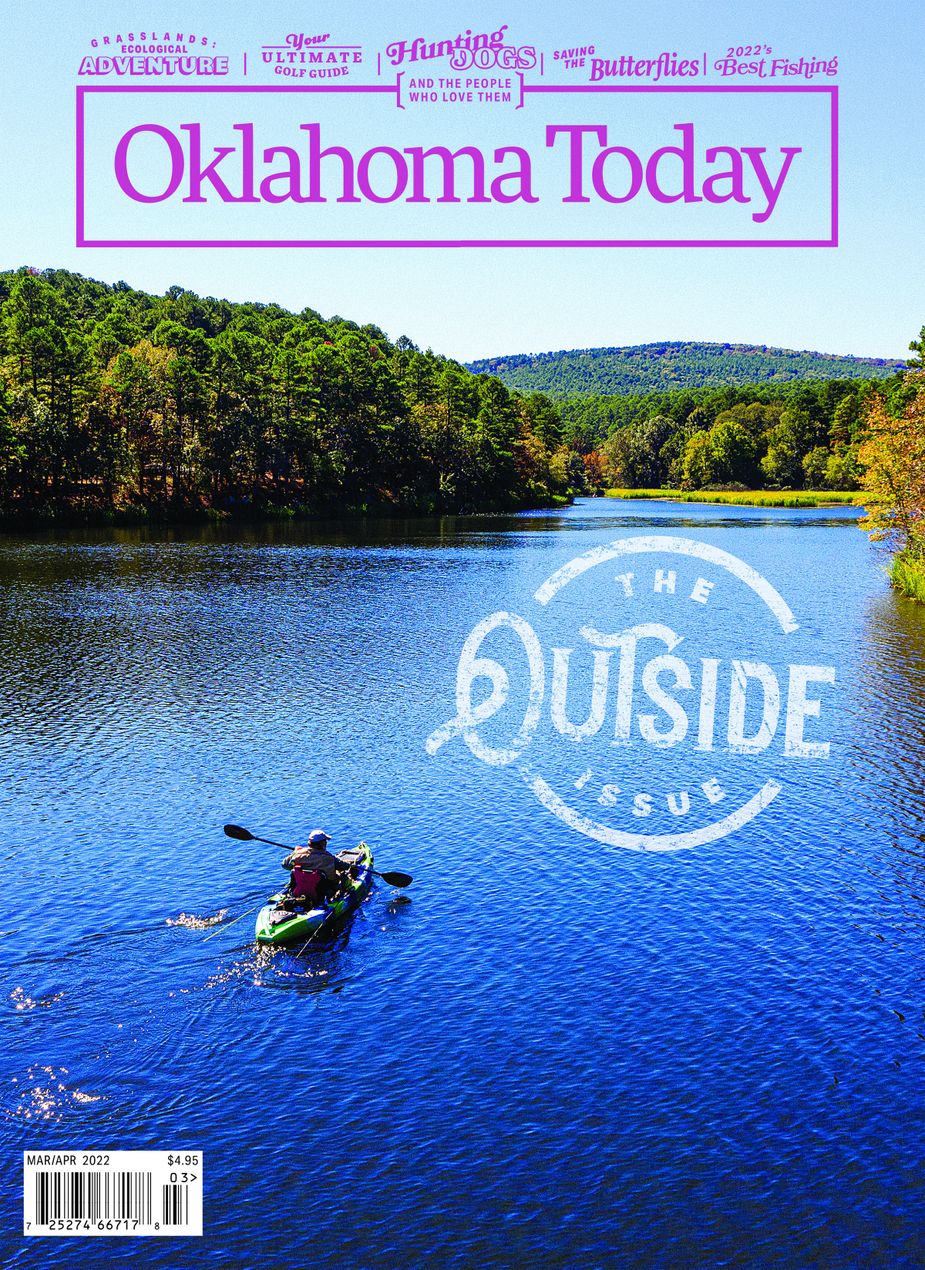 March/April 2022
ON THE MAP
The PGA Championship returns to Southern Hills Country Club; interesting things are growing in Stillwater at Bustani Plant Farm; visitors to southeastern Oklahoma can fulfill their need for speed at Broken Bow Slingshot Adventures; and go with the flow on the Illinois River.
ORDER UP
Scoot your boots to the Hochatown Saloon; Grassroots Ranch in Porter is planting the seeds for a healthier future; Ma Der Lao Kitchen brings Laotian flavors to Oklahoma City; and Greg Elwell has uncovered some delicious pizza crust alternatives to the standard wheat variety.
ORIGINALS
Pigeons and doves get a second chance at Olive's Place near Tulsa; have an aquatic adventure with the Pottawatomie County Kayak Club; "Ours" by poet Howard F. Stein delves into the circle of life; and Yard by Yard helps homeowners make their spaces greener in multiple ways.
IN EVERY ISSUE
Contributors, Point of View, Welcome, Feedback, Out There, Off The Map
FEATURES
Going to the Dogs
Bird dogs—bred and trained for hunting—aren't like other pets. In this essay, outdoorsman and photographer Shane Bevel extols the challenges and rewards—and why it's all worth it.
Hounds Sterling
Ride along with these hunters as they partner with man's best friend for the ultimate chase.
Reel Big Fish
Using the Oklahoma Fishing Trail as a guide, Kelly Bostian and Shane Bevel stake out some of the state's best places to drop a line.
The Adventure of Links
Whether you've got a nine handicap or are still learning your putter from your pitching wedge, Oklahoma is a great place for golfers.
Out of Hopeful Green Stuff Woven
Oklahoma's protected grasslands are wild, scenic, and vital to life on Earth.
Connecting Flight
In northeast Oklahoma, one couple has partnered with Native nations to help pollinators soar.
On the Cover
Writer Kelly Bostian kayaks across scenic Cedar Lake in southeastern Oklahoma in search of largemouth bass. Follow Bostian and photographer Shane Bevel's journey through six of the locations on the Oklahoma Fishing Trail in "Reel Big Fish". Order your copy of the Oklahoma Fishing Trail Guide at fishinok.com.