5 minutes
Published July 2021
By Brooke Adcox | 5 min read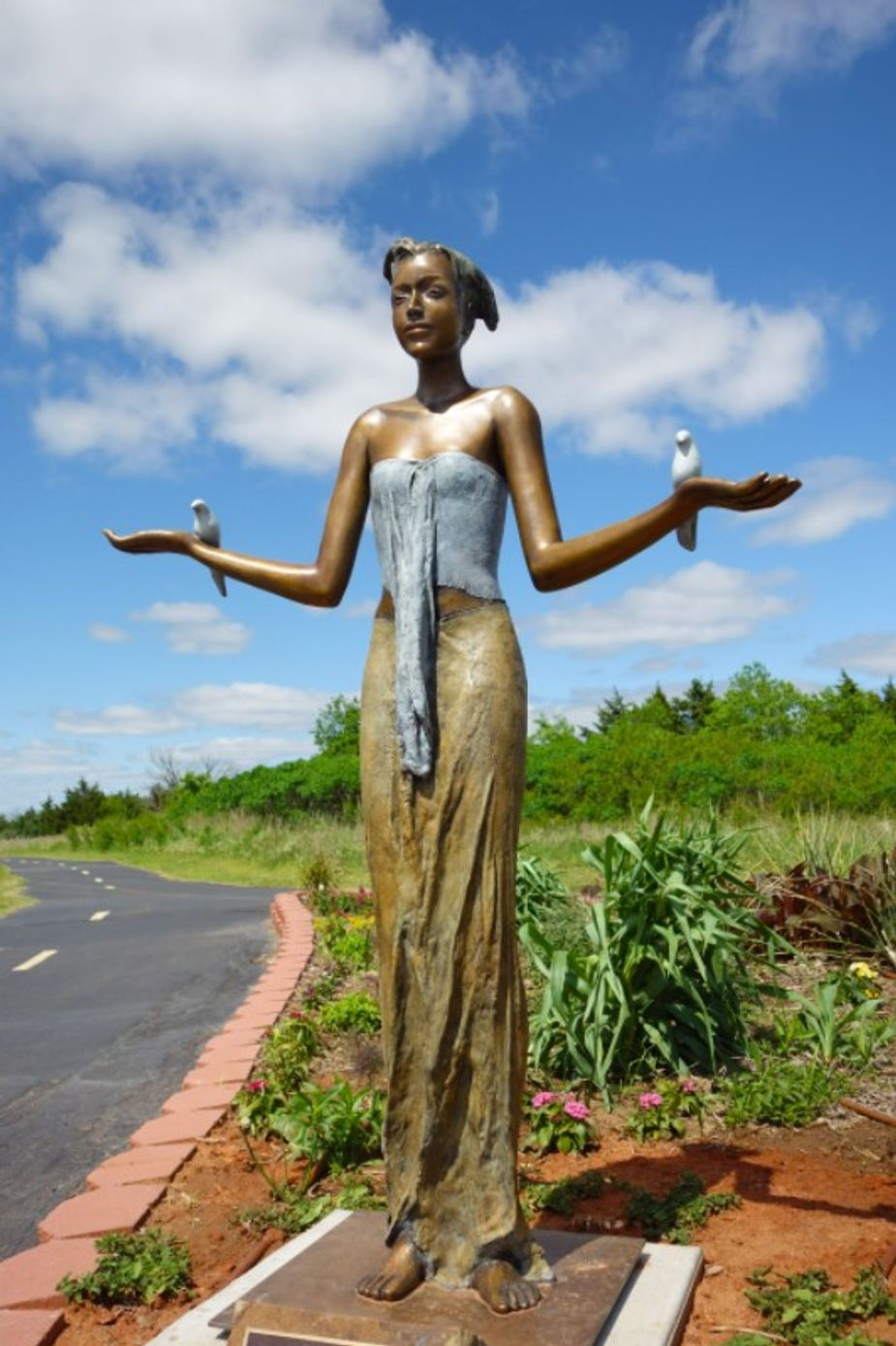 "Reverence" by David Pearson. Photo by Megan Rossman
Cheers and clapping arise from the crowd as workers hoist Reverence into its place at Edmond's Mitch Park. The lithe bronze figure stands with arms outsretched, small birds perched atop two delicate wrists.
"Birds are a big part of what I do, and they bring in the spiritual side of the piece," says artist David Pearson of Santa Fe, New Mexico. "She [Reverence] has a bird on both hands, and she's weighing out peacefulness and her own reverence."
The artwork's essence matches the mood of those attending the installation ceremony—more than fifty family members and friends gathered in remembrance and celebration of beloved Edmond resident and longtime nurse Corrie Sargeant, who passed away on November 22, 2020. The sculpture was selected by Sargeant's husband, Rowell, as part of the Edmond Art in Public Places program, a partnership that pairs public and private funds to grow Edmond's public art collection.
"Every piece has a story. Some are more precious than others, and this one is precious," says Randel Shadid, a retired attorney and former Edmond mayor and city council member who spearheaded the program in 2001 and still actively works with private donors and area businesses in evaluating, securing, and displaying new public artwork.
Reverence joins a diverse 254-piece art collection on display throughout the city of Edmond. The program has allocated $1.9 million public and $2.4 million private funds towards sculptures, murals, and other art installations over the past twenty years, resulting in a portfolio of varying styles from realism and classical to abstract and contemporary.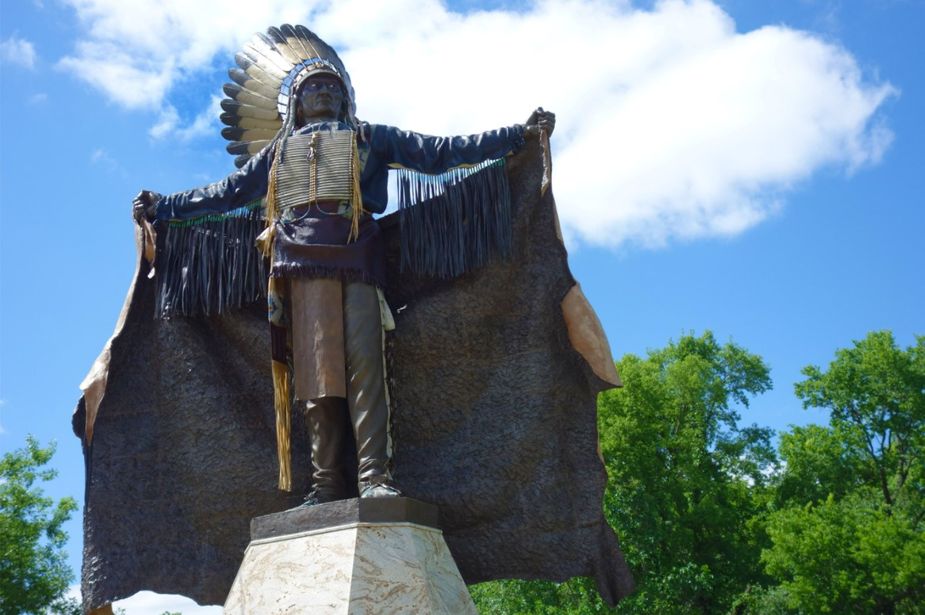 "Touch the Clouds" by Dave McGary. Photo by Megan Rossman
The EAPP initiative's goals are enriching the public environment, nurturing the art community, and building Edmond's reputation as a leader in the arts. But to Shadid, who can account for the personal story of nearly every piece of artwork in the collection, it's about connecting with the community in order to reflect the values and cultures of Edmond citizens.
"You can be having a really crummy day, but there is just something that makes it hard to be angry or feel bad when you're looking at a beautiful piece or a real whimsical piece," says Shadid. "It raises the level of civility in a community."
Shadid's business acumen and quick action enabled him to secure the collection's largest and most prominent sculpture in 2015: Touch the Clouds by Dave McGary, an eighteen-foot bronze Lakota Sioux warrior on display in the southwestern part of the University of Central Oklahoma.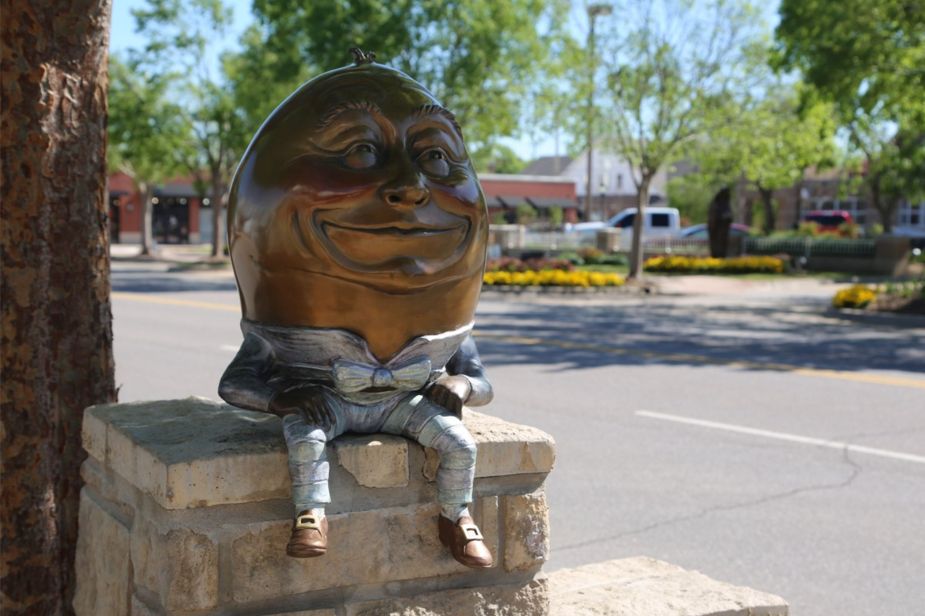 "Humpty Dumpty" by Kimber Fiebiger. Photo by Megan Rossman
All of the program's artwork is accessible to the public and is organized in six viewing regions: downtown, central/UCO, northwest, northeast, southeast, and southwest. Cinda Covel, city clerk and art liaison for the Edmond Visual Arts Commission, recommends starting with a walk around downtown. There, thirty works are nestled among the preserved historic buildings and red brick sidewalks, including fanciful storybook characters such as Humpty Dumpty; colorful landscape-inspired and vibrant cultural murals; and Key to My Heart by Edmond artist Zonly Looman, an interactive piece that encourages visitors to add a padlock to a chain-link structure to commemorate a relationship in a similar fashion to the Pont des Arts, a former Love Lock Bridge, in Paris, France.
Visit Edmond outlines additional walking, biking, and driving tour itineraries for taking in the sites around Mitch Park, Boulevard Street, and the UCO campus. Websites, pamphlets, and information plaques are available for those seeking to know more about the artists and stories behind the pieces. And, as Shadid reminds the crowd, some are precious, but all are connected to the Edmond community.
Edmond Art in Public Places
visitedmondok.com/art
gis.edmondok.com/artinpublicplaces