1 minutes
Published March 2020
By Karlie Ybarra | Photos by Lori Duckworth | 1 min read
National Pecan Day is April 14. What better way to celebrate than by making this Crisp Fruit Salad with Tangy Pecan Oil Vinaigrette from the Miller Pecan Company in Afton?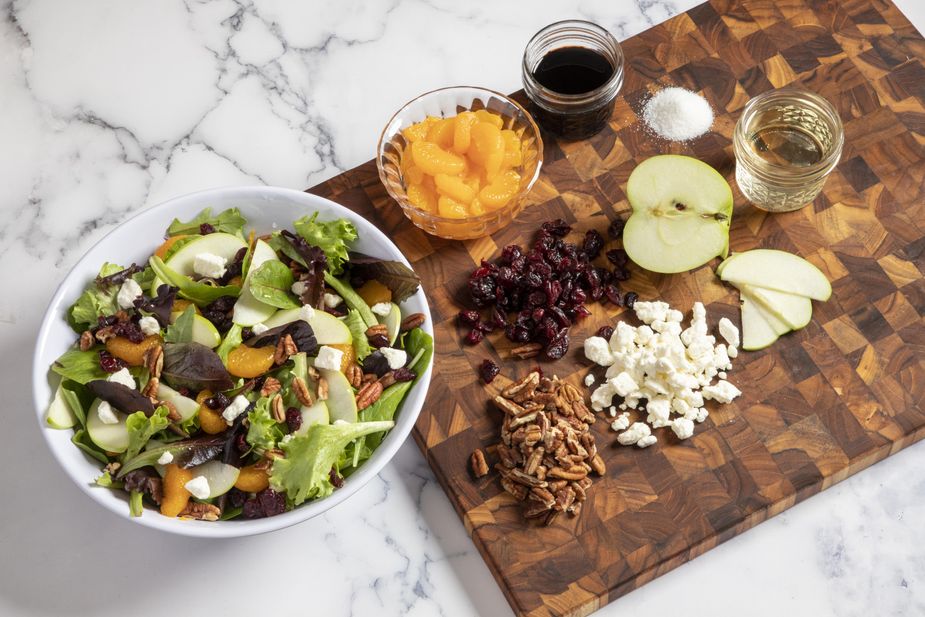 Crisp Fruit Salad with Tangy Pecan Oil Vinaigrette
Ingredients
1 head red lettuce
1/4 Cup Mandarin Oranges drained
4 Tbsp. Pecan oil
1 1/2 Tbsp balsamic vinegar
3 Tbsp sugar
1 green apple thinly sliced
1/4 Cup dried sweetened cranberries
1/2 Cup Miller Pecan medium pecan pieces
Feta cheese for garnish
Directions
Chop lettuce and arrange on a platter. Evenly sprinkle apples, oranges, cranberries, pecans, and feta on top.
For the dressing, combine remaining ingredients in a Mason jar. Secure the lid tightly and shake vigorously to ensure an even combination.
Either toss the salad with the dressing or serve the vinaigrette on the side.
Miller Pecan Company, 21853 South Highway 69 in Afton, (918) 257-6887 or millerpecancompany.com.